RARE AMERICAN ROBERT
MERRILL, NEW YORK BOXED DINGHY COMPASS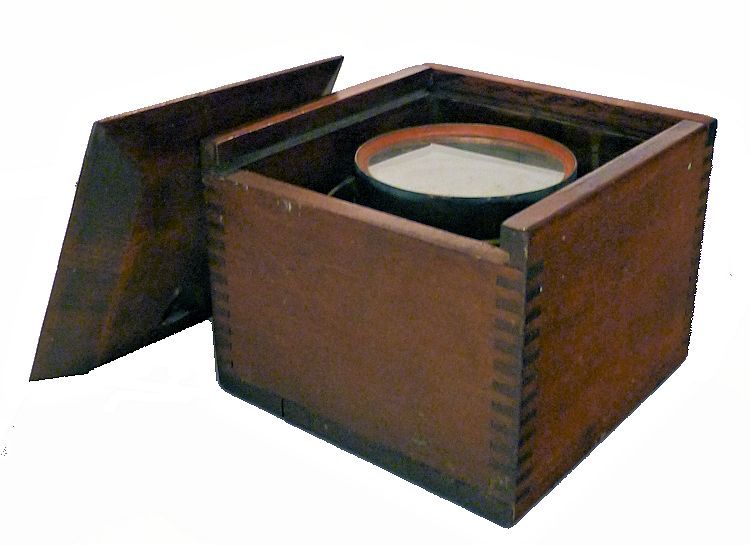 This may be a one-of-a-kind small boxed compass with a pedigree of
having been made by a family of early nautical instrument makers with certified credentials. Merrill's works are
rarely found even in books on nautical antiques, and only a few museums have them on display.
PRESENTED
is a rare and unusual small boat "Dry Card" compass made by the sons of Robert Merrill, a
highly skilled American instrument maker sometime after his death in 1867. Other than for the name on the compass
card there are no other maker's marks. Its small size is a design for use in small boats such as a tender,
dory or dinghy. Most examples of the works of Robert Merrill and his sons are hidden away in museums and private
collections so this is a special find for some one who is seeking the rare and unusual. The Manhattan Naval Aviation cocktail
glass shown for size comparison is not included.
THE COMPASS AND BOX: Antique dry card fully gimbaled
compass housed in a spun brass tub which is hung by gimbals in a dove tail wood box with top. The card has
a fancy fleur-de-lis at the north point over an ornate circular design. It is signed at the bottom of the "pointer"
and around the center * R. MERRILL'S SONS * NEW YORK *.
The card is divided  into eight Cardinal Points, each of 45
degrees, and then into 1/8 and 1/16th points. Each point subtends an arc of 11 1/4 degrees comprising in total 360 degrees of
the compass. It rests on a brass pivot with a cap. The compass card which is 3 inches in diameter is in outstanding
condition. There is lubber's line scribed on the back of the tub when viewed from the front of the box .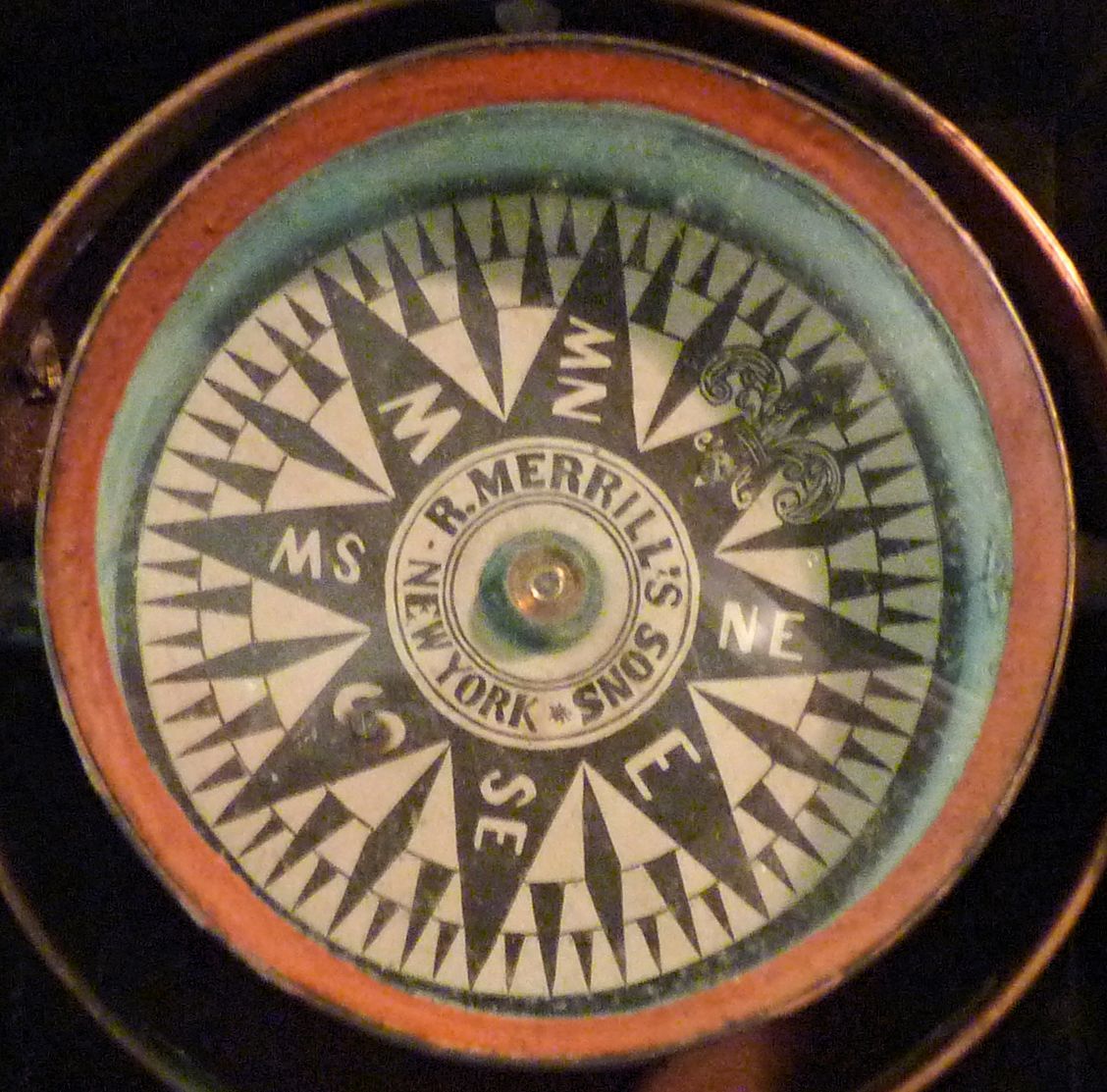 CONDITION: The dovetail case shows very minor wear, an age crack or gap on the bottom
which is of no consequence. The varnish has darkened with age over many years. Overall it is in outstanding condition
and rated as "collector quality".
Spun Brass tub of the Merrill Dinghy
Compass shown over the closed box
COMPASS DIMENSIONS:
BOX  5 1/8″ square by 4″
high box
Compass Bowl diameter   3 1/8″
Card diameter
3″
WEIGHT:
1 lbs. 7 oz.
BRIEF HISTORY OF THE MAKER: Robert Merrill was born in the seafaring town of Newburyport,
Massachusetts in 1804. He first set up business as a "mathematical instrument maker" in New York in 1835 with a
partner, William Davis at 36 Oak St. in New York City. In 1840 Merrill began business under his own name, first at 255 Front
Street, NYC, continuing until 1865 when he took his sons into partnership, and the firm name changed to "Robert Merrill
& Sons. Their first location was 149 Maiden Lane in NYC. Merrill was noted for making binnacles and compasses, and also
imported and sold nautical instruments such as quadrants and sextants. His works are on display in museums, and there are
extensive listings of him and his sons in the Webster Instrument Makers Database. He is thought to have died in 1867.