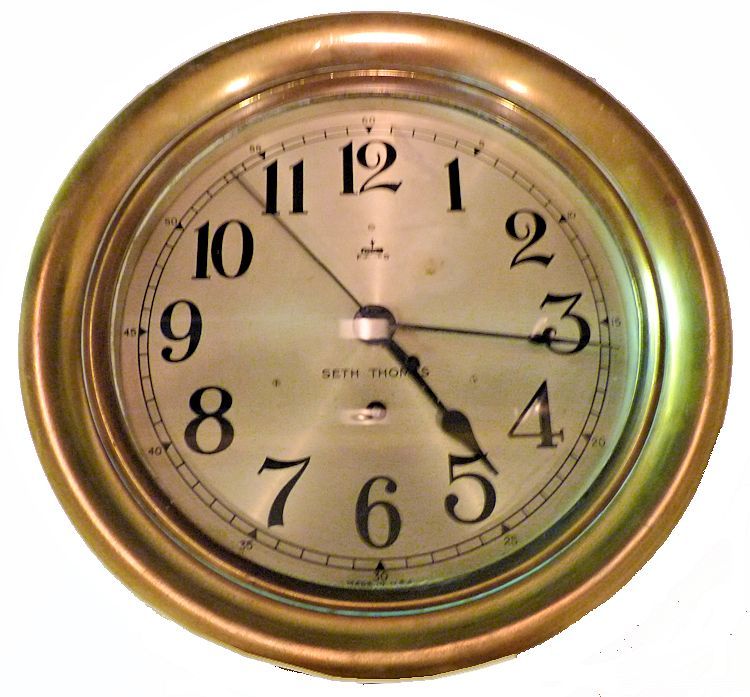 EXTREMELY RARE SETH THOMAS LARGE CLOCK
Presented
is a very rare antique, Seth Thomas eight day ships clock with an 8 inch viewable face, sweep seconds hand, housed
in a 10 1/2 inch forged brass case with swing open bezel. 
In our
thirteen years of dealing in high quality ships timepieces, this is only the third example of this larger size Seth
Thomas ships clock that we've had to offer. Because of this, we believe that they are quite rare. The others, with
a small seconds hands, were made for the U.S. Navy in the 1920's through the 1940's for service on battleships.
  Face
of the large 8 inch Seth Thomas ships clock
DESCRIPTION:
The clock is housed in a heavy forged brass case with desirable side opening bezel which measures 10 1/2 inches
in diameter. It has a large 8 1/2 inch brass 12 hour dial that we have left as received. The Arabic numerals are deeply
acid etched as are the inscriptions and filled in midnight black. Above the 6 O'clock position is the winding
arbor and above that is SETH THOMAS. Next comes the hands arbor that features a Spade style hour and minute
hands mounted with a full sweep seconds hand with a Spade tail. A Fast/Slow Lever regulator is between the hands arbor
and the 12 o'clock position. The precision Seth Thomas, 8 Day 11 jewel fine lever movement has machine cut wheels and
pinions and a Breguet hair spring and escapement that date this clock's manufacture to 7 1942. It weighs a heavy
eleven pounds.
It's rate of gain or loss is more than 30 seconds per day. Cleaning and service is recommended. A key is
included.
DIMENSIONS CLOCK:

8 1/2″  Diameter of Dial           10 1/2″ Full Diameter       2
7/8" Deep       Weight  11
pounds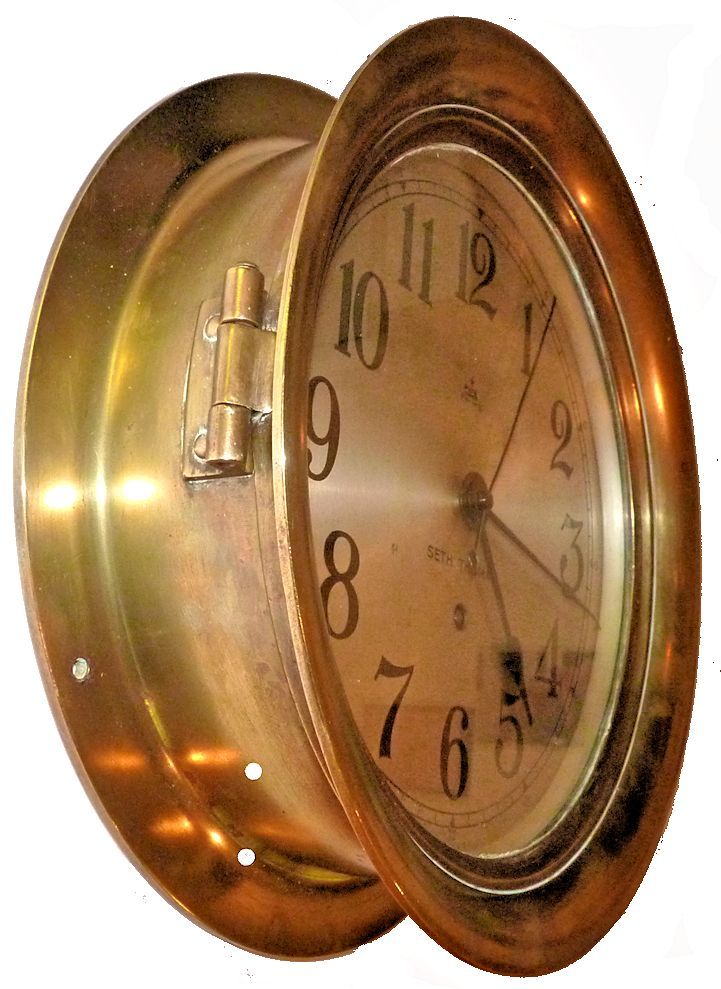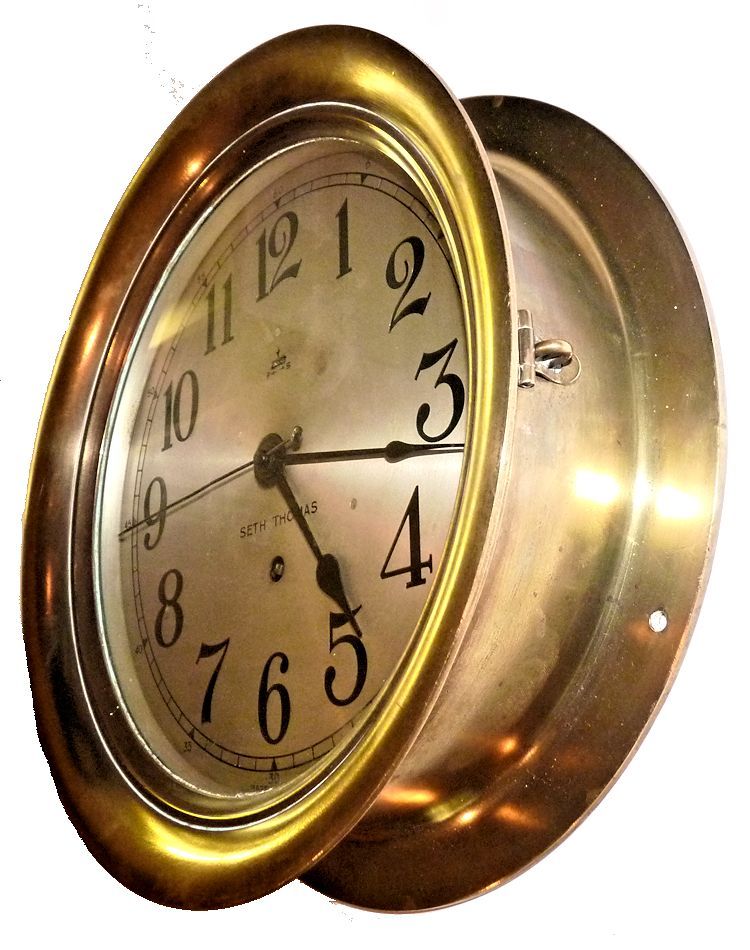 Both sides of the large 8 inch Seth Thomas ships clock
 It's size is similar to those issued to WW II battleships. Shown is the USS Tennessee 
The lever action movement is dated 7-42 and the number is 5130 

CONDITION:
Visually this fine clock is in very good condition with a solid case that was polished some years ago and is untarnished.
The dial has some minor signs of age, but is also in very good condition considering its age and use at sea. Since
it is approximately 76 years old, we recommend it be wound about every four days for best timekeeping.

It's rate of
gain or loss is more than 30 seconds per day. Cleaning and service is recommended.

  

The flange at the back of clock shows three mounting holes & felt buffers

 

                      Comparative difference in size between a 6
inch and 8 inch Seth Thomas clock