THE EARLIEST
BOSTON CLOCK CO. KNOWN DATING TO 1880 10 INCH
OVER ALL SHIPS WARDROOM CLOCK

EXTREMELY RARE BOSTON CLOCK CO. LARGE CLOCK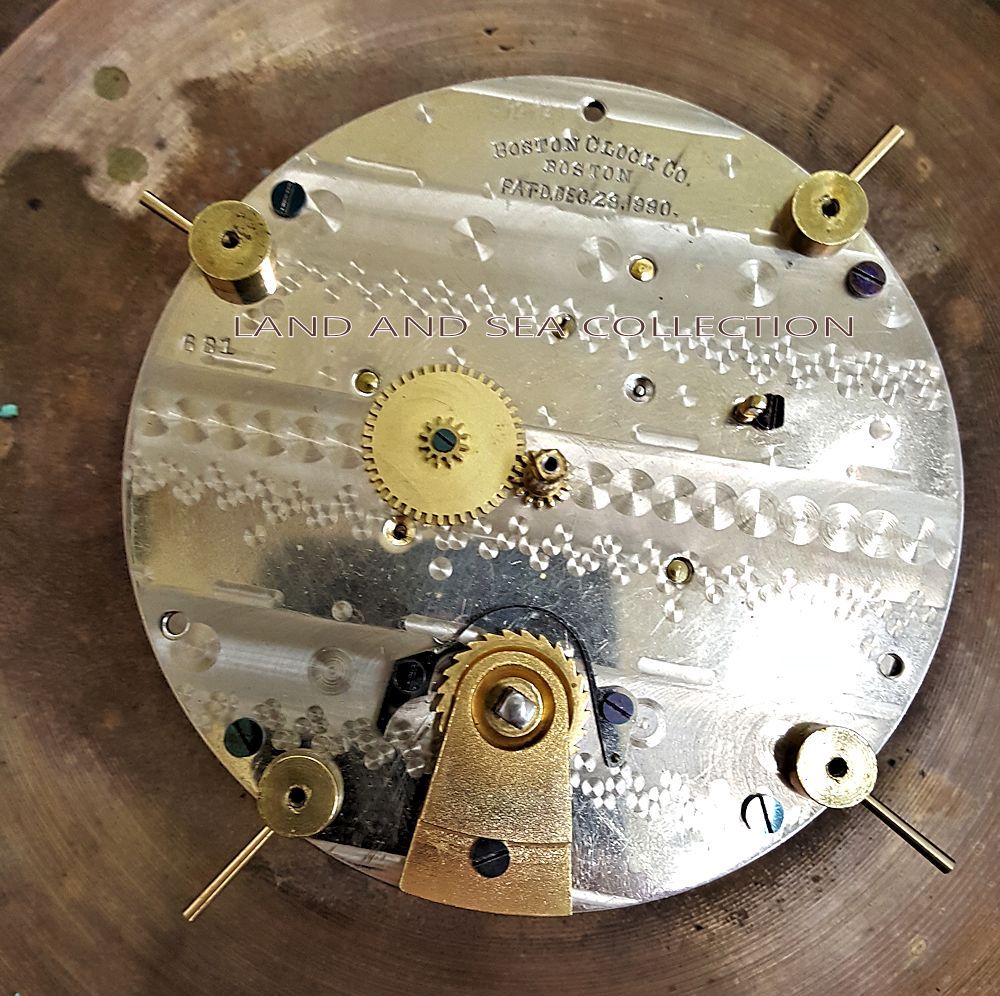 Presented
is an extremely rare antique, Boston Clock Company eight day ships clock with an 8 inch viewable face, housed
in a 10 1/2 inch forged brass case with a swing right opening bezel.  It is in outstanding original condition and
may be one of the earliest made Boston Clock known to exist. A card, accompanying this clock states that the movement is stamped,
Boston Clock Co./Boston/ Patd. December 23, 1880/#681 on 4 lines. The clock is scheduled for service by a master clocksmith
at which time the markings on the movement will be verified.
In our thirteen years of dealing in high quality ships
timepieces, this is the first example of this larger size Boston ships clock that we've had to offer and
may predate the examples that are on the National Association of Watch & Clock Collectors' website shown
below.
Boston Clock Company Advertisement,  circa 1889
Boston Clock Co., Ship's Bell, double rotating rod type, produced by the Vermont Clock Company circa 1900.
Boston Clock Co., 10″ Marine, circa 1885
A card, accompanying this clock states that the movement
is stamped, Boston Clock Co./Boston/ Patd. December 23, 1880/#681 on 4 lines.
Face of the large 8 inch face 10 inch case Boston Clock Co. ships clock
DESCRIPTION: The clock is housed
in a heavy forged brass case with desirable right side opening bezel which measures 10 1/2 inches in diameter. It has
a large 8 1/4 inch silvered face with a 12 hour dial that we have left in its original condition. The Roman
numerals are silk screened as are the inscriptions and in midnight black paint. At the center, above the 6
O'clock position is the winding arbor and above that is a small seconds arbor with a fast slow pendulum lever
regulator to the right. Next comes the hands arbor that features a Full moon style hour and Full Moon style
minute hand. The Boston movement is an 8 Day 11 jewel fine lever movement has machine cut wheels and pinions and a Breguet hair
spring and escapement that date this clock's manufacture to Ca 1880. It weighs a heavy eleven pounds. It currently runs
for approximately 8 days, but its rate of change is beyond acceptable limits and the clock requires service. The service is
scheduled to be performed by the retired former head of the Chelsea Clock Company's Repair Department. A key is included.

DIMENSIONS CLOCK:

8 1/4″  Diameter of Dial        10 1/2″ Full Diameter       2
1/4" Deep       Weight  7
1/2 pounds
The
lever action movement has yet to be inspected

CONDITION: Visually this fine clock is in very good condition
with a solid Rose colored brass case that was polished some years ago and is untarnished. The silver, screened dial has
some minor signs of age, but is also in very good condition considering its age and use at sea. Since it is approximately 136
years old, we recommend it be wound about every four days for best timekeeping.

  The flange at the back of clock shows three
mounting holes & felt buffers

 

  Comparative difference in size between a 6 inch and 8 inch Boston
Clock Co. ships clock          

BOSTON CLOCK CO. HISTORY: The Boston Clock Company was organized in Chelsea,
Massachusetts, in May 29,1884, as successor to the Harvard Clock Company which had been organized October 11, 1880 by James
H. Gerry, Joseph H. Eastman and others and primarily produced wall clocks, often similar in style to some of the Howard models,
but of lesser quality. 

Joseph H. Eastman became manager of the Boston Clock Company and the firm
is listed in Boston directories from 1885 through 1894. The firm was a large producer of good grade imitation French "carriage,"
"crystal regulator" clocks and mantel clocks, often in style and onyx cases. Most of their clocks utilized a good
quality movement with a platform or watch like balance escapement and had tandem winding whereby the time and strike were
wound by turning the key in opposite directions in a single keyhole.

By 1890, the firm issued a trade catalog illustrating more than 50 different
models. These clocks usually had porcelain dials, and the style and onyx cases used for the mantel clocks, were no doubt imported.

In 1894, the Boston Clock Company failed and Joseph Eastman tried to revive
the firm as the Eastman Clock Company the following year. Eastman purchased land on Everett Street in Chelsea on September
13, 1895 and borrowed some $7,000 and commenced building a factory. The Eastman Clock Company was shown in Boston directories
only for the year 1896 and Eastman's creditors foreclosed on the firm October 29, 1896.