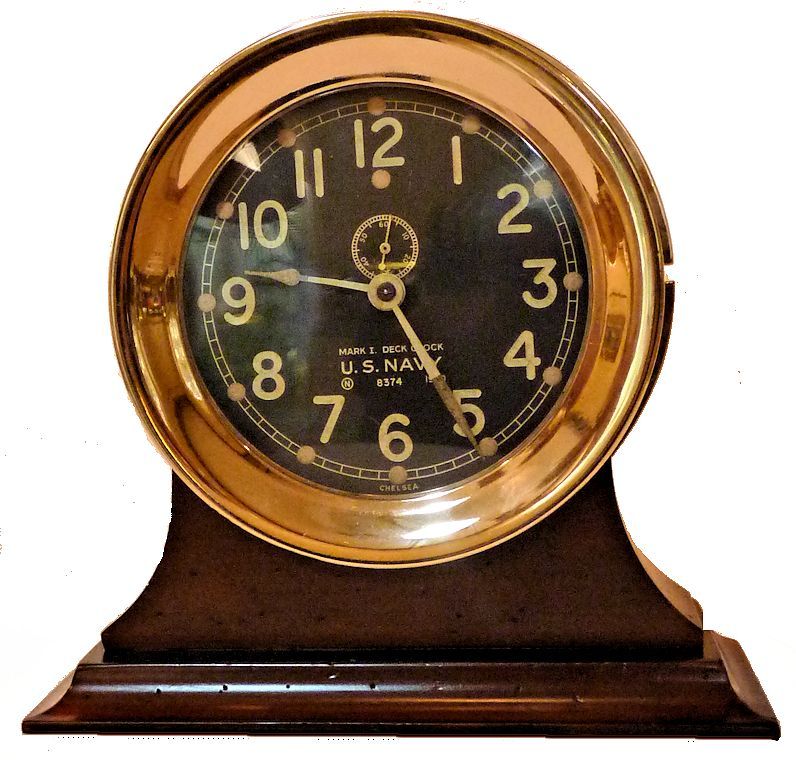 Naval Observatory Cartouche 1940                  Fully Restored Presentation Quality!
STAND INCLUDED A $75.00 VALUE
The WW II Chelsea MK I Deck Clock's case was made differently than the ubiquitous Seth
Thomas version. It is more refined and far better looking in this unique
DIMENSIONS: 5 1/2″ Diameter of face 3 1/4″ Deep Full Diameter Weight10 lbs 6 oz
Presented is a unique Rose colored completely restored example of a Chelsea, back
winding, WW II, Navy MK I Deck Clockwith a hinged front that is complete
with two backing plates. One of these plates acted as a water tight cover and shock absorber and the other mounts the
case to a bulkhead or wall. It is rare to get these clocks with their back cover plate and finding one with the original
mounting plate is an even rarer exception. What is missing is the white plastic gasket that made the clock waterproof and
suitable for mounting on an open deck. The Chelsea version of what was a supposedly standardized mil-spec design is more refined
and has a different hinge arrangement than the thousands of nickel plated clocks that were made by Seth Thomas. This
clock is in rarely seen Rose colored polished brass. It has been recently polished and lacquer coated to preserve its
luster. The movement, serial number 278272, dates from 1940. It has been recently serviced by a clock smith who specializes
in military ships clocks, and is keeping very good time compared to a quartz comparison watch.  The rest of
the restoration was carried out by our shop  which specializes in the brass versions of these clocks which we alone provide. Navy MK I DECK clocks
of WW II were manufactured in accordance with military specifications 18C-11 and 18C -13. This Chelsea example has modifications
which are unique. The front section holds the movement and has an integral stud on the backing plate that acts as the hinge.
This compares to the more common Seth Thomas version which uses a removable pin, and has a nickel plated case. In both
designs, the back of the front section has all the controls on the rear.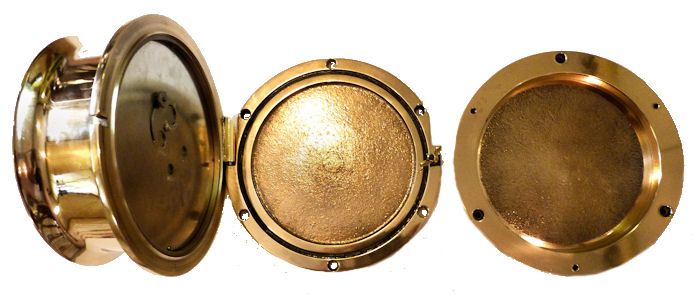 A plain brass
case, back plate and shock absorbing damper. 3 pieces total. Missing gasket.
| | |
| --- | --- |
| | |
Example of
Seth Thomas MK I casting uses a separate pin as a hinge Both Andrew Demeter in his definitive book, "Chelsea Clock Company, the first
100 years" and Marvin Whitney in his encyclopedic work, "MILITARY TIMEPIECES" say that these
clocks were chromium plated up to 1941 when cases were switched to Bakelite, a phenolic. It is our opinion that they
were nickel not chrome plated.
Markings on face Mark I Deck clock made by Chelsea
is a rare find, as is a clock of this age and service at sea to be found in this fine condition. It is perfect for a collector
of military pieces or as an important gift.
Chelsea Model 17K, 11 jewel 8 Beneath the hand arbor is etched:
MARK I DECK CLOCK U.S. NAVY          (NO) 8374  1940 (NO)represents the Naval Observatory
which means the clock not only met the military specifications, but also met the stringent standards of this institution which
maintains the Nation's Time Standard. At the bottom of the dial it is marked Chelsea The following controls are accessed on the back: Fast – Slow adjustment. To regulate
turn towards S to Slow and vice versa Stop – allows for
precision setting with master clock Set – moves hands It has a Chelsea Model 17K,
11 jewel 8 day movement that is wound, set and stopped through a slotted dust cover at its rear which closes. A separate
start/stop mechanism allows it to be synchronized with a master time piece. The removable vibration
dampener backing plate is attached to the bulkhead plate by six screws and holds the front case secure by a wing nut dog.
Back view of Chelsea MK I Deck clock showing dust cover over the controls
CONDITION: This example has
seen about 76 years of service, much of it at sea, but has the appearance of being new. The face is in excellent
condition, the lens is clear as crystal when viewed close-up. The dots over the numbers are still painted with irradium
for night viewing. This is usually removed because it was radio active. The movement has been recently serviced by a
clock smith that specializes in military ships clocks and is keeping good time. A Chelsea key is included. The case has
been recently polished and lacquered.