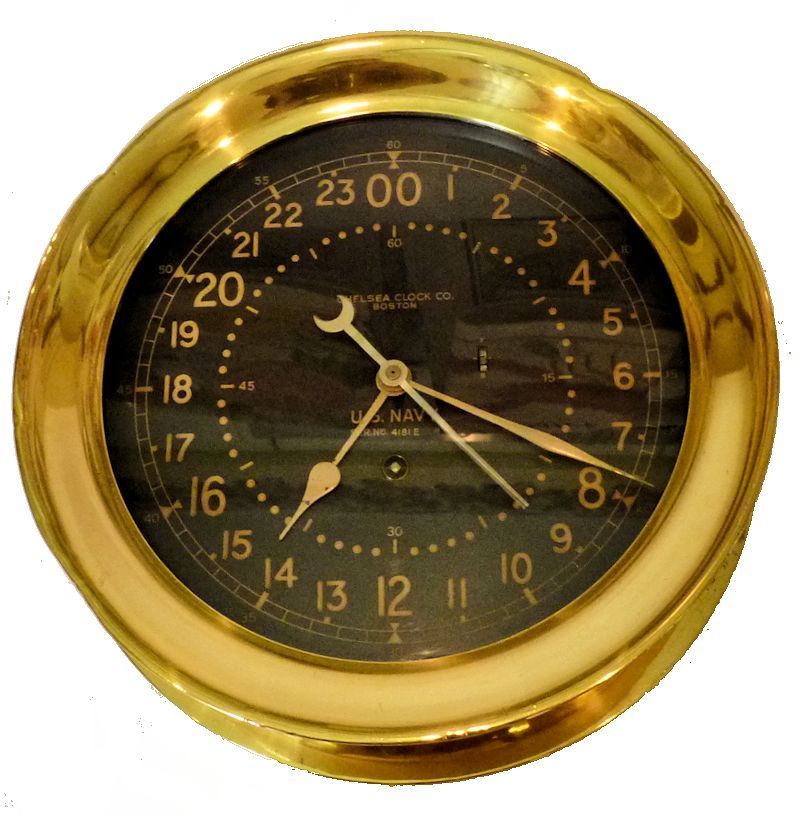 TWELVE
JEWELS EIGHT DAY MOVEMENT
Presented
is a rare, twelve jewels, eight day, clock with a rare 8 1/2 inch 24 hour black face that makes one full revolution
of the dial in 24 hours. During the War, military clocks were made to the rigid specifications of the Navy Department and
this one has an twelve jewel movement. The clock's serial number dates it to 1940. It was recently completely reconditioned
by a clocksmith with a military specialty who rebuilt, cleaned and oiled the Chelsea #12e movement. The movement with
12 jewels has machine cut pinions and wheels, on magnetic Breguet type hair spring and compensated escapement. This makes
a very high grade precision time piece. The mechanism is housed in a  heavy, forged brass case with screw on bezel with
a maximum diameter of 10 1/2″ at the rear, and is 3″ deep and 10″ at the front bezel. It is keeping time
compared to a the National Bureau of Standards time. 
PROVENANCE:
The clock was made for the war effort and sailed aboard a Victory Class ship, such as the USS BOSQUE, APA 135 pictured
above. It was obtained from a picker who bought it at a government surplus auction in Virginia in the 1970s, but it was
not tagged as from a specific ship. 
  The
near flawless face of the Chelsea 10 inch 24 hour clock

CONDITION:
Having a recently rebuilt movement, and except for some battle damage on the bezel, this clock is in remarkably fine condition
with a face that looks near new and showing only minor handling marks. The clock has been recently serviced
by a clocksmith having a military specialty, and the movement is keeping very good time. Since it is 76 years old,
we recommend it be wound about every four days for best timekeeping results.  The screw on bezel show shrapnel damage so
it takes care in fitting to the case. The bezel and case threads are fine and there are a few places of resistance,
but the bezel will fully seat if care is taken.

SPECIFICATIONS:
Forged bronze case with 8 1/2 inch face and an 8 inch viewable area. The black dial is acid etched with
Arabic numerals and lettering filled in white. These have yellowed slightly with age. The ultra precision 8 day, twelve
jewel movement, and a compensated balance wheel and  hair spring and spade style hands shows use with the moon tail seconds hand having
a series of waves.

DIMENSIONS:

Case max diameter 10 1/2"
Front Bezel  10"
Dial 8 1/2″ visible area 8"                       Depth  3"
Weight    12 lbs.

                             Partial Side views of this Chelsea WW II 10 inch CIC 24
hr. clock

 

 Back of the Chelsea 10 inch 24 hr. CIC clock Note serial number at the top