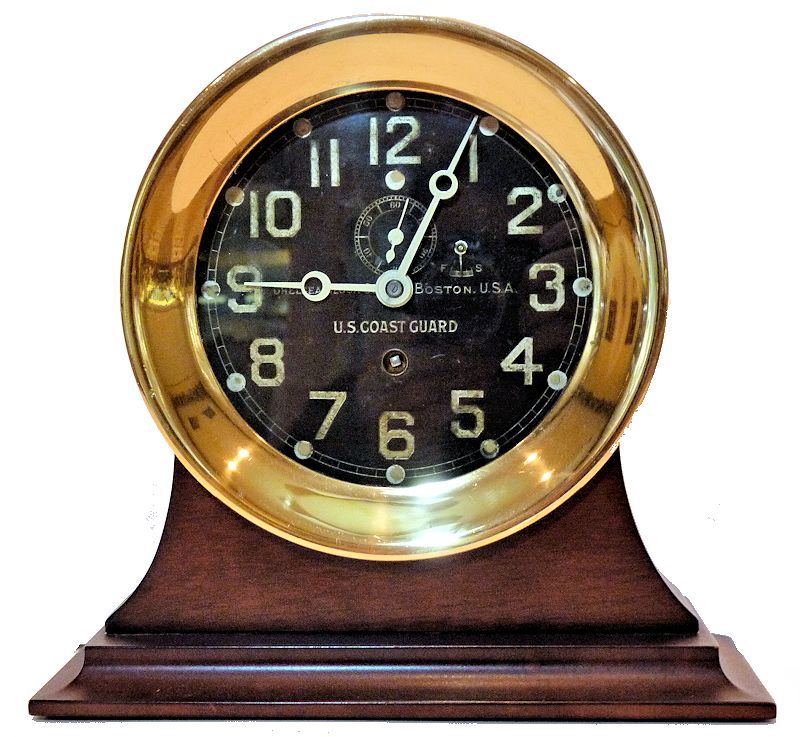 Presentation Quality
STAND INCLUDED A $75.00 VALUE
This WW II Chelsea USCG Ship's clock was made between the two World Wars and
has a very special side opening case of high quality and gold coloration. It will be hard or impossible to find a duplicate.
DIMENSIONS: 6″ Diameter of face 2 3/4″ Deep Full Diameter Weight 6 lbs 11 oz Presented
is a Chelsea USCG clock of a special design and high quality that must have had an interesting life if only it were
known. A picker in Virginia recently discovered it in a government sale, so it is new to the market. This type clock
might be found mounted on a bulkhead, on a ship's bridge, quarter deck, or in a wardroom.  Except this one is exceptional
with it's side opening case with a strong golden hew, both of which are very rare.  It has a 6 inch black over
brass dial with a 5 1/2" viewing area. The lettering is characteristic of what was used between the Two World
Wars. The movement is housed in a heavy forged brass case with the desirable hinged bezel. The moon hands are matt white.
The separate seconds bit is directly under the 12 o'clock position.  A lever type fast/slow regulator is to
its right. All the positions are marked with a dot that used to be active irradium. The 12 position is marked by an additional irradium
dot under it for blackout recognition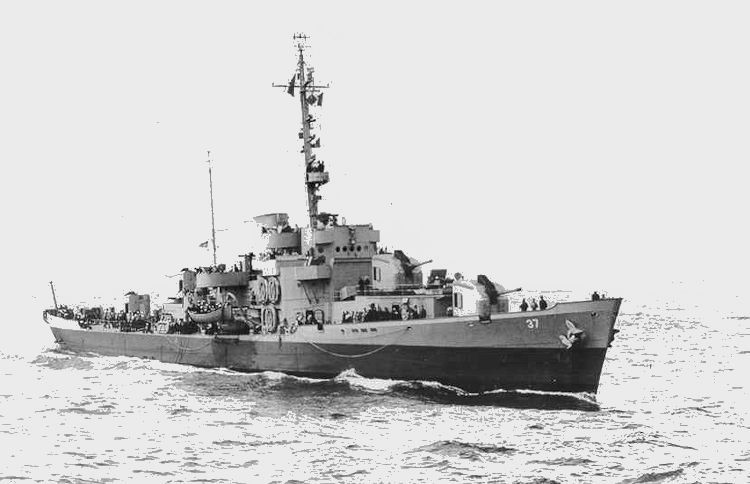 Pictured above is the USCG Cutter Taney that served from 1936 to 1986.
This clock may have seen similar service. The forged brass case has been recently polished and lacquered.
The movement is a 11-jeweled, 8 day time-only movement, with a lever F/S regulator, that has been recently
serviced by the former head of the Chelsea Repair Department, a man with over 30 years experience. It is keeping good
time. "Chelsea Clock Co. Boston. USA", is acid-etched directly
across the center of the face on both sides of the hand's arbor. A larger "U.S. Coast Guard" is below the center
hand's arbor and above the  winding arbor. The number 211482 is stamped on the back of the case which corresponds
to a date of Ca 1933. The contemporary stand shown is included.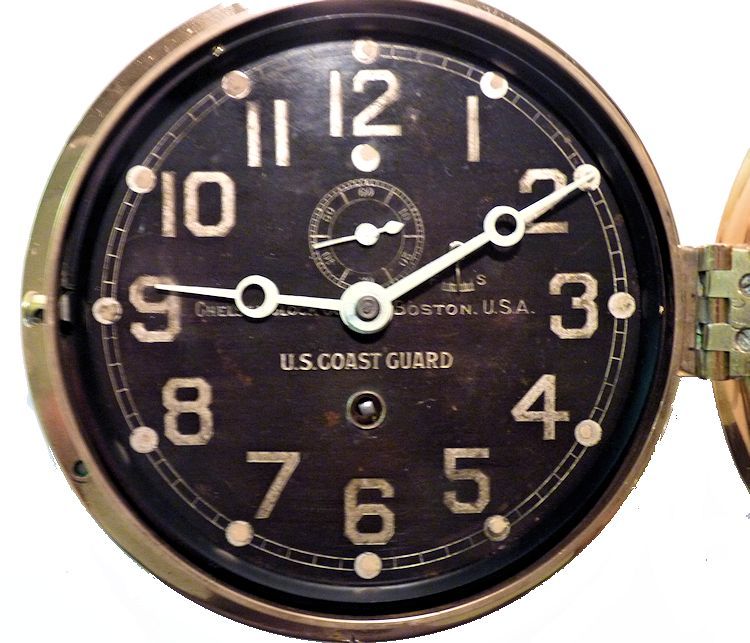 The face shows years of use, but is in very good condition CONDITION: This example has
seen about 83 years of service, much of it at sea, and has the appearance of being new. The face is in very good condition,
but shows a little evidence of aging when viewed close-up. The dots over the numbers once were painted with irradium for night
viewing, but this has been removed because it was radio active. Scratched on the back is "Kitchen". On board a ship,
a kitchen is called a galley. The Coast Guard never had a cutter of that name. The movement has been recently serviced
and is keeping good time, and the case has been polished and lacquered. A Chelsea key is included.
| | |
| --- | --- |
| | |
Angled view of back and front of USCG ship's clock
DIMENSIONS: 6″                     Diameter of Dial  2 1/2″ Deep
7 1/4″ Full Diameter                   Weight 6 lbs    11 oz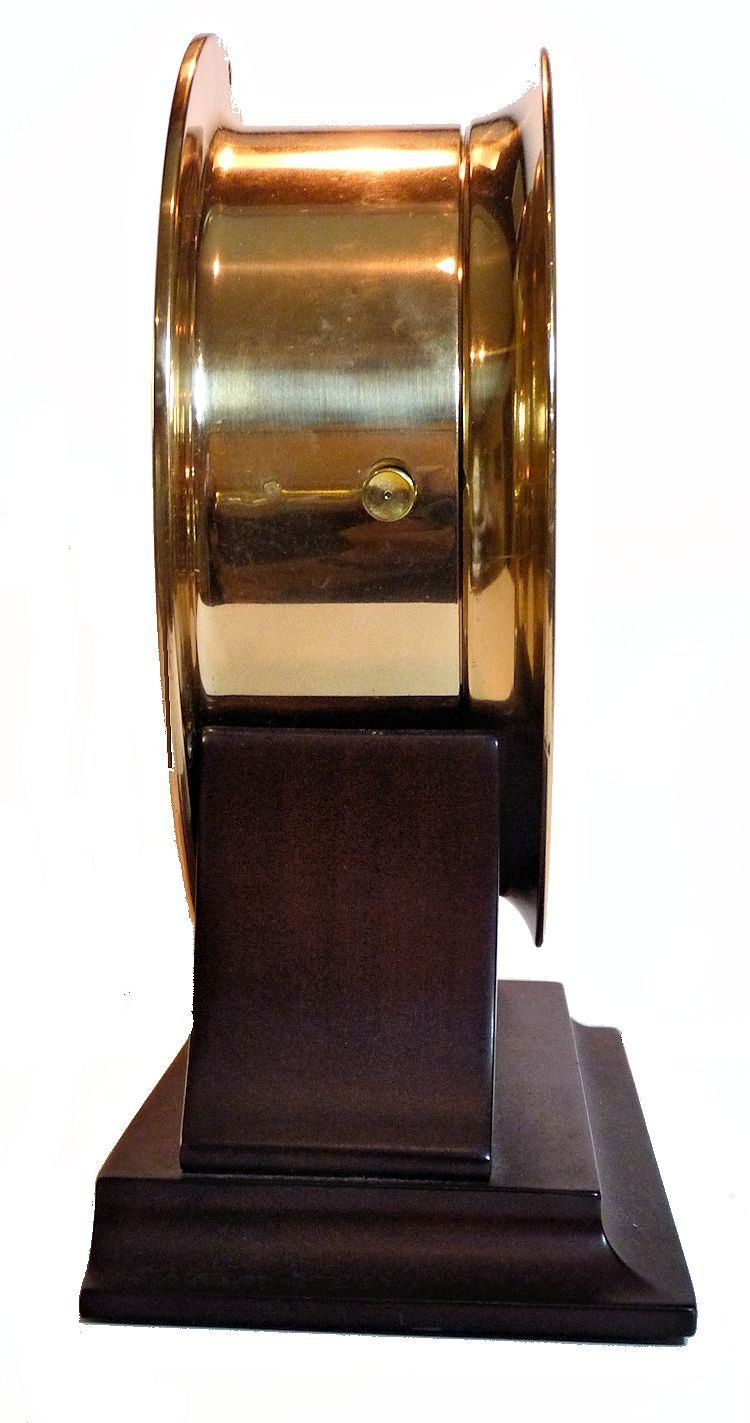 Side view of Chelsea USCG clock showing button
release