~ C. Plath Descendent ~

Presented is only the fourth Navy MK III that we have offered for sale in fourteen years, the last was seven years
ago. This one was made by M. Low, the original manufacturer of this design, and carries a low two digit serial number which marks it as one of the first batch of this design made. Engraved on the index arm are:
US Navy MK 3 Mod 0
Serial No. L-18
Low
The sextant comes complete with all its original accessories including a spare set of mirrors with a value of $350.00 today, a mirror adjustment wrench and a Mahogany wood case. The matching certificate is dated April 4, 1970.
SOME BACKGROUND:
At the time this sextant was being issued to the fleet round 1975, I was a member of the Navy Department's Navigation
Symposium, and remember discussing the criteria that was established for the new sextant. They coincided with those
already being used in the commercial maritime community and the German Reichmarine as far back as WW II. Overall,
the new design was far advanced from the ubiquitous Navy WW II standby, the Navy MK II, but 30 years late in being adopted by the US Navy.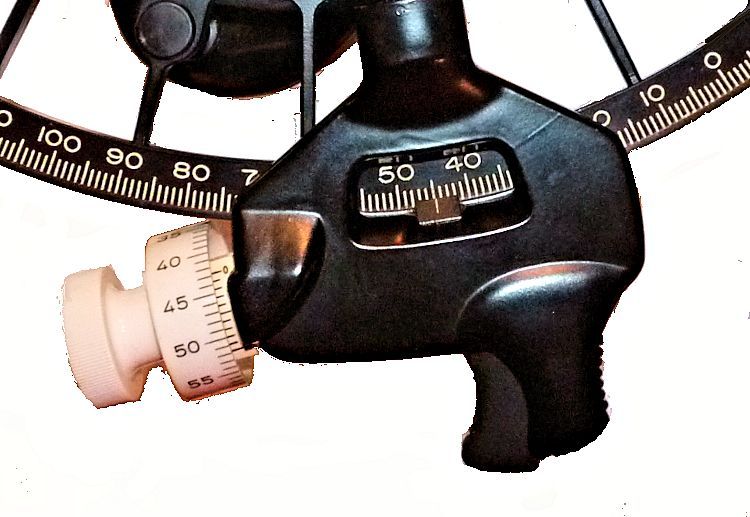 Vernier reads to 6 arc seconds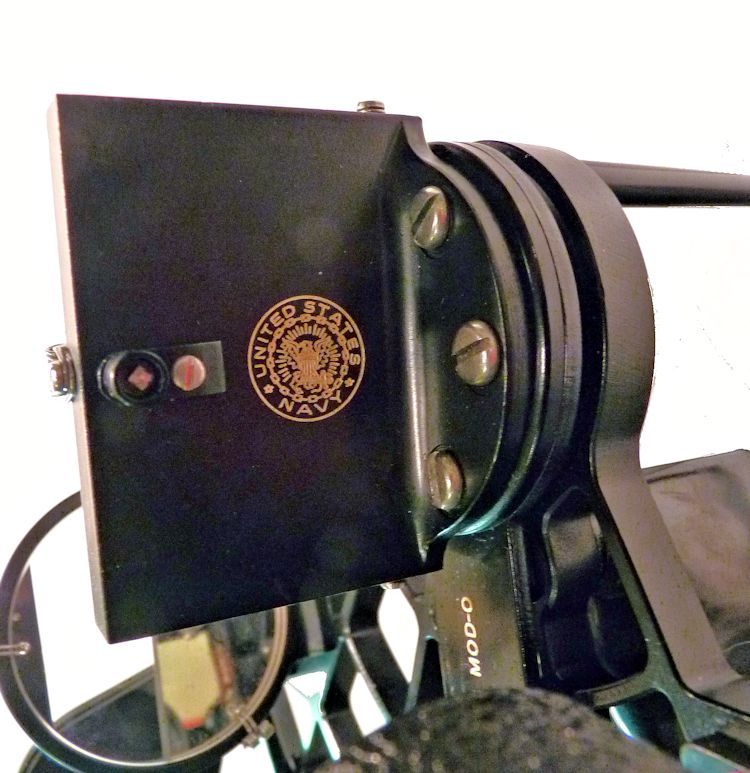 Official US Navy logo on the back of the index mirror frame

Markings stamped on index arm includes serial number
Other sextants of this era that met these criteria were the Tamaya MS 733 and the C. Plath Classic sextants as did a few others, but there was strong emphasis in government procurement to "Buy American" in contrast to today's World
Economy. Consequently, an American company, M. Low of New York City was selected as the original contractor.
M. Low was active in New York City at 69 Pearl St. and 110 Hudson Street as a seller of sextants and other nautical
instruments. Their advertising shows they were active through 1975 after which they disappeared from the scene.
Franklin Instrument of Rosboro, Pennsylvania seems to have become the second contractor, but we've only seen one example of their MK III in 50 years in the sextant business. They were followed by Scientific Instruments of Milwaukee, WI. whose management insists they made the sextants from scratch using only their own design drawings and manufacturing tools and dies. Scientific Instruments came into the picture as early as 1975 which was at the tail end of the Star Shooting Era. They made fewer and fewer sextants as Satellite Navigation (Sat Nav), the newly accepted electronic system, became more prevalent. The current system, GPS, succeeded SatNav in general use in 1983. "SIC" stayed in business until 2008, when they closed their doors. In one of our last conversations with the owners, they told us sextants were still being made in very small numbers for newly built U.S. Navy ships at a price of $4300.00. Two were issued to each ship.
However, C. Plath contradicts Scientific Instruments statements as to the origin of the "SIC" MK III sextant. Plath says these sextants were made under license from C. Plath, Hamburg, Germany. The design is clearly the same as the C. Plath Classic sextant down to the last detail other than its ergonomic handle and large size high impact resistant case.
Plath's claim is noted on page 119 of the book by Friedrich Jerchow, "From Sextant to Satellite Navigation,
(1837-1987) 150 years C. Plath" and reads as follows: "As the US Navy insisted that the instruments be manufactured
in the USA, C. Plath granted the firm of M. Low, Inc. in New York a manufacturing license for the C. Plath sextants. Up through 1987, all MK 3 sextants for the US Navy have been manufactured by this firm and a successor firm (presumably Scientific Instruments) under this license."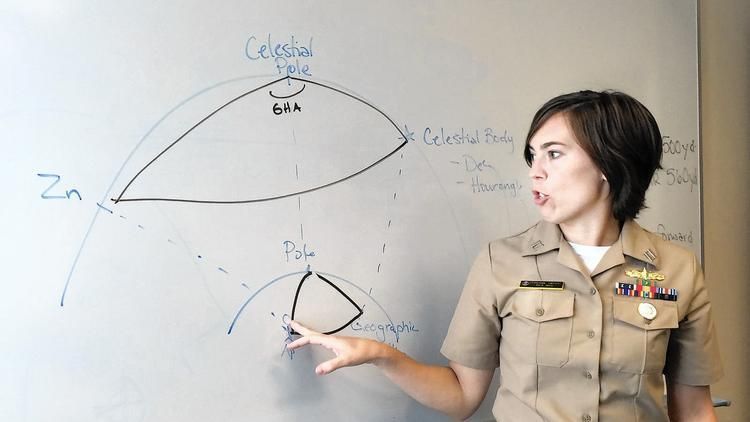 NAVY CELNAV TODAY: The Navy has moved away from traditional celestial navigation and even the use of paper charts. Their reliance is totally electronic position fixing. CelNav, after a ten year hiatus, is now being taught again at the U.S. Naval Academy since 2015. Whether or not ships carry sextants today is meaningless since it is not practiced as part of the daily routine. In 2001, I was invited on a three day "DV" cruise on the Spruance Class destroyer, USS CARON DD 970. I used the one they had with good results (i.e. within one nautical mile of the ship's GPS position), but no one in the wardroom or the lead quartermaster was interested in taking sights. I appreciated its lighter than average weight, but not its grip.
PROVENANCE:
Formerly owned by a US Navy captain who acquired it about 40 years ago through the University of Georgia. It had been transferred to the Marine Sciences Department years before for a Navy funded scientific study.
In January 2008, Scientific Instruments ceased operations. Up to then, they furnished two MK III sextants to newly
commissioned ships at a price of $4300.00 each.
MK III DESIGN CRITERIA: Listed are what were "state of the art" design features, that are still the standard today:
Light weight
Large size index mirror
Large size horizon mirror
Lighting system
Vernier reading to 6 seconds
Handle for ergonomic fit
Wide angle telescope
Non adjustable instrument error of less than 20 arc seconds
Military high impact absorbent case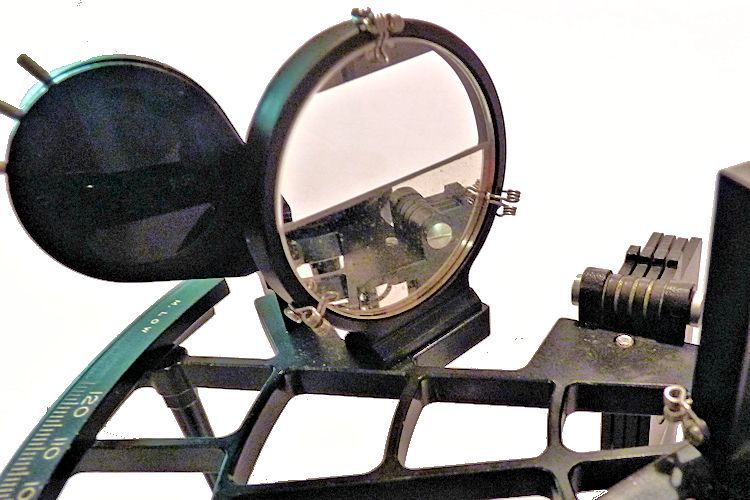 Like new horizon mirror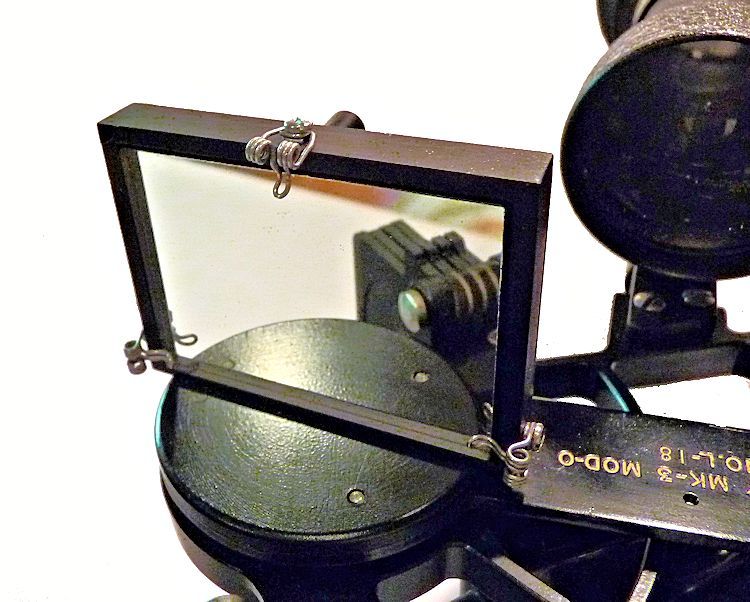 Flawless index mirror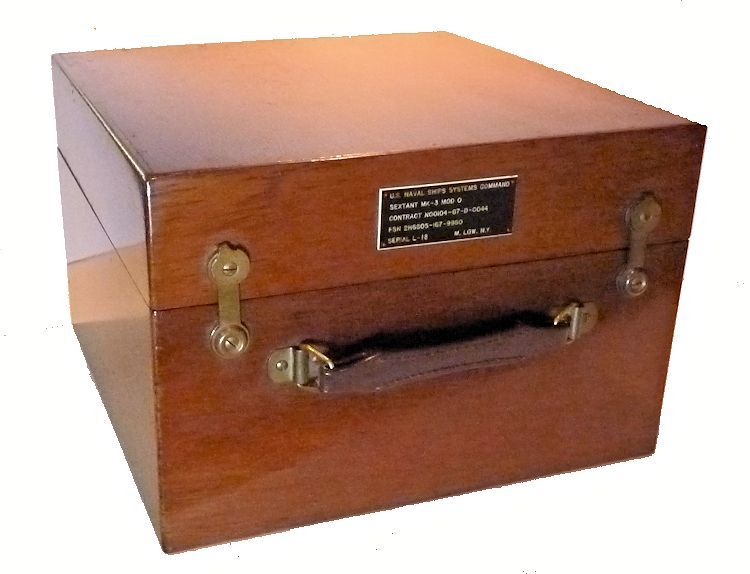 Closed MK III sextant case
CONDITION:
Near new. There is no evidence of use. All its machinery works a little stiffly and will benefit from being used. Both fitted mirrors show as new. There is a set of new replacement mirrors. We adjusted the sextant to minimum index error. The lighting doesn't work. Everything simple such as a new bulb, and batteries were tried without success. Use a pencil flashlight and you will be fine. The nicely refinished Mahogany case also shows as new with only a few scuffs. The original April 1970 certificate of accuracy is included and matches the sextant L-18 serial
number. No locks are fitted to this Navy style case.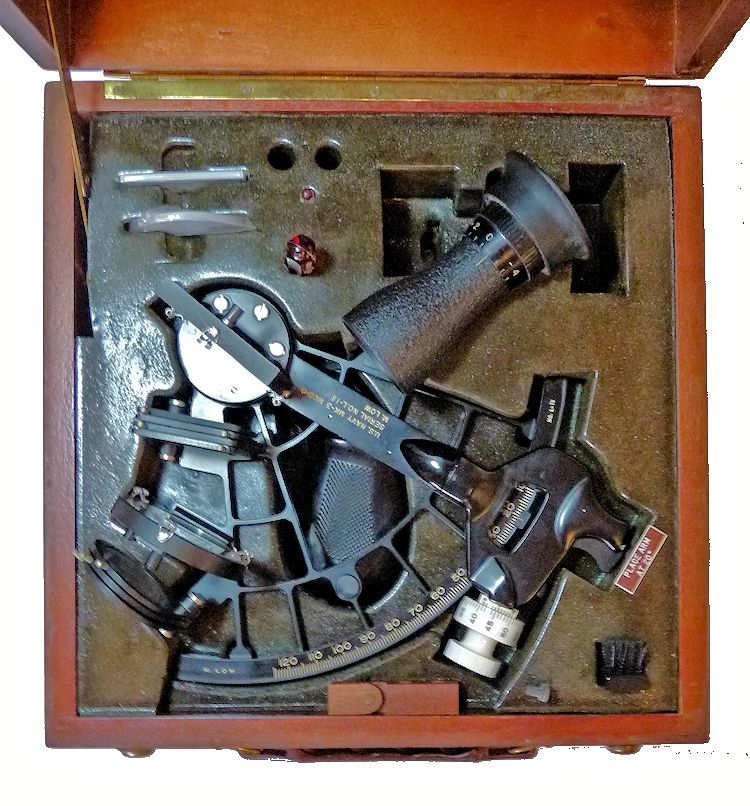 MK III Housed in oversize case with hi impact cushioning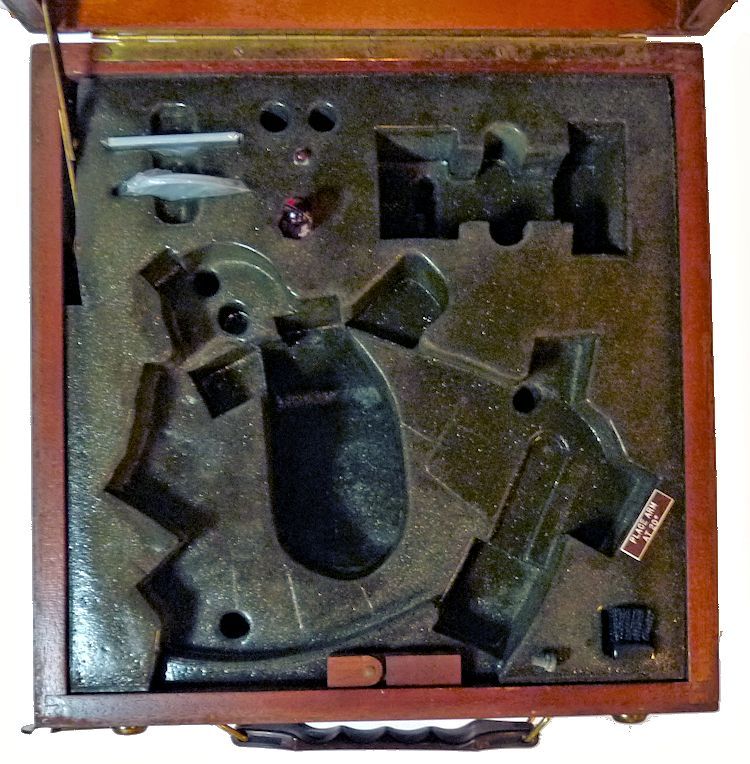 The cavities hold a set of mirrors, screw driver, spare bulb, wrench and a brush
This is only the fourth Navy MK III sextant we have offered in the last fourteen years. It will be equally at home at sea or in a collection of fine instruments
PLATH COMPANY HISTORY: In brief, Carl Plath started manufacturing sextants, in addition to other nautical products, in Hamburg Germany in 1862 by th purchase of David Filby Company, a Hamburg instrument maker of repute, which started making sextants in 1837. As a result WW II, C.Plath was dismantled completely by the occupation forces. Around 1950, various prohibitions were lifted, and C. Plath was allowed to begin production again of sextants and other nautical instruments. Also in 1949, C.Plath was offered a gyrocompass patent and in 1951 the first gyrocompass designed to this patent was presented to the public. C.Plath progressed from the role of instrument maker to that of a modern marine navigation equipment manufacturer. In the following years the product range was expanded by many more modern
designs such as autopilots, speed logs, radio direction finders, etc.
In 1962 C. Plath was acquired by Litton Industries, a large American concern.The C. Plath North American Division was set up in 1978 in College Park near Washington. 1996 saw the introduction of the world's first fiber-optic solid-state gyrocompass by C. Plath. The first ever gyrocompass with no moving parts. Sperry Marine was formed in 1997 with the combination of C.Plath, Decca Marine and Sperry Marine with more organizational changes yet to come. After 163 years, C.Plath changes its name to Sperry Marine in May 2000. In 2001 Sperry Marine becomes part of the Northrop Grumman Corporation.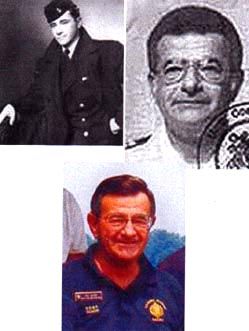 OUR QUALIFICATIONS: We are one of the few company's still selling navigation instruments that know anything about them. For purposes of judging whether Joel's opinion counts, he was the editor of the chapter on sextants of the 1977 Edition of "Bowditch", The American Practical Navigator, NAVPUB 9; a member of the U.S. Naval Academy Navigation Symposium, 1975 -1978; the author of a book on marine sextants, Cornell Maritime Press,1975, and the founding president of Nautech Maritime Corporation which partnered with Tamaya of Japan in the introduction of the MS 733 Spica, the MS 833, Jupiter, MS 933 Venus sextants and the famous NC-2 navigation computer, in the U.S. market. Joel is a retired Master Upon Oceans, and held a U.S. Navy "D" Qualification as a Senior Skipper – Oceans. For six years he was a Varsity Offshore Sailing Team Coach at the U.S. Naval Academy. Some of his past and present memberships include the: Association of Naval Aviation, Silver Wings, The Tailhook Association, Naval Academy
Sailing Squadron and Alumni Association, McCampbell's Aces Squadron, Naval Historical Foundation, and the Naval Order
of the United States.
U.S. NAVY MK 3 SPECIFICATIONS:
Measuring Range: -5 to 125 degrees
Accuracy: Tested to +/- 20 arc seconds
Telescope: 2 x 40 Coated optics
Frame: Aluminum with black enamel paint and white numbers.
Micrometer Drum and Vernier Scale: reads to 6 arc seconds
Index Mirror: 57 x 42 mm with spare
Horizon Mirror: 57mm diameter with spare
Shades:
3 for index mirror
3 for horizon mirror
Weight sextant: 2.5 lbs, Weight case in case 12.5 lbs.
INCLUDED ARE:
1 Sextant frame
1 2 x 40 Scope
1 Mirror adjustment tool
2 Spare mirrors
1 screw driver
1 spare bulb
1 Brush
1 Mahogany sextant case. No locks
1 Certificate dated April, 1970