VINTAGE INDIAN TWIN
CYLINDER MOTORCYCLE & SIDECAR MODEL 1920's Era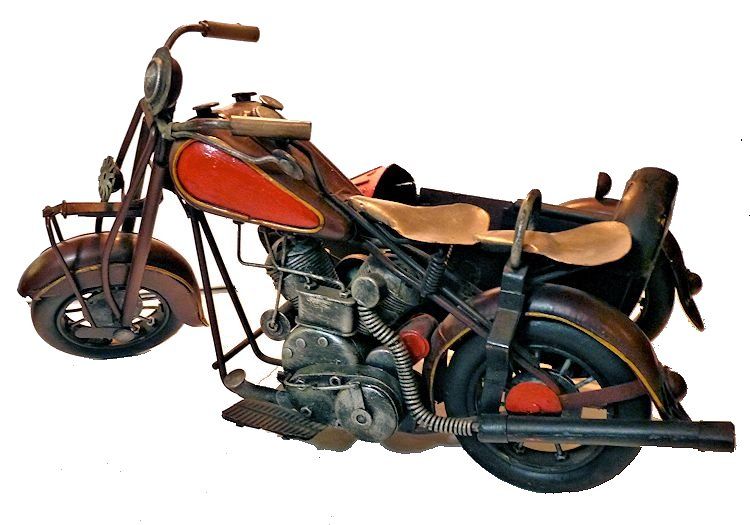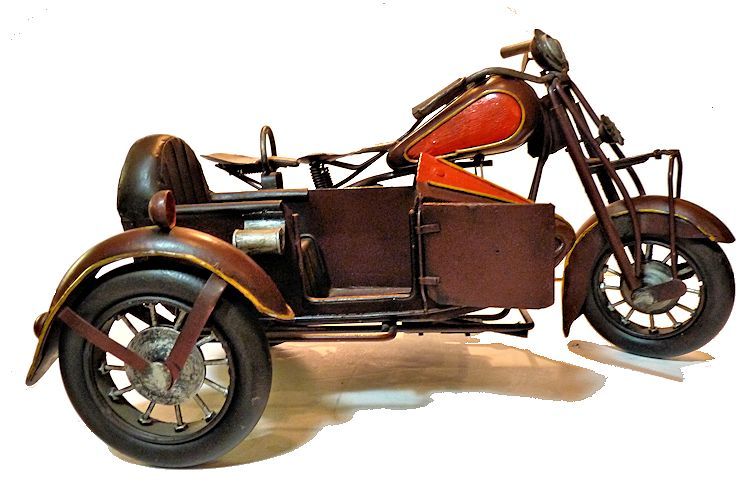 DIMENSIONS – 7″ H x 10″ W x 14 1/2″ Long.                       WEIGHT 3 lbs.
6 oz.  
Copyright
2017 by Land And Sea Collection™, All Rights Reserved

Presented is a skillfully hand crafted, model of an Indian motorcycle and sidecar model dating
from the 1920's Era. It is made from numerous pieces of metal that are formed and fitted together that make up the frame,
running gear, engine and sidecar. The brown paint is carefully applied with red accent areas on the tank and the door and
the front of the sidecar and elsewhere. Yellow pin striping is added for extra glamour. This is a high quality reproduction
of Indian's most popular model that was made from 1920 to 1949.

 

The advertising drawing pictured directly above is of an Indian Scout Series 100 motorcycle and sidecar as
sold in the 1940's. And the photograph below is of a real bike.

The model is made from metal using many intrictly made pieces. The tires are plastic castings painted
black. The brown paint is sprayed, the red and yellow trim paint is brushed by hand, The stamped side car seat is sprayed
black. The few welds look crisp, and were likely machine made. All of this makes up a very high quality reproduction
of the real bikes it replicates.

 
        Partial front and back views of
the Indian Scout sidecar motorcycle reproduction

 
The Indian
Scout is a motorcycle built by the Indian Motorcycle Company from 1920 to 1949. It rivaled the Chief as Indian's most
important model. The 101 Scout, made from 1928 to 1931, has been called the best motorcycle Indian ever made. A second line
of Scouts, with lighter frames and reduced engine displacement, was introduced in 1932 alongside the Standard Scout, which
replaced the 101 Scout and shared its frame with the Chief and the Four. The small-displacement Scout and the Sport Scout,
introduced in 1934, were continued until the end of civilian production in 1942. Military versions models were used by US
and other Allied forces during World War II.
Apart
from fifty examples of the 648, a special racing version of the Sport Scout, the Scout was not continued after World War II.
In 1949 an all-new motorcycle, with an overhead valve straight-twin engine, was called the Scout; it was enlarged and renamed
the Warrior in 1950.

Credit wikipedia
Looking
down on the vintage Indian motor bike and sidecar
Close
up of the vintage Indian sidecar 
Close ups of the engine, fuel tank and one wheel