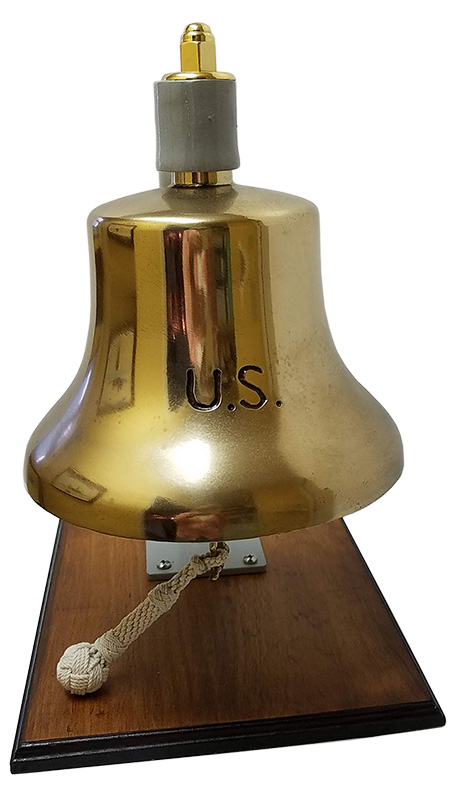 Dimensions:
BELL:
Diameter at Crown: 5″
Diameter at Mouth: 9 1/2″
Height to Crown: 6 1/2″
Height Overall: 17 1/2″
WOOD STAND: 14″ L x 11″ D x 3/4″ T
Total Weight: A heavy 35 pounds
The bell has been polished & lacquered for a dramatic desk or table top display.
Presented is a post World War Two (WW II) "Foredeck"or anchor bell, specially mounted with our exclusively made aluminum bracket and stand. It has the original clapper with one piece nut and washer. The bells were polished when in Navy service, and so we offer them in the same configuration.

NOW HARD TO FIND: U.S. Navy bells of this unique design are becoming very scarce, and those with all their original parts are scarcer still. They were mounted using a special "J" bracket on a pedestal or deck, hence they are known as anchor or foredeck bells.
Here is a link to read further about Navy Bells: https://landandseacollection.com/id1189.html
| | |
| --- | --- |
| | |
| Side View | Side View |
NAVY BELLS RING WITH DISTINCTION: There is nothing comparable to the sound of a Navy bell. The use of a special "bell metal" formula produces a clear, sharp ring and sets up a strong reverberation and strong resonance that, once heard, will never be forgotten. Cheap imitations can never achieve this distinctive ring because "bell metal" is a specially formulated bronze alloy, unique to the Navy, for this highly specialized use.
CONDITION:
Newly polished and lacquered. New powder coated aluminum bracket. The bell rings sharp and clear which resonates and makes a strong vibration.
This outstanding and rare US Navy bell is a great find for a gift, presentation piece or for a collection that includes only the finest. The stand makes it ideal for display!

The cost of shipping, packing, handling, and insurance to your destination, will be calculated point to point and is an additional charge. You may email us to get these costs. We price our shipping honestly, but we expect to be reimbursed for the nominal cost of packaging materials and handling.
Our Unconditional 'No Nonsense' Guarantee
If not completely satisfied with your purchase it may be returned, if without damage, within three days of receipt in its original packaging. Return items must be insured for their full value. Only a prior email authorization by us for the return is required. Shipping charges are refundable if due to our error within the continental United States.
International buyers welcome, but inquire first. We have satisfied customers worldwide.
Standard Forms of Payment
Bank wire transfer, cashier's check, money order, or personal check in which case the item will be held until cleared. Our prices are quoted net to us so that the use of credit cards or PayPal incur extra charges. Terms on overseas sales are different.

Celebrating 18 Years of Exellence in Nautical Antiques