LARGE ANTIQUE COMBINATION PORT/STARBOARD
NAVIGATION  LAMP 
Ca 1916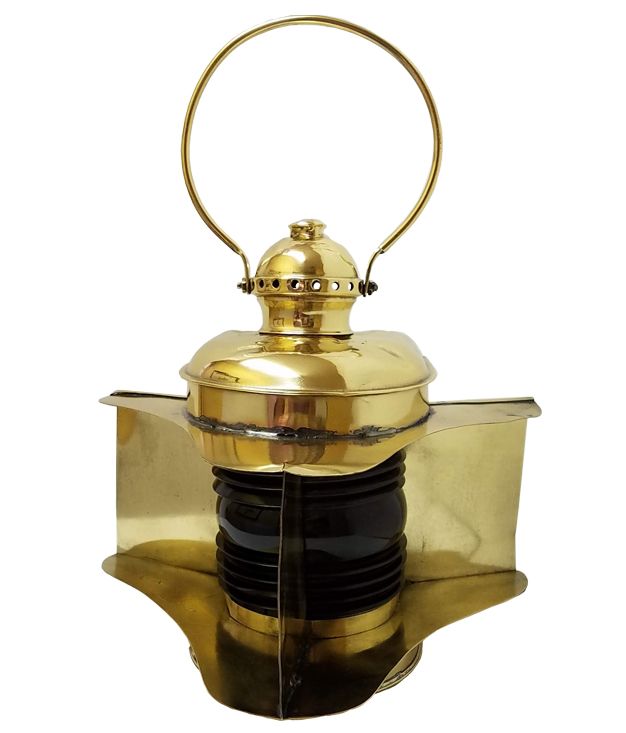 DIMENSIONS: Not counting bail, 10 1/2″ H x 10 1/4″ W x 8″ D
The bail adds 4 1/2″
Weight 4 lbs 7 oz.
Presented is another one of the rare Port/ Starboard lights, similar to the one we have by Perkins Marine Lamp Corporation of Brooklyn, NY., made for boats up to 26 feet long.These light configurations are such a pleasing design and very hard to come by. We have our doubts that this lamp was made by Perkins, although the measurements are similar. It is of rougher construction with a fair amount of exposed solder joints. It could either be a repair of a damaged Perkins lamp, with some replaced parts, or a fair attempt to reproduce their "Wonder" lamp. As such, we have priced it significantly below our original Perkins Lamp in the following listing: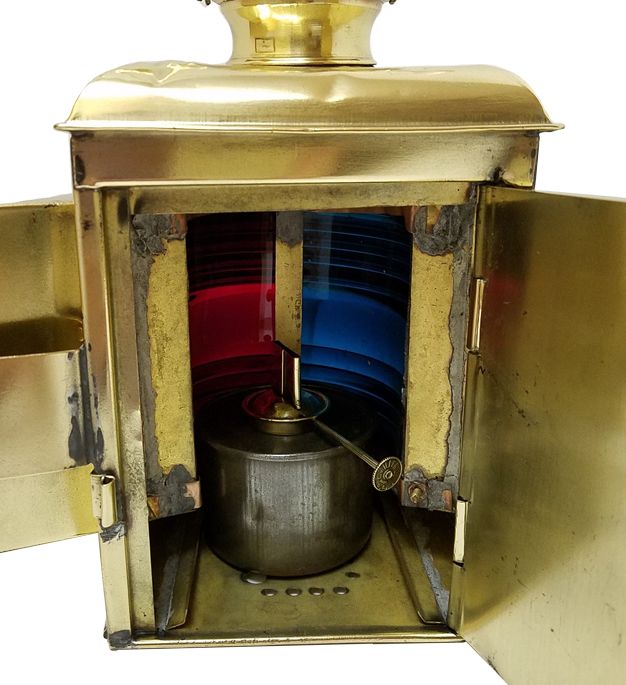 If this lamp is in fact a repair of an original Perkins light, here is a bit of history covering their manufacturing:
Starting in 1904, Perko made all kinds of lights under their original name, "Persky". In 1916, they incorporated under the name Perkins Marine Lamp Corporation in Brooklyn, NY. In 1931 the name was changed to Perkins Marine Lamp & Hardware Corporation. In 1961, the Brooklyn facilities were closed and operations were moved to Miami, FL. Perkins was dropped from the name and the company became known as PERKO Inc. It was in 1916 that the Perko trademark was registered, and it has been used ever since. The company still makes high quality marine lights and hardware out of its Miami, FL facilities.
We have always enjoyed these lamps as nothing else will comparse to their Turn of 20th Century styling.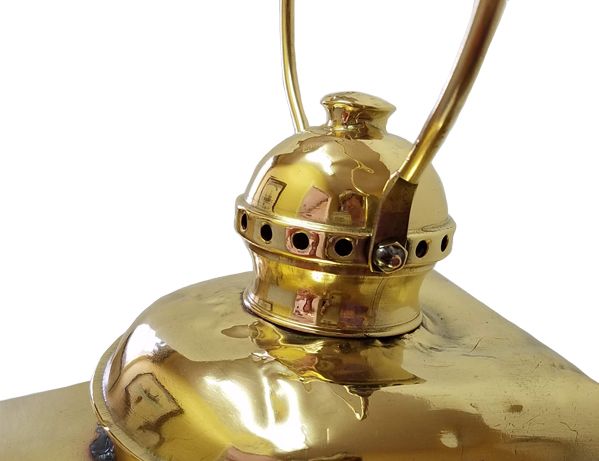 Top of the combined lamp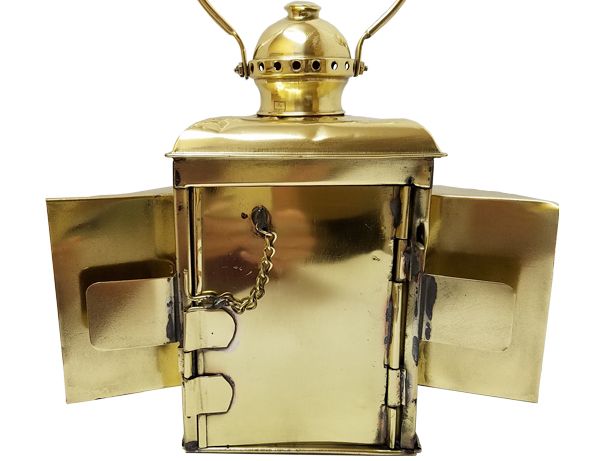 Back of lamp showing mounting brackets
CONDITION:Overall, the lamp in is good and serviceable condition. The top of the lamp shows a number of wrinkles and small dents which we have tried to show in our photos. The back closes and secures well. The original kerosene lamp is included. The lenses are in very good condition.
Price  $500.00                   Shipping  $45.00