LARGE STERN LIGHT
BY

RICHARD IRVIN & SONS LTD.
NORTH SHIELDS & ABERDEEN,
SCOTLAND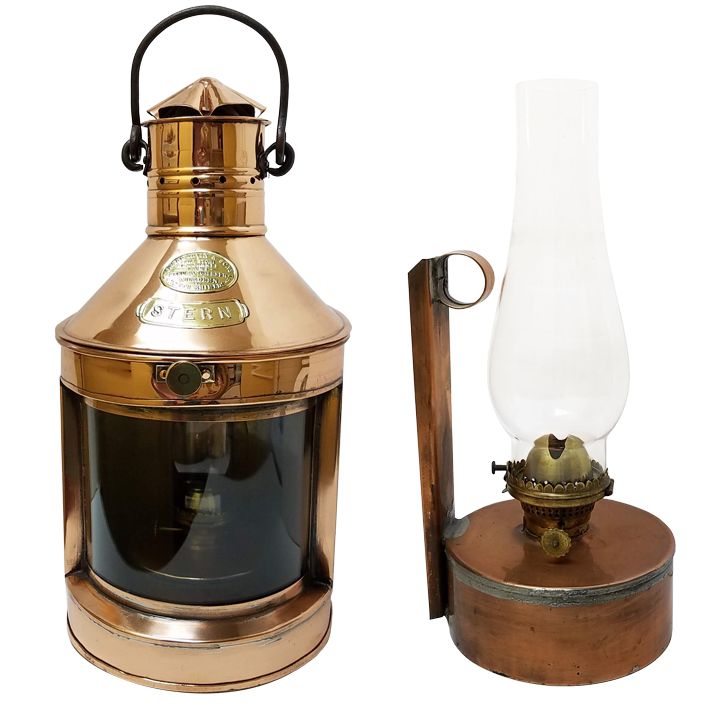 A Rare Navigation Ship's Stern Light
DIMENSIONS: Lamp not counting bails, 18"  high    Overall
height 20″                  Depth of 8 1/2".

                                                                                    Width: 8 1/4″                          Weight 7 lbs. 9 oz. 


 

 


PRESENTED is a very large antique Stern Lamp with a kerosene burner. We date this to the early 20th century. Given its size, this would have been for a fairly good size ship. The maker's tag on the front is imprinted:


RICHARD IRVIN & SONS LTD.
Ship Store
Merchants
—  Lamp  —
Manufacturers ETC.
Aberdeen
And
North Shields


| | |
| --- | --- |
| Maker's tag, usage, and screw opening fitting | Bronze fitting for securing Lamp |

Showing burner inside lamp

Original
burner with Hurricane Glass

BRIEF HISTORY OF THE MAKER: Richard Irvin was born in North Shields in 1853, entering the fishing trade in 1864 at age 11. He witnessed first hand the beginning of the steam trawl fishery in the area, being undertaken by converted paddle steam tugs.
Seeing the potential of the trawl industry he followed the example set by tug master, William Purdy, & began using converted paddle steam tugs for trawling. By the time he was married, the foundation for the Richard Irvin fishing dynasty had already been laid.
His first son, John Hannel Irvin was born in 1874, starting work in the firm aged 13, and upon reaching the age of 21 was transferred to the Aberdeen branch which had been opened in 1887, and made a partner in the firm. This firm was then known as Richard Irvin & Sons Ltd, with the subsequent taking into the partnership of his other sons, Richard Irvin Junior, George Driver Irvin & Thomas W. Irvin. They established the firm Shields Engineering Co. for the construction & repair of trawlers & purchased the firm Young's Dock Co., which they merged to form the Shields Engineering & Dry Dock Co. The firm then became involved in the herring drifting fishery around the same time as steam powered drifters began to be used in NE England and Scotland. The East Coast Herring Drifter Co. was set up in 1900 followed soon after by the Shields Ice & Cold Storage Co. Ltd.


 

SN 118 Chris was a Richard Irvin owned steam trawler built in 1910, apparently surviving today in Germany.
 

            The burner is loaded from the top
                                    

CONDITION: This lamp is in excellent condition and has been polished and lacquered for dramatic display, with only very minor marks of age from use at sea. The rounded glass window is perfect. The kerosene burner is original with a fitted hurricane glass.