CHINA TRADE PAINTING OF
"MARIE COLLET'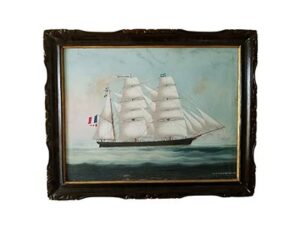 Oil on Muslin 19th Century
Unframed  22 1/2″ x 17"
Framed  27 3/4″ x22″
Designated for Capt. C. Fockenberger 1868
Signed – Chop on back of canvas probably indicates the Chinese Harbor Artist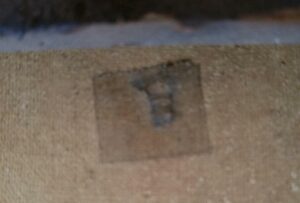 "Chop" of the artist
Presented is a fine example of a 19th Century China Trade painting. The draftsmanship of the unknown artist is exceptional and shows an intimate knowledge of his subject matter. The painting is oil on muslin, has not been restored, and shows craquelure, more pronounced on the bottom of the painting. The artist was an excellent draftsman, and the details of the ship and sails are pristine.
As this painting was done at the height of the China Trade Period, the number of shipping companies involved in the trade during that period was extensive. We have not been able to identify the ship or its owner. It was very common for the Captains of these ships to employ the harbor artists in the Chinese ports of the day to paint a portrait of their ships at a very nominal fee. This fine piece appears to have been commissioned by Capt. Fockenberger in 1898.  These paintings have become great collector acquisitions and are much sought after. This painting of "Marie Collet" appears to be in its original rosewood frame as some imperfections in the frame and gold liner would indicate.
"China Trade" paintings have increased in value quite a bit recently, as it appears that Chinese buyers are re-patrioting some of these works.  These beautifully drafted works by the Chinese harbor artists show excellent draftmenship and have been very sought after.
We recently discovered a wonderful book about this period in our history, and how important the China Trade was to the new American country. It is "Barons of the Sea", by Steven Ujifusa. It puts the reader right into the period and explains what led to the design and development of these beautiful "Tea Clipper" sailing ships. This was a very dynamic period in our country's history, laying the foundation for our development as a prominent player on the world stage.
Detailing the back and canvas wrinkle in upper right corner
CONDITION: The painting is in reasonably good condition considering its age, and that no restoration has been done. There is extensive craquelure as pictured, most prominently on the bottom of the painting. The frame is rosewood with a gold liner and shows some missing finish. We have photographed areas that we feel show damage or finishing issues.
PROVENANCE:
The painting was acquired in the normal course of business.
Original Price $2800.00           Sale Price:  $1960.00
Shipping:  $85.00