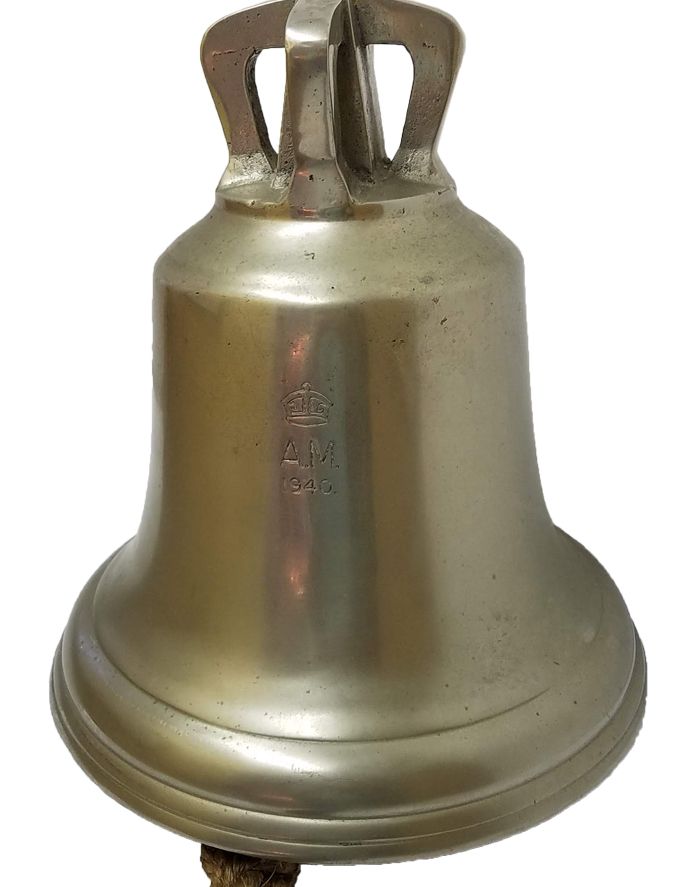 Presented: is a beautifully proportioned Royal Air Ministry Bell which was salvaged from a yard in Holland that was breaking up a British Minesweeper in the 1980s. We're assuming the bell was recommissioned after the war to the Navy. It was presented as a gift by the salvage company to a gentleman working for Hatch & Kirk, Seattle, who was involved in salvaging parts for his company. Hatch & Kirk is a leading global supplier of heavy duty engine parts to rail, marine, government and industrial sectors, both new and re-manufactured aftermarket equipment.
The bell is marked with a Crown insignia, the initials A.M. and date, 1940. These bells were used as "Scramble Bells on RAF installations for for enemy air raids during WW II. The date of 1940 puts this bell in use during the Battle of Britain. Also, I've been informed that if you see some films from that period, and the bell is present, there will also probably a sign that says, "Scramble Bell" – or "Ring the Bell and Run Like Hell". The classic Royal crown is present at its top and the inside rim of the bell shows the mark of the clapper around its circumference. Because of its fine proportions, classic design, and the clear, resonate ring, we are confident this is an authentic Royal Air Ministry bell. It comes with a fancy heavy braided bell rope which looks to be original to the bell.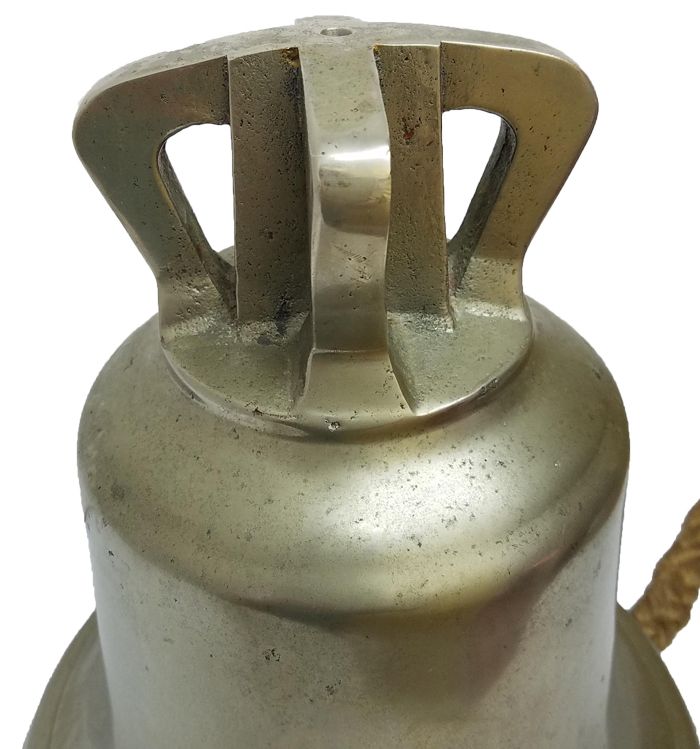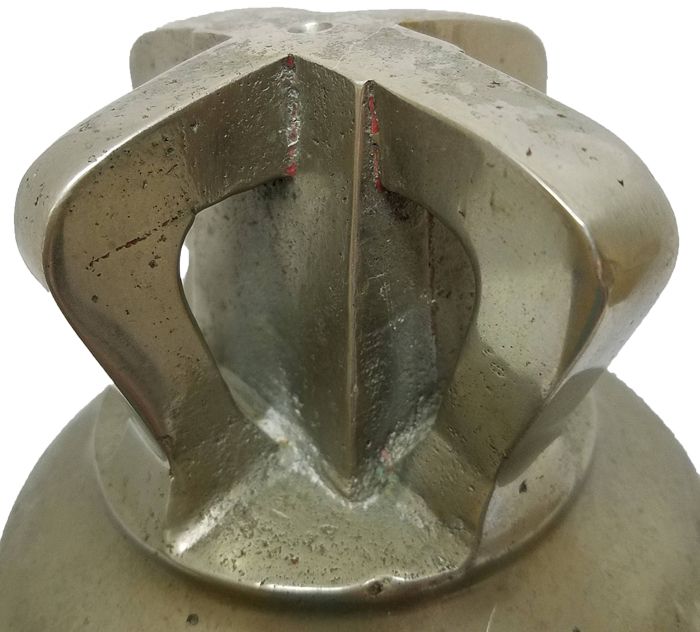 We believe the bell is constructed of Monel metal alloy. Monel is a group of nickel alloys, primarily composed of nickel (from 52 to 67%) and copper, with small amounts of iron, manganese, carbon, and silicon. (Alloys with copper contents 60% or more are called cupronickel.) Stronger than pure nickel, Monel alloys are resistant to corrosion by many agents, including rapidly flowing seawater. They can be fabricated readily by hot- and cold-working, machining, and welding.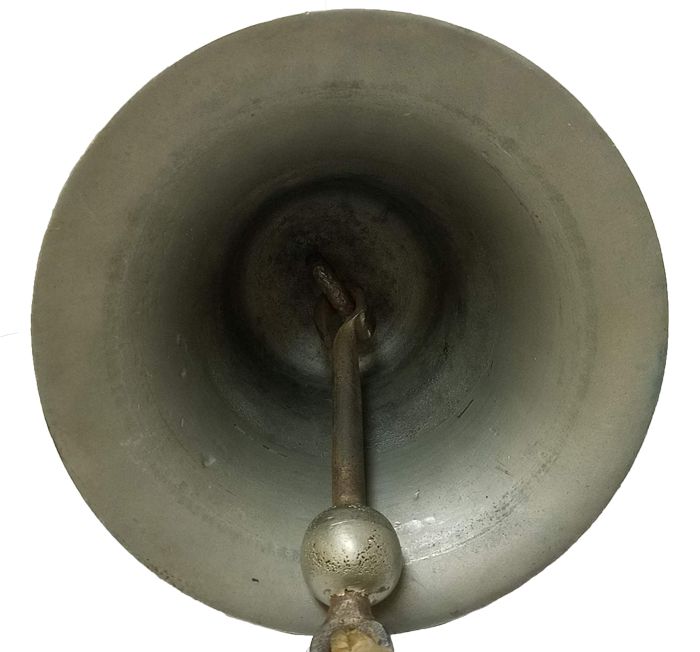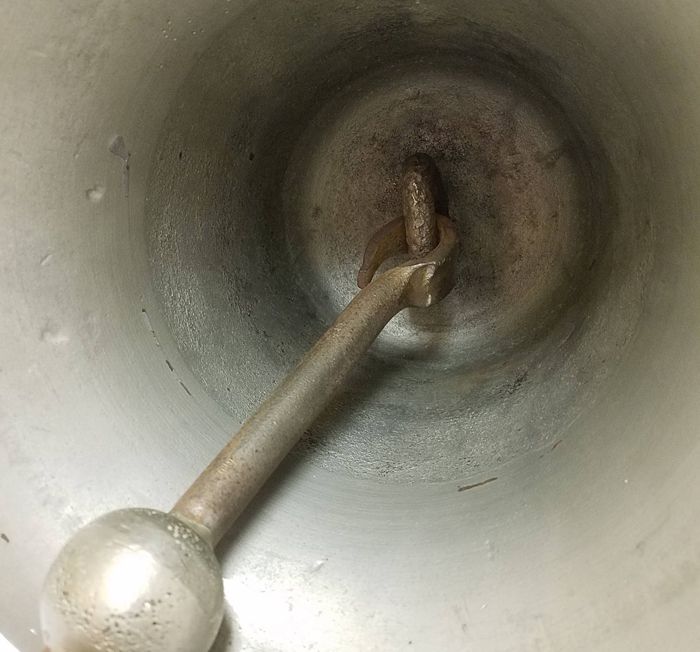 Inside of bell showing random flattening made by the clapper around the circumference
BELL  DIMENSIONS :
Diameter at crown: 7″
Diameter at mouth: 10 ¾"
Height overall: 9 ½"
Weight: 23 Lbs.Royal Air Ministry bells are exceptionally rare, more so that the Royal Navy bells as there were a lot fewer RAF air fields than Navy ships. We are pleased to be able to offer this fine example.
PROVENANCE: Purchased from the gentleman who was gifted the bell, and in whose possession it has been since the 1980s, details above.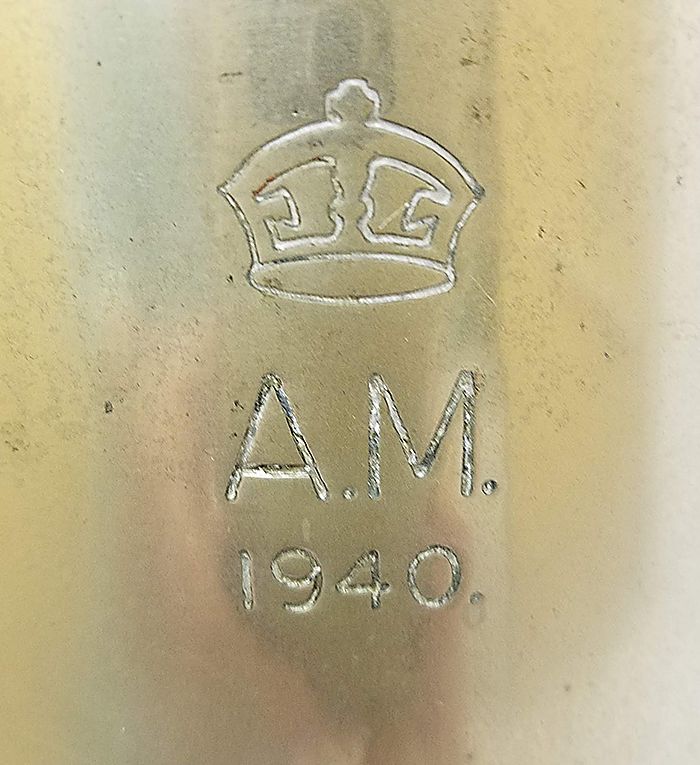 A.M. 1940
This rare British Air Ministry bell is a great gift idea, and suitable for a collection that includes only unique military collectables.
CONDITION: The bell shows in excellent condition with some minor indications of use and age. The bell rings sharp and clear and resonates, making a strong vibration typical of military bells.