10″ CHELSEA PILOT HOUSE CLOCK
Ca 1915-1918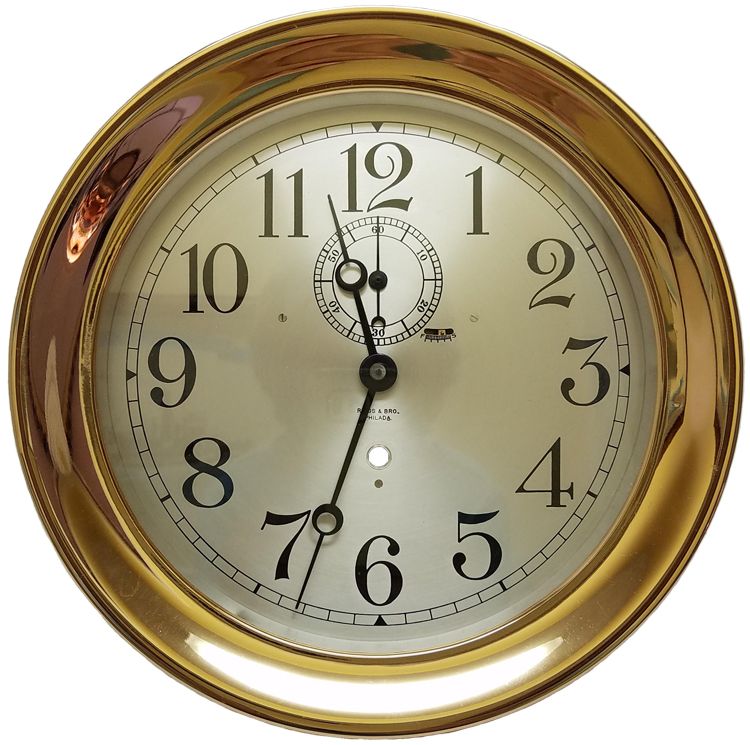 ORIGINALLY SOLD BY RIGGS &
BROTHER OF PHILADELPHIA
PURVEYOR OF FINE NAUTICAL INSTRUMENTS AND EQUIPMENT TO THE SHIPPING INDUSTRY AND GENERAL PUBLIC
Presented is a rare and important, antique, an eight-day clock with an 8-inch face, manufactured for RIGGS & BROTHER, Philadelphia between 1915 and 1919. On the back of the Chelsea Pilot House clock is the serial number 129352 which would have been the original movement. However, that movement was replaced at some point with a movement serial number 113142 which is of the same period, just a bit earlier.
DIMENSIONS CLOCK:
Full Diameter: 10″
Diameter of Dial: 8″
Depth: 3″
Weight: 13 1/2 Lbs
RIGGS &; BRO., PHILADELPHIA
H.C. Riggs, a Philadelphia clock and watchmaker, established Riggs & Brother in 1818. Subsequent family members continued the firm, keeping its name over the years. In addition to retailing jewelry, silverware, clocks, and watches, the business expanded to include repair work and supplying nautical equipment and industrial timepieces.
The company's clientele was not restricted to the Philadelphia area. There were quite a number of contacts and contracts with various offices in the United States government, as well as with individuals and governments overseas.
From its early years, the firm was heavily involved in issuing an annual "Nautical Almanac." Other kinds of nautical paraphernalia were—or soon became—a direct concern of the business, including charts, depth gauges, chronometers, compasses, weather instruments, and telescopes. The business appears to have stopped operations around 1929-1931.
The Winterthur Library The Joseph Downs Collection of Manuscripts and Printed Ephemera
Chelsea Movement Serial Number
DESCRIPTION: The clock is housed in the original heavy forged brass case with easy to use side opening bezel and measures 10 inches in diameter. It has a large 8-inch brass 12-hour dial which is in excellent condition, and the clock has been recently serviced and keeping excellent time. The Arabic numerals and inscriptions are acid etched in black. Below the 12 O'clock position is the winding arbor. Next comes the hand's arbor that features a Full Moon minute and Full Moon hour hand. The large second hand has its own dial and the hand has a Half Moon tail. A Fast/Slow Lever regulator is directly at the top left of the enlarged second's dial. The precision, 8 Day 11 jewel Model F Pilot House movement, and lever escapement with large seconds dial and serial number date this clock's manufacture to 1918. It weighs a heavy 13 1/2 pounds. It is keeping excellent time when rated against a quartz comparison watch. A Chelsea key is included.
| | |
| --- | --- |
| | |
                           Chelsea Clock Works Top View                                                                                    Chelsea Clock Works Side View
    Side Opening Bezel
This stunning Chelsea Clock with its dramatic size makes a memorable gift or as an addition to your den wall or in a collection. Please check out this link: https://landandseacollection.com/id1231.html, for a custom-made Clock Stand that will accommodate this fine clock, allowing for display on a mantel or desk.
CONDITION:
This fine clock is in remarkable condition and the face shows no age. The case has been polished and the movement is bright and clean and keeping excellent time. For best timekeeping, it should be wound about once a week.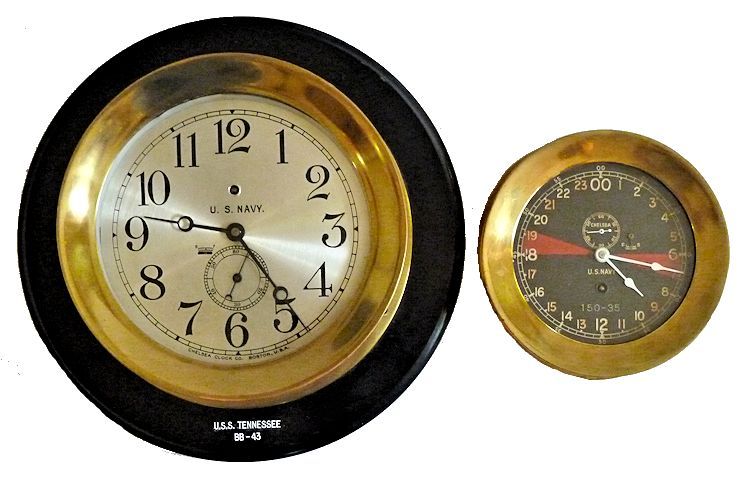 Comparative
difference in size between a 6-inch and 8-inch clock