LATE 18TH & EARLY
19TH CENTURY
CASED DRY CARD COMPASS
BY K.C. COSTIGAN
OF NEW YORK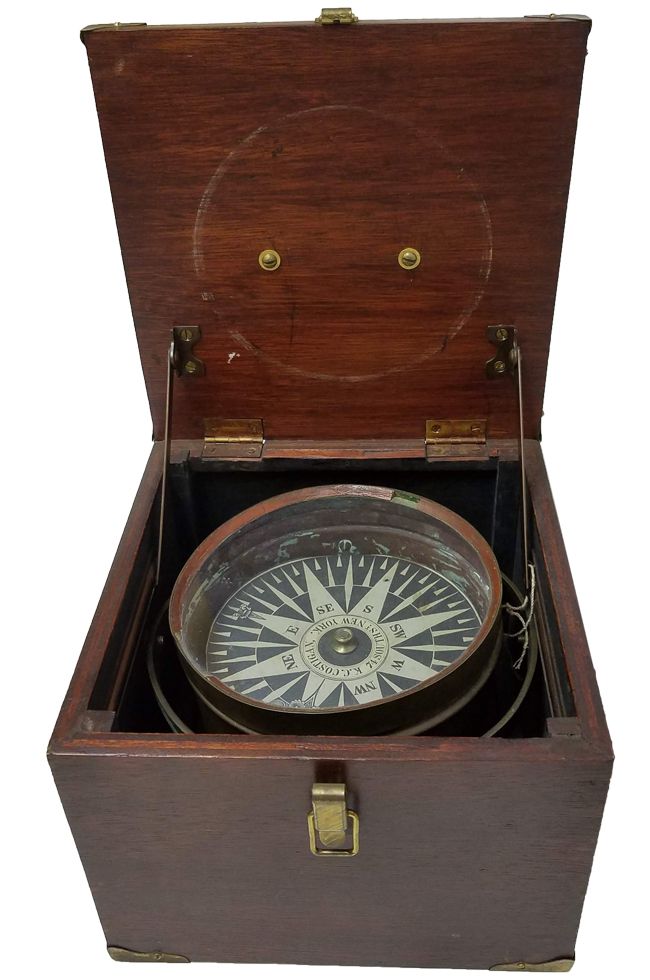 Presented is a late 18th & early 19th Century large boxed Dry Card compass by K.C. Costigan of New York, The absence of degrees suggests it is from this period,. The brass bowl with original finish has a simple hand lettered dry card all hung from proper outside gimbals. It is housed in a handsome wood box with decorative brass fittings. It is in excellent condition given its age, and is working appropriately, pointing to magnetic north accurately.

Because of its unusual pivot, we consider this a very rare example of an early American boxed dry card compass.
Top view of rare gimbaled center jeweled pivot
The case is 10″ x 10″ x 8″       Weight 10 Lbs
THE DRY CARD COMPASS:

The dry mariner's compass was invented in Europe around 1300, and consists of three elements: A freely pivoting needle on a pin enclosed in a box with glass cover and a compass (directional) rose or card. The compass card is attached to a magnetized needle in such a manner that when placed on a pivot it remains near stationary, always pointing North while the ship changes direction. Thus, as the ship's course is changed, it may be read from the compass rose indicating what course the ship is on".A gimbal mounting allows the compass to remain near horizontal while the ship rolls and pitches, and adds to the accuracy of the reading.
COMPASS DETAILS:
The bowl of the compass is brass and appears to be in original condition. The engraved paper dry card's "North" is identified with a very ornate Fleur des Lis.. On the inner circle is engraved, "K. C. COSTIGAN" above the center pivot, and "74 SOUTH ST., NEW YORK" below.
The outer ring of the compass card is subdivided in "points" each point being 11 1/4 degrees. The larger subdivisions are in Cardinal Points, N,S,E,W, and quarter points, NE,SE,SW,NW, then 1/2 points, 1/8 points and finally 1/16 points. There are 32 points on the compass card making 360 degrees in total. The glass is sealed in place by its original red lead compound, some of which is missing. The ring enclosing the glass can be lifted off the compass bowl.


COMPASS DIMENSIONS:
Diameter of bowl 7 1/4″ Diameter of card 6 1/4″
Diameter of gimbals 8 1/2″ Depth of bowl 5 1/2″
We have not been able to find any information about the seller of this compass, K.C. Costigan of New York, but assume that they were dealers in nautical instruments and supplies in the South St. area during this early period.