SMALL BOAT BINNACLE BY
STAR COMPASS COMPANY
OF BOSTON
CA 1905

Presented is a small early American binnacle by Star of Boston. We are thinking early turn of the 19th century. The only markings on the case are a large "5" on the inside of the front door. The compass, which is  swinging freely, is marked "Star -Boston U.S.A", with a serial number 39650. The card is divided into degrees on its outer perimeter, and then into the classic points, cardinal and sub cardinal points. The Star Compass Co. of Boston, Mass. had its origination in 1905 when it started the manufacture of mariner's (spirit) compasses in a small way without the aid of power other than that which one could produce through his own efforts upon a foot treadle. However it was not long before the quality and practicability of the compass was recognized and accepted, which enabled the company to acquire better equipment, larger quarters and increase its line of compasses from one to eighteen sizes suitable for use on the smaller boat or the largest ocean going steamers. (Milton Historical Society)
THE CASE: The original teak binnacle case is simple, but nicely made and has its original slanted and glass front port. There is an opening port on right side for a kerosene lamp. The burner is missing which is not unusual for a piece of this vintage. The brass is in excellent condition and has been polished and lacquered for dramatic display.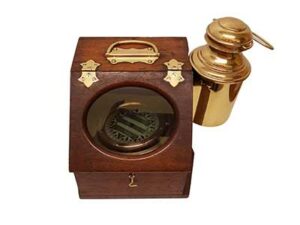 Burner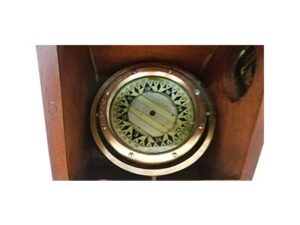 Front Open View of Compass
DIMENSIONS:Case  10″ W x 8″ D x 9 1/2″ H
Weight 7 1/4 pounds        Compass card diameter 5″        Gimbal  Diameter  6″
As the compass is  swinging freely, we think this very fine and attractive binnacle is an excellent addition to any office or desk for those seeking a nautical touch as a decorative accent.
Price   $450.00             Shipping:   $45.00