BEAUTIFUL WOOL WORK OF
BRITISH ROYAL NAVY
FULLY RIGGED
3 MASTED BARQUE
PICTURE SIZE: Unframed 24" x 18″, viewing area
 Framed 30"x 23 1/2" x 2"
Presented is a beautifully executed woolwork, which frequently is referred to as a woolly. It portrays a British Royal Navy 3 Masted Clipper Ship or Barque. It has a full complement of fore and aft staysails and jibs in place.  The sails appear to be of a fine silk thread which produces more depth to the picture and a fine glimmer to the sails.   The overall effect is a more sophisticated and elegant execution than a typical wool work.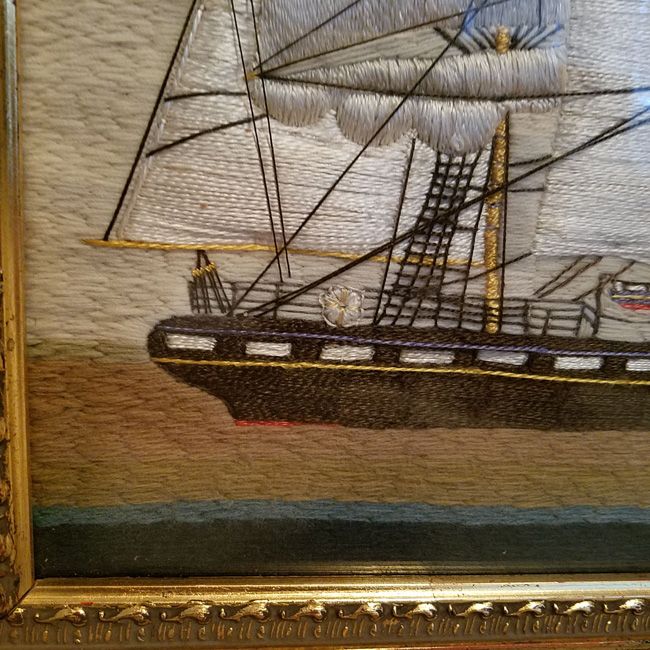 The bowsprit and figurehead are done in a gold/yellow yarn, again for a finer finish.
CONSTRUCTION:
This is a truly elegant wool work and in perfect condition. It is executed with pale beige with variegated grey highlights for the background. The ships sails, masts and figurehead appear to be of a glossy silk material. This is one of the most beautifully executed woolies we've had the pleasure of offering.
CONDITION:
The wool work's condition indicates that it has been preserved under glass for most of its life. It is in excellent condition. There are no broken threads and there are no moth holes or staining. All stitches are tight. The colors are bright. The period style gold leaf frame is in good condition with a small chip out of the bottom right corner and some minor indications of time passed. The stitching combines all the techniques of classic woolworks of the period. There is no fading. The photos were taken under glass using incandescent lighting, and the real colors are actually brighter than in the photos.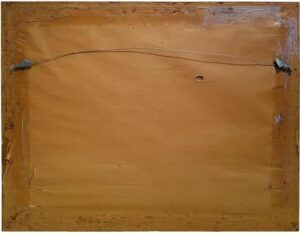 Back of Wool  Work
A SIMPLE CHECK LIST FOR BUYING WOOLIES Condition is probably the most important consideration. Are the threads intact, are they stretched, water stained, moth eaten, etc.
Depending on how it is framed, if without glass, it might show some fading of color. Stitching: There are various stitches that sailors used, many of which came from sail making, but others learned the art of embroidery so they combined complex stitches. Things to consider when choosing a wool work
CONDITION, COMPOSITION, COMPLEXITY HISTORY OF WOOL WORKS: British sailors crafting woolies were talented needle workers. The height of popularity of this form of folk-art was between 1840-1880. The sailors learned their craft through their daily routines of repairing the ship's sails and taking care of their uniforms. They made the most of their limited spare time and personal space by creating works of art that could be rolled up and stored under their bunks when not being worked on. These sailors were knowledgeable about their ships and their surroundings and were skilled at drawing on canvas and then transforming a simple sketch into a vibrant, detailed, and interesting ship picture. Their accomplishments is magnified by being self taught and creating their works for the satisfaction they gave since there was no profit motive. The overwhelming majority of woolies are unsigned. Gallery prices for works such as this can range from a low of $4000.00 to a high of $35,000.00 on the average.