HUGHES
SMALL BOAT
DESKTOP BINNACLE


Presented is a charming small boat binnacle by Kelvin & Hughes, England. We are estimating the age as post WW II period. The compass, which is swinging freely, is marked  Kelvin& Hughes, with marks in 10 degree increments and classic cardinal and sub cardinal points.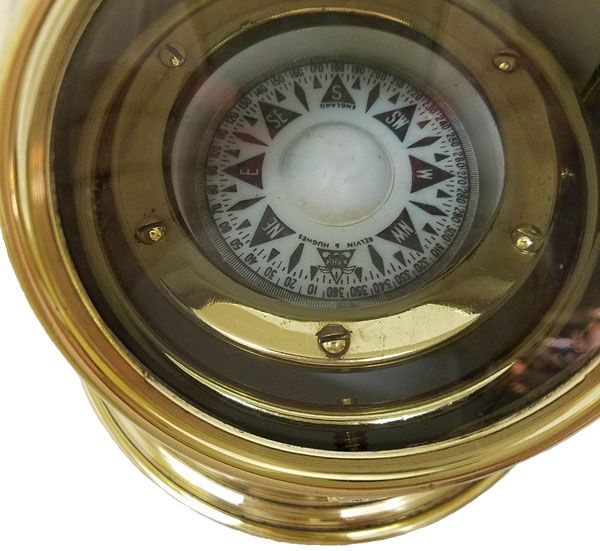 Close-up of the compass
BRIEF HISTORY OF MAKER: Henry Hughes & Sons was founded in 1838 in London as a maker of chronographic and scientific instruments. The firm was incorporated as Henry Hughes & Sons Ltd in 1903 and in 1923, the company produced its first recording echo sounder. In 1935, a controlling interest in the company was acquired by S. Smith & Son Ltd resulting in the development of marine and aircraft instruments. Following the London office's destruction in the Blitz of 1941, a collaboration was entered into with Kelvin, Bottomley & Baird Ltd, resulting in the establishing of Marine Instruments Ltd. Following the formal amalgamation of Kelvin, Bottomley & Baird Ltd and Henry Hughes & Sons Ltd in 1947 to form Kelvin & Hughes Ltd, Marine Instruments Ltd acted as regional agents in the UK for Kelvin & Hughes Ltd who were essentially now a part of Smith's Industries Ltd founded in 1944 as the successors of S. Smith & Son Ltd. The well-known "HUSUN" trademark was in use starting in the 1920s
THE CASE: The original brass binnacle case is simple, in superb condition and very nicely made. It has its original slanted glass front port. There is an opening port on right side for a kerosene lamp. The burner is present, which is unusual for a piece of this vintage. The brass is in excellent condition and has been polished and lacquered for dramatic display.
Inside View of Burner DIMENSIONS:Case  9″ W x 7 1/2″ D x 8″ H
Weight 2 lbs. 14 oz.     Compass card diameter    2 1/2″Gimbal
diameter   4 1/2″