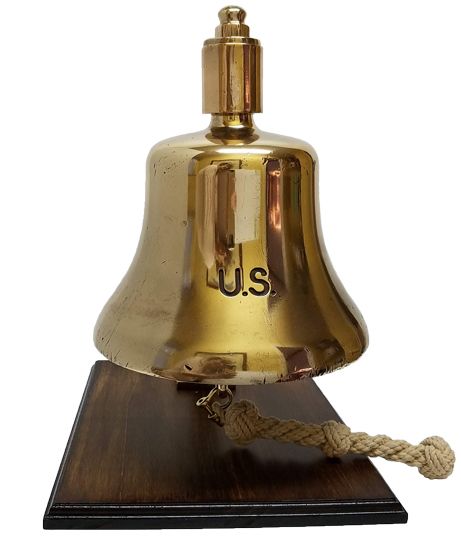 Dimensions:
BELL:
Diameter at Crown: 5″ 1/2″
Diameter at Mouth: 10″
Height to Crown: 7″
Height Overall: 16″
WOOD STAND: 14″ L x 11″ D x 3/4″ T
Total Weight: A heavy 35 pounds
The bell has been polished & lacquered for a dramatic desk or table top display.
Presented is a post World War Two (WW II) "Foredeck"or anchor bell, specially mounted with the original "J" bracket, which was how they were mounted shipboard. It has the original clapper with two piece nut and washer. The bells were polished when in Navy service, and so we offer them in the same configuration.
NOW HARD TO FIND: U.S. Navy bells of this unique design are becoming very scarce, and those with all their original parts are scarcer still. They were mounted using a special "J" bracket on a pedestal or deck, hence they are known as anchor or foredeck bells.
Here is a link to read further about Navy Bells: https://landandseacollection.com/id1189.html
| | |
| --- | --- |
| | |
| Side View | Side View |
NAVY BELLS RING WITH DISTINCTION: There is nothing comparable to the sound of a Navy bell. The use of a special "bell metal" formula produces a clear, sharp ring and sets up a strong reverberation and strong resonance that, once heard, will never be forgotten. Cheap imitations can never achieve this distinctive ring because "bell metal" is a specially formulated bronze alloy, unique to the Navy, for this highly specialized use.

CONDITION:
Newly polished and lacquered. The bell rings sharp and clear which resonates and makes a strong vibration.
This outstanding and rare US Navy bell is a great find for a gift, presentation piece or for a collection that includes only the finest. The stand makes it ideal for display!