U.S. NAVY BUREAU OF SHIPS
LIFEBOAT BINNACLE
BY LIONEL CORPORATION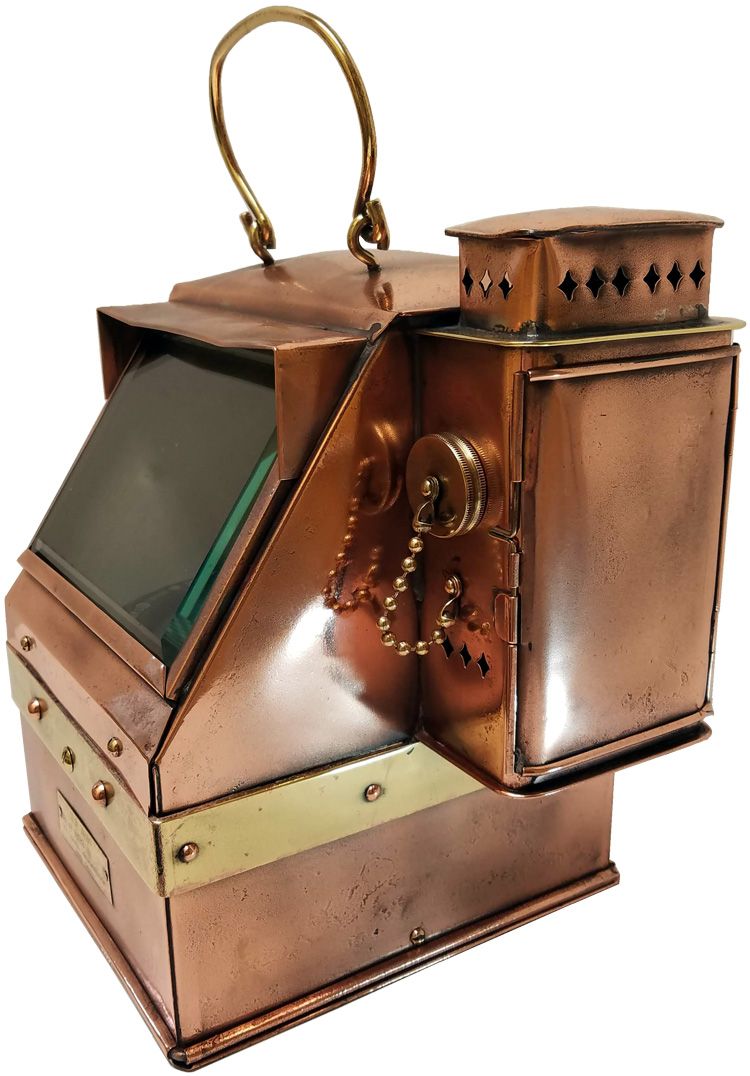 Presented
is an early, 1942 U.S. Navy Lifeboat Binnacle by Lionel Corporation. This standard U.S. Navy lifeboat binnacle is constructed of brass and copper, and made by The Lionel Corporation during WWII when the company suspended manufacture of toy trains to join in the war effort. It features a magnetic liquid compass marked 4″ BOAT COMPASS /Mark 1 No. 12984 / THE LIONEL CORPORATION N.Y. The compass card has grayed but is operating properly and is marked in 10's of degrees and held in a gimbal mount. There is a white enamel painted interior. Front has a slanted beveled glass window, the top equipped with a wire brass bail; the back with a heavy cast mounting bracket. The side of the binnacle retains the original oil lantern complete with burner and wick wheel, font, polished reflector and area for matches;
HT 9″ + 3″ for the bail.                 8.5″ wide x 9.25″ deep.


Condition: Expected wear and minor oxidation; few dings and dents. Inside, the dry card compass shows as near new. The case indicates many days use at sea, but the liquid card compass has grayed but operates properly.. The binnacle has been polished and lacquered for dramatic display, and to show in original condition.


This binnacle is a wonderful U S Navy artifact, and is perfect for the serious collector or as an accent piece in any decor.
Open side door shows the kerosene burner reservoir.
DIMENSIONS: Binnacle housing  7 1/2″ W x 7 1/2″ D x 9 1/4″ H
Weight 11 Lbs.
Compass   3 1/2″ diameter
Card   3″  diameter

The back has a large elbow for mounting the binnacle on an exterior bulkhead

Side and Front views of the Binnacle.