WW II U.S. NAVY
BUREAU OF SHIPS
ROLLING PARALLEL RULER
1942

Dimension L 18″ 1/4″ x W 2 1/4″
Weight 3 lbs 5 oz
Presented is a stunning brass rolling parallel ruler inscribed "U. S. NAVY BU SHIPS N 1129 1942" by Theo. Alteneder of Philadelphia. This beautiful desk accessory is an outstanding piece of US Navy memorabilia dated during the 2nd WW. It appears that another company continued to manufacture under the Alteneder name and we assume that at some point they were enlisted during the war years to produce items for the Navy.

Shown in feltlined wood case

Here is a bit of history by Dale Beeks of the Thoe. Alteneder manufacturer. One Philadelphia manufacturer became quite active as a drawing instrument maker in the latter half of the 19th century. Theodore Alteneder, an innovative machinist and draftsman, saw the need for a better-designed compass and joint pattern. In 1850 he patented an improved joint design and in 1871 he was granted a second patent for further improvements"…which made (the joint) dust-proof and free from wear and friction". Alteneder was awarded a medal for his designs in the Centennial Exhibitions of 1876 and a silver medal was received from the Franklin Institute in 1885. Theodore Alteneder was one of few American manufacturers of drawing instruments. He continued manufacturing as late as 1912."
This is an outstanding gift idea for any Navy personnel; retiring, graduating, or being promoted.
PRICE: $295.00                                      SHIPPING: $30.00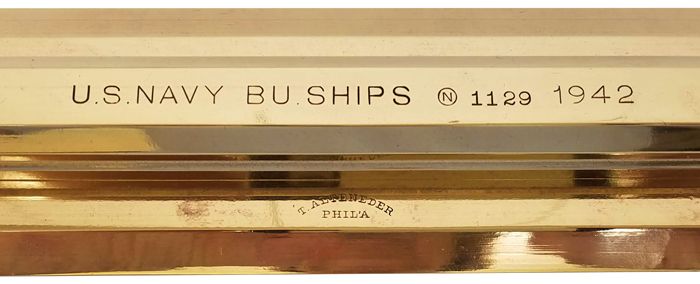 Close-up of the ruler

Underside of Rolling Ruler