HALF HULL MODEL
OF
PACKET STEAMER "WAVERLEY"
Caledonian Steam Packet Co. Scotland

DIMENSIONS: 38 3/4″ L x 11″ Ht 1 ¼"                 Weight: 8 lbs. 4 oz.
Presented is a fine half hull model of P.S. Waverley of the Caledonian Steam Packet Company, dated 1899. Although this company did have a P.S. Waverley in her fleet at one time, it was at a much later date than 1899. Consequently, we believe this half hull model, with artistic discretion, represents an amalgam and simplified version of the many ships owned and operated during this early period by the Caledonian's operations. The Caledonian Steam Packet Company provided a scheduled shipping service, carrying freight and passengers, on the west coast of Scotland. Formed in 1889 to complement the services of the, the company expanded by taking over rival ferry companies. In 1973, they were merged with MacBraynes as Caledonian MacBrayne.
The Caledonian Steam Packet Company (CSP) was formed as a packet company in May 1889, with Captain James Williamson as secretary and manager. Nominally an independent company, they bought the ships needed to operate steamer services to and from Gourock. On withdrawal of the Wemyss Bay Steamboat Company in 1890, CSP took over services to Rothesay, Largs and Millport. In June 1890, they established a service to Arran from the Lanarkshire and Ayrshire Railway railhead. In the years that followed, there was significant investment in piers and ships.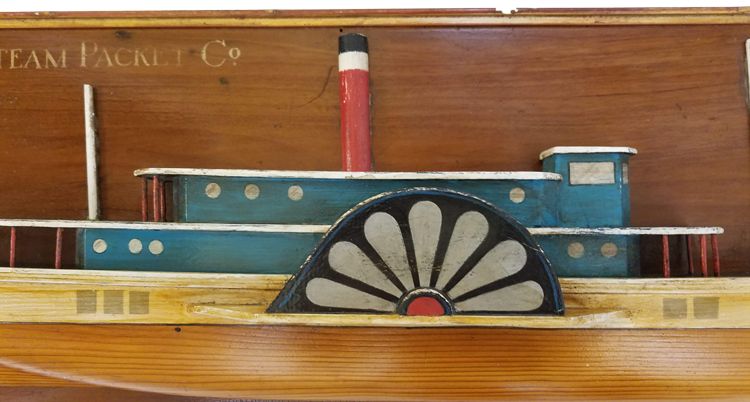 This link will take you to a picture of the type of steamer operating for Caledonian during the late 18th, early 19th century.
https://commons.wikimedia.org/wiki/File:Duchess_Of_Montrose.jpg#/media/File:Duchess_Of_
Montrose.jpg
CONSTRUCTION: This is a classic carved wood decorative half hull model display representative of a general type of ship sailing for the Caledonian company in the late 18th, early 19th century. Along with another Half Hull model we are currently offering, "Arran", we believe these models were constructed by the same artist, probably mid 19th century or there about.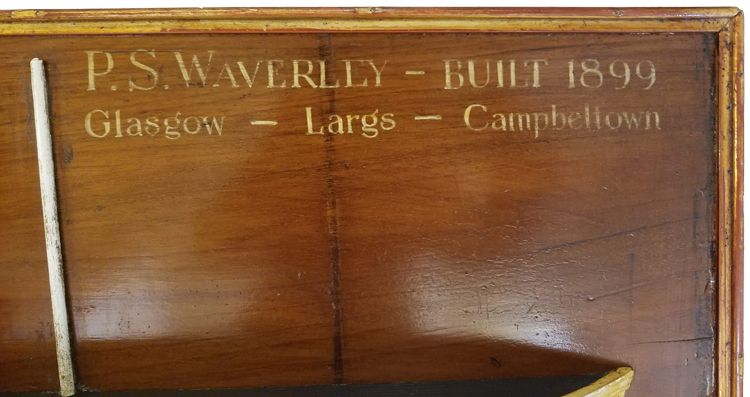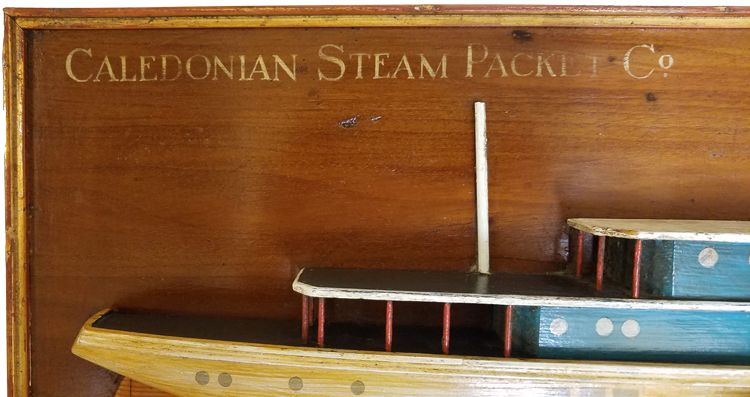 Notations providing the details of the model  painted on the back board
CONDITION: The half hull is in original condition, with some minor indications of age, such as a slight yellowing of the varnish finish on the lighter upper hull, which does not detract in any way from its appeal. There are some very minor dings and scratches on the outer frame.
PROVENANCE: Purchased in the normal course of business.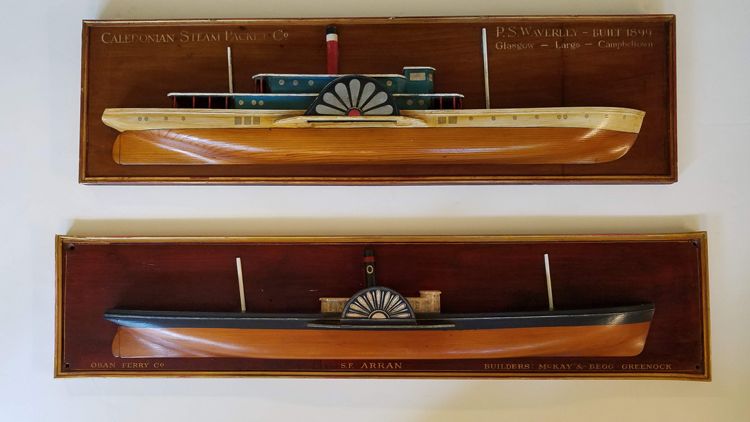 Both "Waverley" and "Arran"Half Hull Models – display together for a more dramatic effect
Waverley
This decorative half hull model is a great gift or wonderful addition to your office, den or family room. It can be combined with the half hull model of"Arran" for an even more dramatic display.
THE GENESIS OF HALF MODELS: Half Hull models were carefully hand carved, and incorporated the latest in the designer's knowledge
of which shape produced the fastest and most seaworthy vessel for the type cargo to be carried. The builder's models were
made to loft the lines of a large size sailing vessel as the first step in the building process. There were other forms of
half models which were used as a presentation piece to the owner, or as a record of the ship builder's
accomplishments. To learn all about half models, you will enjoy our essay discussing their fine points on  this
page. Go: https://landandseacollection.com/id267.html

Rear of back board