City  of Peking Bas Relief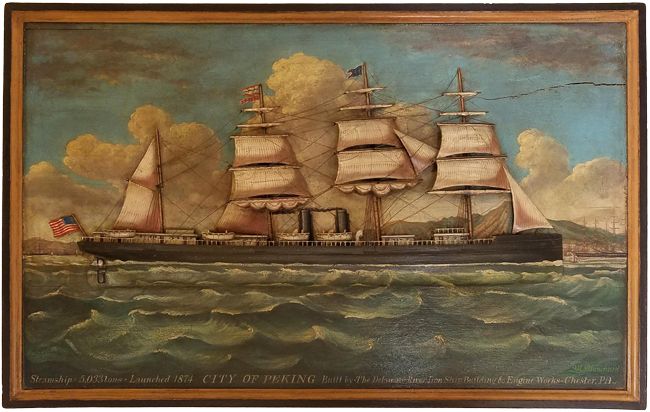 Bas relief Half Hull of SS"City of Peking" on painted background
Signed M. Blanchard Framed 35 1/4″ x 22 1/2″ x 1″ Weight 16 lbs.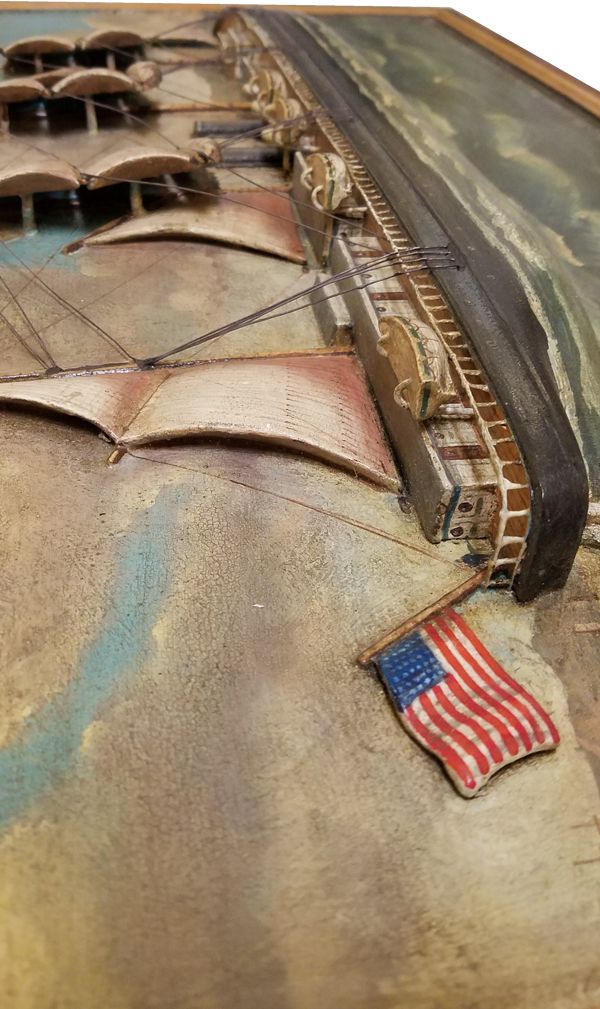 Presented is a beautifully executed Bas Relief model of the Sail/Steamship "City of Peking" . The painting is done on oak wood planks, with the ship under both sail and steam, and populated by a number of people. This is classic American seafaring Folk Art.. The artist's signature on the bottom right is M. Blanchard. We have not been able to locate any information on the artist, and consequently, have not been able to assign a date to this piece. There is hand lettering along the bottom of the painting that reads as follows: Steamship . 5033 tons . Launched 1874 CITY OF PEKING Built by .The Delaware River Iron Ship Building & Engine Works . Chester. PA.
The "City of Peking" was a considerably well known and important ship in America's seafaring history, and the largest in the American fleet at the time. Her first two major voyages were fraught with problems due to miss loading her cargo.. Having overcome those issues, she went on to have an extensive commercial history. Wikipedia has a considerable write up on this fine ship, and here are some of the highlights:
SS City of Peking was an iron-hulled steamship built in 1874 by Delaware River Iron Ship Building and Engine Works, Chester, Pennsylvania for the Pacific Mail Steamship Company.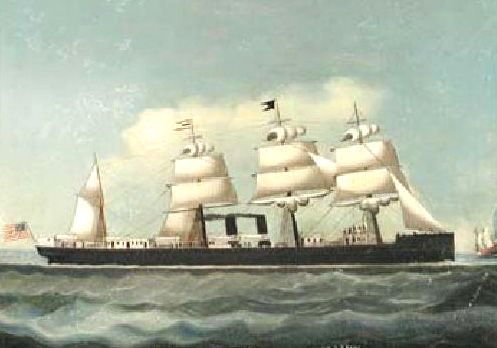 City of Peking at Pier 42, North River, New York in 1874
As a passenger-freighter, City of Peking was designed to carry either passengers or cargo, or both. She was outfitted to accommodate about 1,400 passengers—120 first class, 250 second class and 1,000 steerage The ship brought many Chinese and Japanese immigrants to the United States, many of whom settled in Hawaii or California. Cost of passage was $150 between San Francisco and Yokohama or $200 between San Francisco and Hong Kong, although the passage for Asian immigrants was frequently subsidized by government or employers.
City of Peking usually made the voyage from Yokohama to San Francisco in about sixteen days, but on one occasion the vessel took almost twice as long. The ship left the Port of Yokohama on January 10, 1893. After she was almost a week late in arriving, concern increased to the point that the steamship San Juan was dispatched to Honolulu with relief supplies, intending to trace the route of the missing vessel. However, City of Peking finally arrived unassisted, thirteen days late. It transpired that she had broken a propeller shaft and been forced to revert to her auxiliary sails, but since she had been carrying only enough sail for two of her four masts, progress had been unusually slow.
When the Spanish-American War broke out in late April 1898, the U.S. government quickly moved to charter a number of commercial vessels for service as naval auxiliaries. On May 1, 1898, a few days after the declaration of war, City of Peking was chartered by the U.S. government for service as a troop transport, at the rate of $1,500 a day.
Steamship 5,033 tons Launched 1874
City Of Peking
Built by The Delawars River Iron Ship Building & Engine Works Chester, PA.
CONDITION: The general condition of this work is very good. There is a crack in the wood in the upper right corner, but we don't feel it in any way detracts from this fine piece. It would be the result of the wood drying out over an extended period of time. There is also some very minor craquelure in the bottom left area.
We think that these Bas Relief 3 dimensional pieces of seafaring art, as they encompass both half hull and diorama aspects, make fine and interesting additions to any decor.
Details