CHELSEA SHIPSTRIKE CLOCK
on Mahogany Stand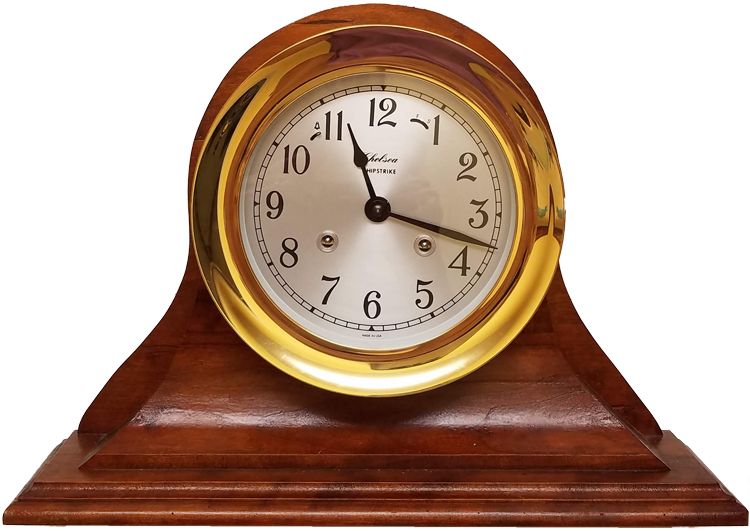 The clock is housed on a very fine hardwood stand.
Presented is a full 7-inch size ship strike bell clock which, in a lacquered brass case, strikes the hour and half hour. Immaculate, like new condition.
This is an outstanding example of a very fine striking bell clock. This fine working clock was designed to offer superior quality in a convenient moderate size package with a 5 ½" face, weighing 7 1/2 pounds. It is housed on a beautiful hardwood base. It is keeping excellent time and personifies Chelsea's reputation for engineering and manufacturing excellence.  It has a forged bronze case with a screw-on bezel, runs perfectly, and strikes the bells properly. There is a 5 1/2″ silver dial in near-perfect condition, etched Arabic numerals, and black hands. The clock is in "Superior" condition with no blemishes on its face or exterior. The Chelsea name appears in black script lettering below the hand's arbor.
SPECIFICATIONS: Diameter of bezel 7 1/4″
Viewable Diameter of dial 5 1/2″
Depth 3 1/2″
Weight 7 1/2 pounds
Base Measurements: 15" W x 10 ½" Ht x 4" depth.
The excellence of Chelsea clocks is well established, and this very fine bell clock with its mellow-sounding chimes denoting the four-hour watch cycle is a perfect example.  This fine piece is an example of  Chelsea's reputation for engineering and manufacturing excellence.  It has a side-opening Bezel for ease of winding and setting.
Immaculate face
The forged brass case is in perfect condition
The round backport allows the hammer to be adjusted
The metal case of the original Chelsea model is forged from thick brass. On this model, the forged bezel is screwed on. The lacquered polished finish is majestic in its presentation. The clock's face is etched brass, silvered.