Half Hull Model of Nat Herreshoff's
"Thistle"

Presented is a very fine vintage Half Hull Model of the "Thistle" by Nat G.Herreshoff. Nathanael Greene Herreshoff was an American naval architect, mechanical engineer, and yacht design innovator. He produced a succession of undefeated America's Cup defenders 1893-1920. In 1878 Herreshoff, a graduate of MIT, returned to Bristol, RI, where he and his older brother John B. formed the Herreshoff Manufacturing Company. Herreshoff provided the engineering expertise and his brother provided the business expertise, managing the firm's personnel and interacting with clients. Herreshoff designs have been considered some of the finest designs in sailing history, and very sought after.
Specifications and history of "Thistle" Later Name(s): Ruyam (1952-1962), Alexandra Lisa (1962-), Ketty Ioanna (ca1975-1984), Type: Aux. Yawl, Designed by: NGH, Contract: 1927-10-28, Launch: 1928-5-4, Construction: Bronze, LOA: 103′ (31.39m), LWL: 71′ 0.5″ (21.65m, Beam: 21′ 0.25″, (6.41m), Draft: 13′ 1.75″ (4.01m, )Rig: Yawl, Displ.: 66.0 short tons (59.9 metric tons), Keel: yes, Ballast: Outside Lead, Propulsion: Gasoline, Van Blerck; 6 Cyl., Built for: Tod, Robert E., Amount: $121,000.00, Last year in existence: 1984 (aged 56), Final disposition: Caught fire and sank in Dec. 1984 (unclear if in her homeport or at sea).
DIMENSIONS: The ship model  26″L x 2 1/2″ W x 4 1/2″ Depth
The backboard  29″ L x 8″ W x 3/4″ T
Weight 4 lbs. 11 oz.
Condition: This is a very fine vintage half hull with some minor paint scratches and loss on the freeboard at the rail. There are a couple of paint drips on the deck and one on the backboard. The hull is mounted on a fine mahogany backboard with a brass plaque with the manufacturer's name, date and specs.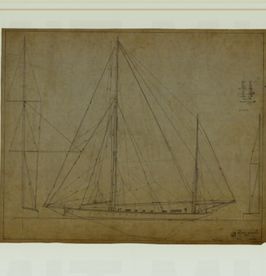 Sail Plan for Thistle  This is an opportunity to own a half hull model from one of the finest and most respected sailboat designers of all time.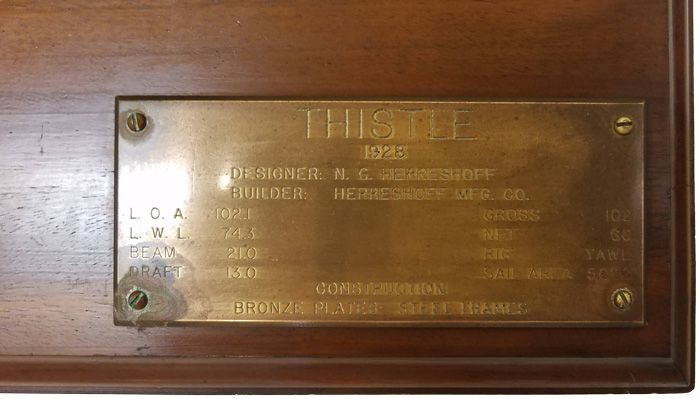 Maker's Tag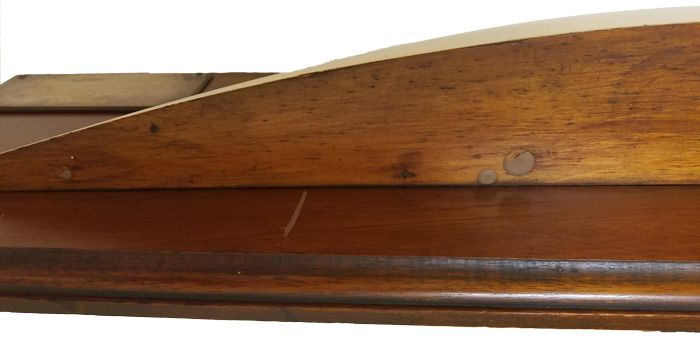 Overhead deck
view

Back of Backboard