BELLAMY STYLE
GOLD BANNER EAGLE
E Pluribus Unum"

This is a stunning decorative American Eagle Carving and dramatic addition to any decor
This fine stylized carving (generally referred to as a Banner) is of an American Eagle made by a follower of John Bellamy. The style, carving, and measurements make it a closely reproduced recreation of his work.
DIMENSIONS:45" L x 7 ¾" Ht x 3" D
WEIGHT: 1 lb 1 oz

Back of Carved Eagle
Presented is a carved American eagle banner with excellent detailing made by a follower of John Bellamy. One of the best-known carvers of his day, John Bellamy's many works live on and have appreciated iner the years. It is the type of work seen in his carvings of the mid 19th Century that were very popular in New England homes.
FOR DETAILS OF HIS WORK SEE"John Haley Bellamy, Carver of Eagles" by Yvonne Brault Smith, 1982, PORTSMOUTH MARINE SOCIETY, Portsmouth, NH. This book has pictures, dimensions, design drawings, and detailed biography of Bellamy, and a reprint of The Magazine of Antiques,   "Bellamy's Style and its Imitators".
In the Summer of 2005, a Bellamy eagle brought $600,000 in a New England Auction. Although they have moderated in price, they continue to be the most sought-after of the eagle carvings. This banner style is hard to find now and has always been one of our favorites.
JOHN BELLAMY'S EAGLES: The most famous American nautical woodcarver was John Haley Bellamy, who worked out of Kittery, Maine, in the 1860s and 1870s. Bellamy made his living by carving eagles for ships and also for the home. Bellamy's eagles stood out from all other eagles and still do, as the line and design were perfect. They look very realistic. eagles in recent years. His work represents the high end of nautical carvings in terms of value. Many carvers copied his style and some still do.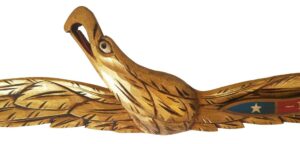 Detail of left-wing and right-wing
Unfortunately, we cannot verify its provenance other than it fits all of John Bellamy's known design parameters.