SETH THOMAS WW II
U.S. MARITIME COMMISSION CLOCK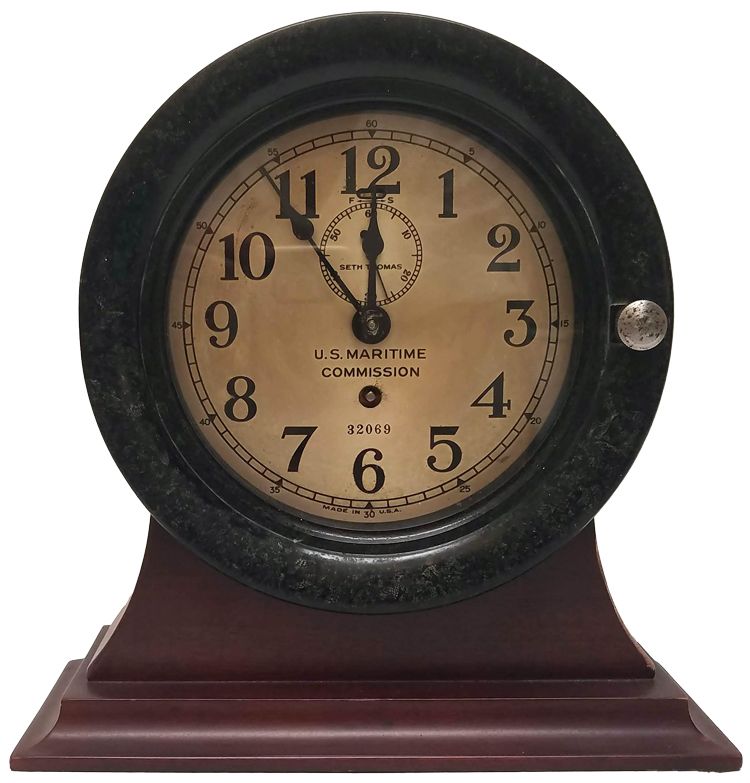 The stand, a $75.00 value, is included!
Presented is a vintage, eight-day, Seth Thomas U.S. Maritime Commission clock with a 6″ silver face with black etched numerals and an independent second hand. It has the number 32069 on its face. It has a 115 A, 7 Jewel movement dating to the WWII era. This is the equivalent to Chelsea's similar design, being made to the same WWII military specifications. The mechanism is housed in a Phenolic case with a screw front opening cover. It will lend itself to both a wall mount or desk mount with our fine wood clock base.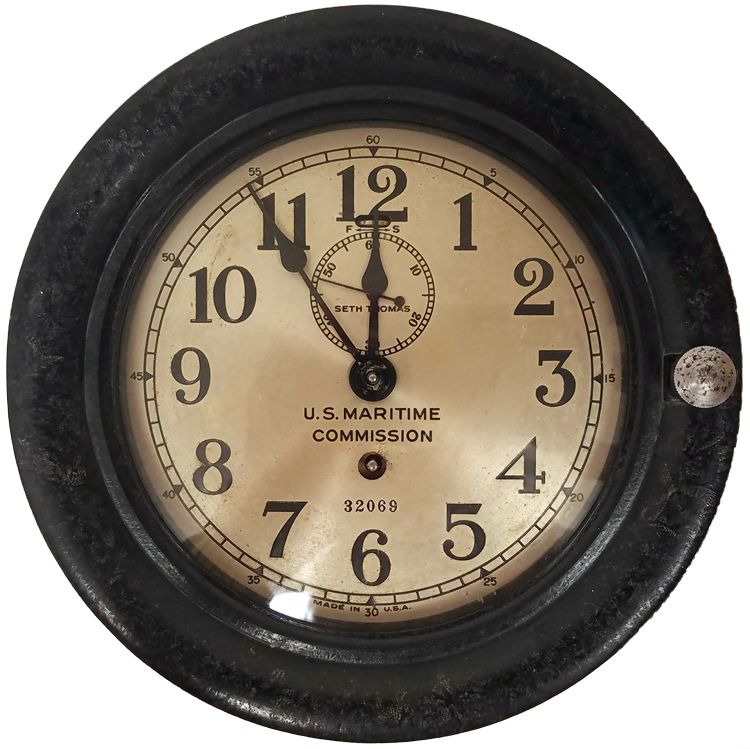 Near flawless face
CONDITION: This fine clock is in good condition and shows only the normal patina of age. It has a movement that is bright and clean and the dial is near blemish-free. The industrial case indicates that this was manufactured for shipboard use, and shows some minor marks of age and use. The clock has been recently cleaned, and the movement is keeping excellent time. Since it is almost 70 years old, we recommend it be wound about every seven days for best timekeeping.
The United States Maritime Commission (MARCOM) was an independent executive agency of the U.S. federal government that was created by the Merchant Marine Act of 1936, passed by Congress on June 29, 1936, and replaced the United States Shipping Board which had existed since World War I. It was intended to formulate a merchant shipbuilding program to design and build five hundred modern merchant cargo ships to replace the World War I vintage vessels that comprised the bulk of the United States Merchant Marine< and to administer a subsidy system authorized by the Act to offset the cost differential between building in the U.S. and operating ships under the American flag. It also formed the United States Maritime Service for the training of seagoing ship's officers to man the new fleet.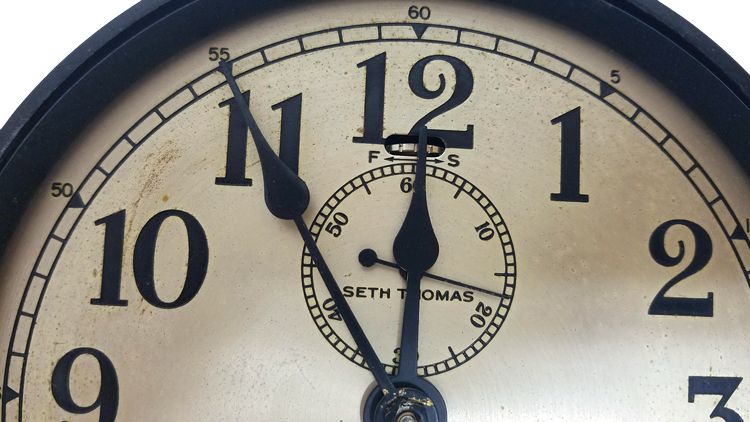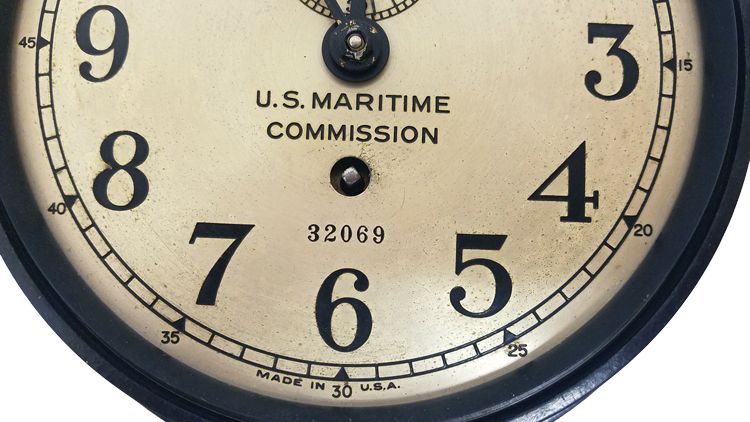 Detailed view of the face
PROVENANCE: Purchased in the normal course of business. Historical information is not available.
SPECIFICATIONS:
Forged bronze case with screw-on bezel. The six-inch face has a four-inch viewable area. The black dial is acid etched
and filled in white with Arabic numerals and Arial lettering. The precision-made 8 day, No.115 movement has 7 jewels, and
a compensated balance wheel and Breguet hairspring and spade style hands which have been repainted.
DIMENSIONS:
Case max diameter 8"
Dial 6″ visible area 5 1/2"                       Depth  2 3/4"
Weight   3 lbs.