BAS RELIEF PLAQUE
OF
SS "CATHERINE APCAR"
1908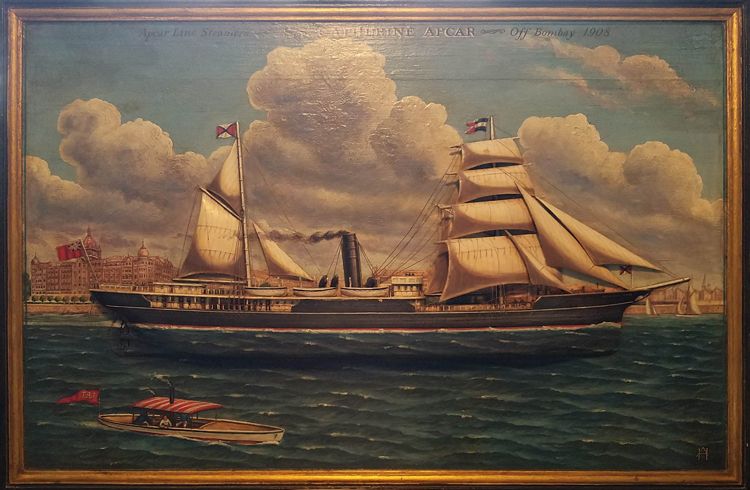 Bas relief Half Hull Bas Relief of"SS CATHERINE APCAR" on painted background
Framed 35″ x 24″ x 1″
Weight 12 1/2 lbs
We think that these Bas Relief 3 dimensional pieces of seafaring art, as they encompass both half hull and diorama aspects, make fine and interesting additions to any decor.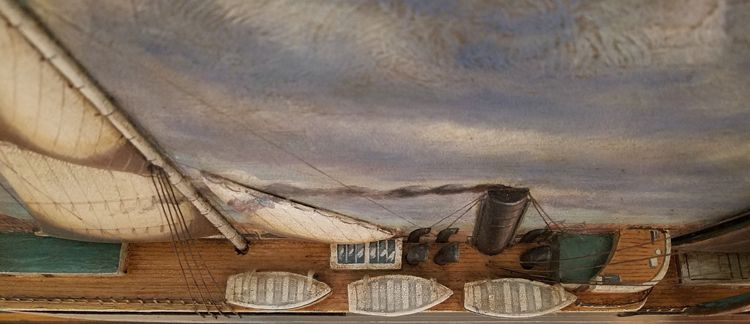 Presented is a beautifully executed Bas Relief model of the Sail/Steamship "CATHERINE APCAR" depicted off Bombay in 1908. The painting is done on oak wood planks, with the ship under both sail and steam, showing both a cityscape background and private launch in the foreground. This is classic American seafaring Folk Art.. The artist's signature on the bottom right as a stylized AH. We have not been able to locate any information on the artist, and consequently, have not been able to assign a date to this piece. There is hand lettering along the top indicates this is a ship from the "Apcar Line Steamers".
As her name suggests, the 2715-ton iron screw ship "Catherine Apcar" belonged to the Apcar Line. Lit throughout by electricity, she accommodated 16 first-class and nine second-class passengers, with her deck space designed for the China trade. Maharajas to peasants travelled on the Apcar Line across the seas around South-East Asia. Besides the well-heeled first-class passengers, countless workers from China and India, desperate for jobs in Singapore, Penang and elsewhere in Malaysia, were carried as deck passengers. Sometimes more than a thousand at a time were squeezed on board. Livestock also formed part of large consignments. Sheep, goats and cattle from India, typically often upwards of 1200 beasts, were transported to Singapore and Penang. In 1912 the Apcar Line and its fleet was taken over by the British India Steam Navigation Company. The ships retained their names and most, including "Catherine Apcar", were requisitioned in the First World War as troop carriers. She was sold for scrap in.
The Apcar Line's fleet became well-respected, efficiently carrying both cargo and Chinese coolies, mostly between Singapore Hong Kong and Amoy, but also making regular voyages to Japan. From 1855 Apcar & Co. started to convert their fleet to steam. The Apcar Line was providing regular service to Singapore from 1856. The Apcar clippers dominated the opium trade until the 1870s, carrying their cargoes from Bombay or Calcutta, with a stop in Singapore, on to Hong Kong or the Canton River. 43 voyages of opium ships to China were listed in 1865, of which 17 were Apcar ships. The Apcars and Jardine Skinner exported opium to Singapore for use by the Chinese in the Malay Peninsula or for distribution to other locations in southeast Asia. Eventually the Apcars were forced out of the Dutch East Indies by protectionist measures. Between 1875 and 1880 Captain Chapman James Clare (1853-1940) served on Apcar & Co. opium steamers trading between Hong Kong and Calcutta.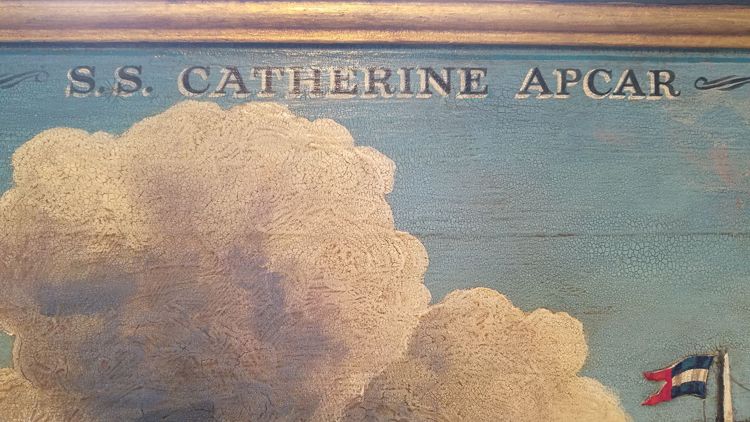 SS CATHERINE APCAR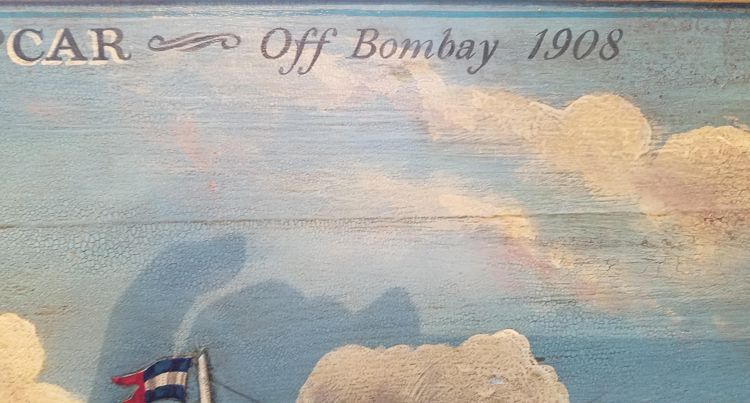 Off Bombay 1908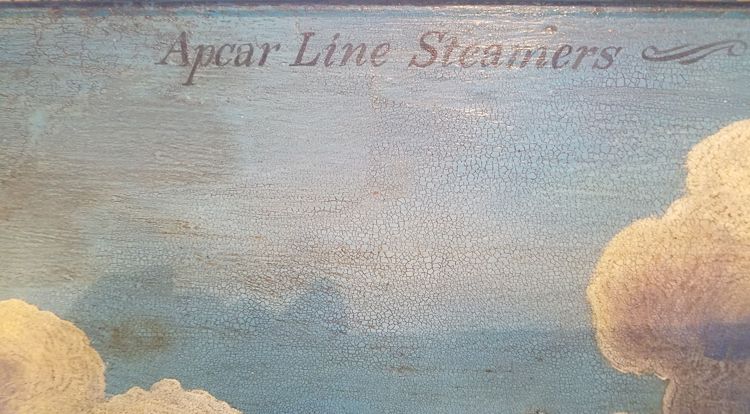 Apcar Line Steamers
CONDITION: The general condition of this work is very good. There is some minor craquelure on the upper
corners, but we don't feel it in any way detracts from this fine piece.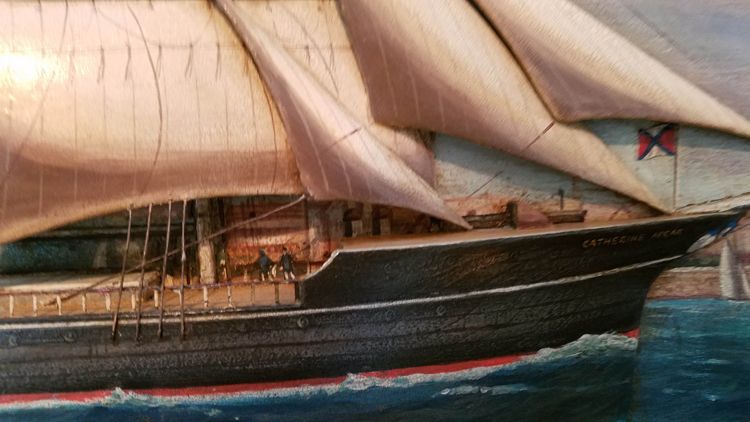 Details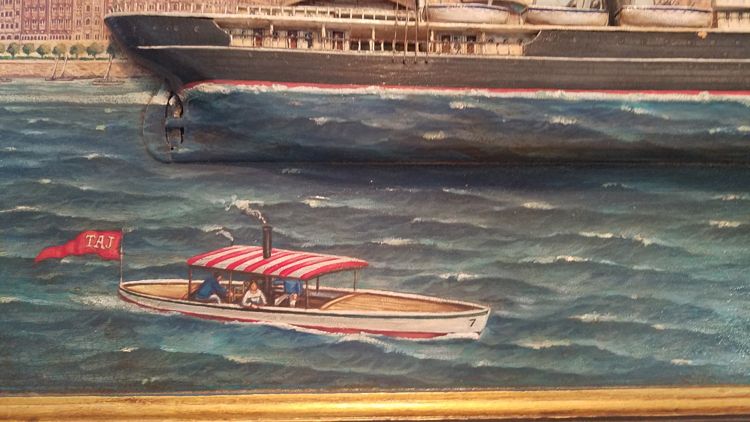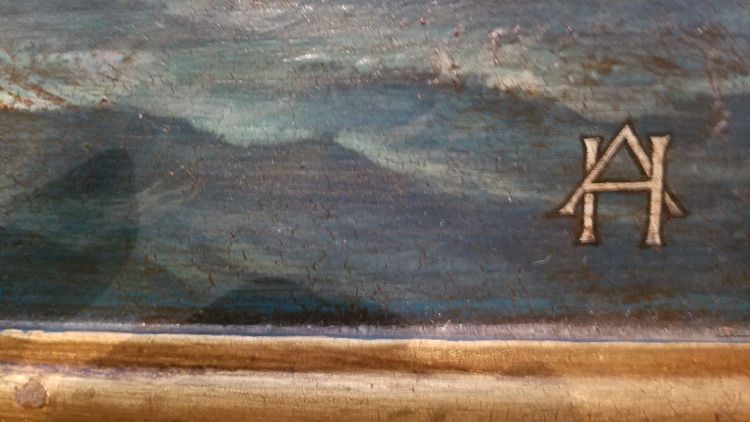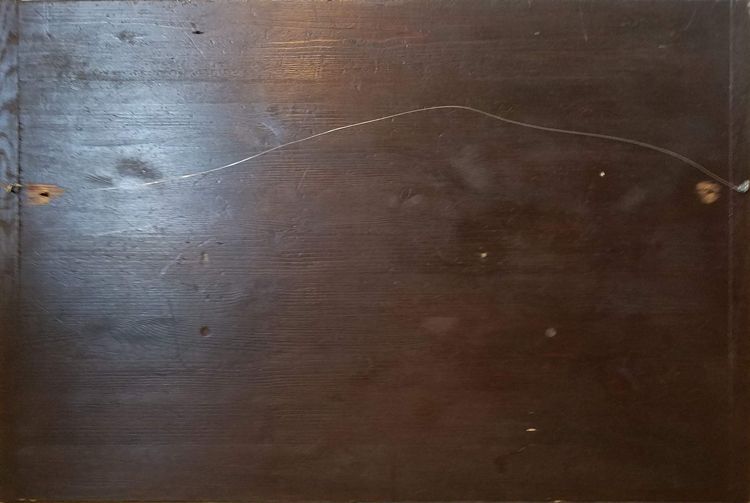 Back View