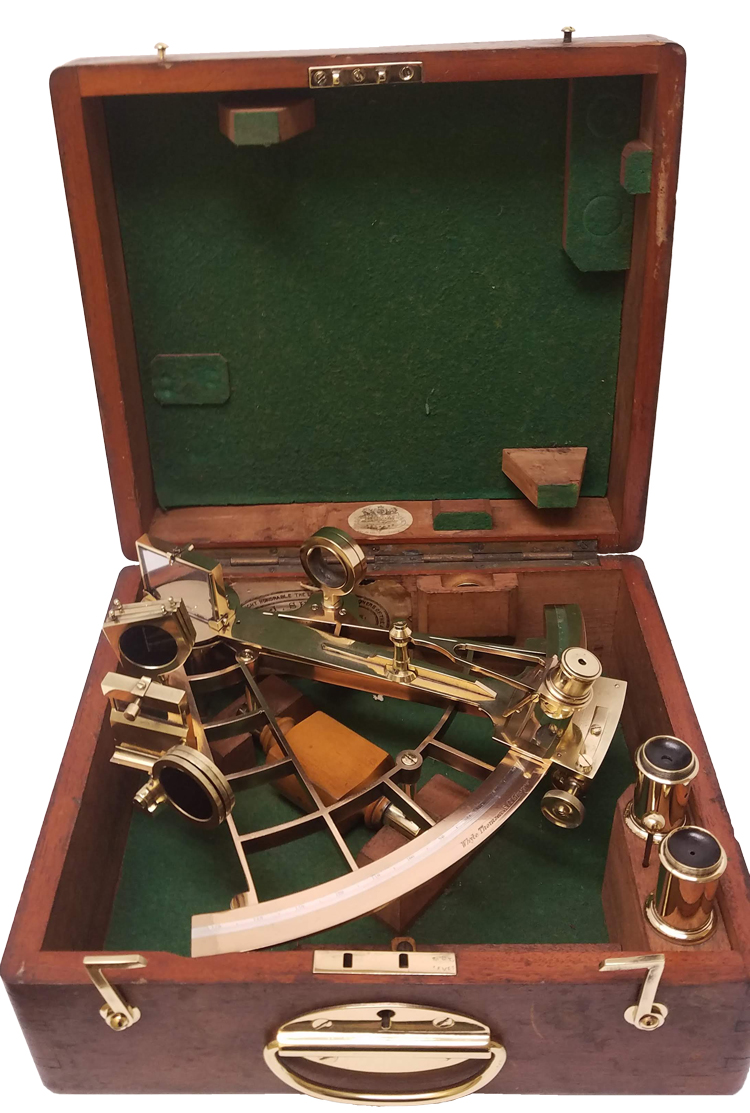 Very High Quality Presentation Grade!
Presented is a museum quality quintant by Whyte, Thomson & Co. of Glasgow,Scotland, probably produced mid to late 19th Century. We believe the instrument was made in conjunction with James Whyte & Co. Glasgow, because of some similarities between this instrument and one by that company. James Whyte & Co. merged operations with a number of different entities, including Duncan McGregor & Co, where they sold sextants and opened branches in lucrative shipping areas. The Whyte firm was associated with Lord Kelvin, and later, Bottomly & Baird, establishing branches in London, Montreal, Newcastle upon Tyne, Boston and New York. All of which indicates that they were a major force in navigation instruments during the last part of the 19th century.
This beautiful instrument has a full complement of telescopes, and a sighting tube for shooting terrestrial objects. The adjustable rising piece allows moving the telescope towards or away from the frame making the horizon more distinct under varying light conditions. The bronze arc has a Sliver insert that is calibrated -5 to +150 degrees with a vernier that reads from the right, from 0 to 10 arc seconds. The sextant has four index shades and three horizon shades. The arc is engraved "Whyte Thomson & Co. Glasgow A quintant has a range of arc of 144° compared to a sextant which reads to 120°. This was helpful in measuring Lunar Distances, which was a means of determining longitude without a chronometer.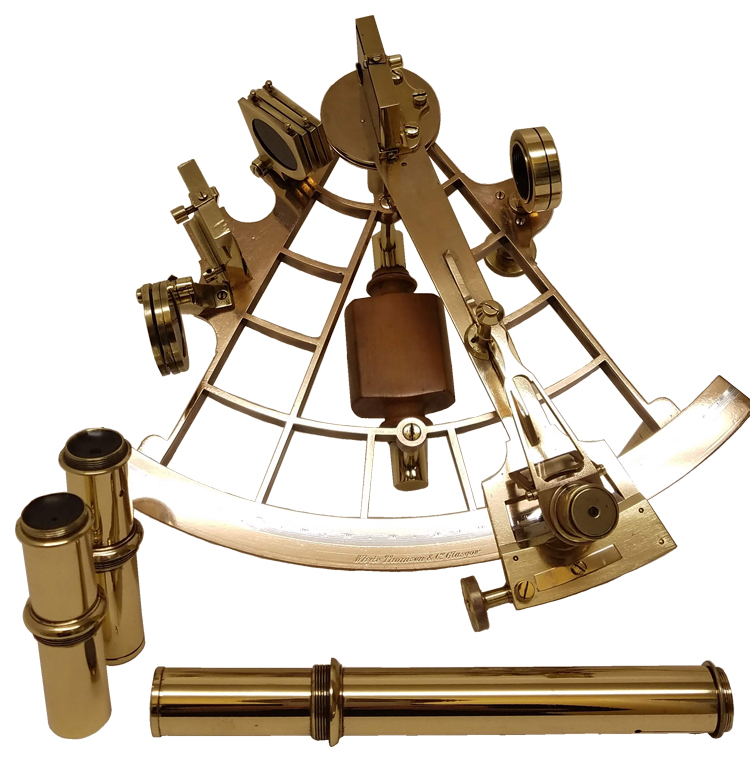 Whyte Thomson & Co. Quintant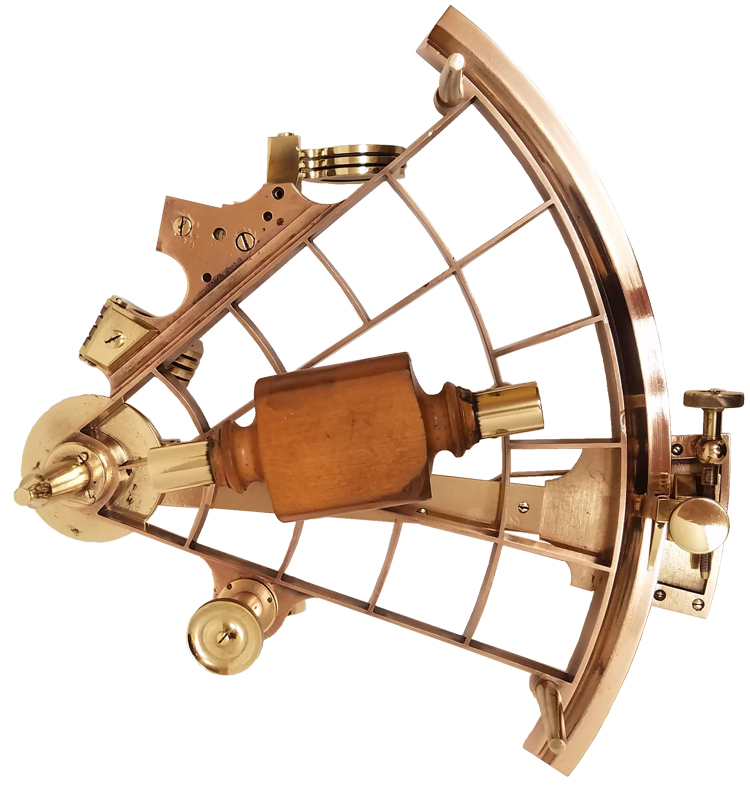 Back View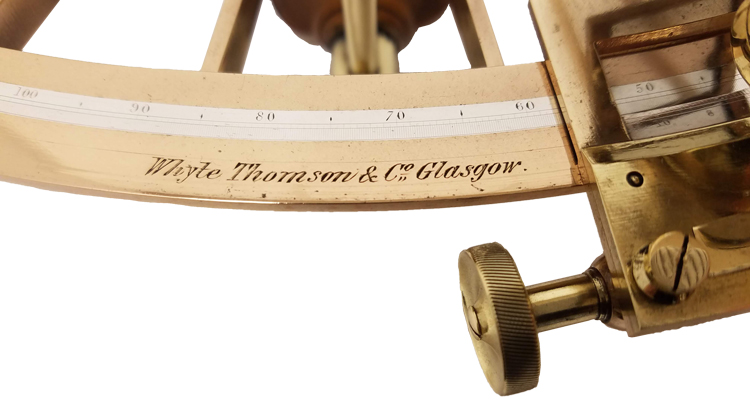 Inscribed with Maker's Name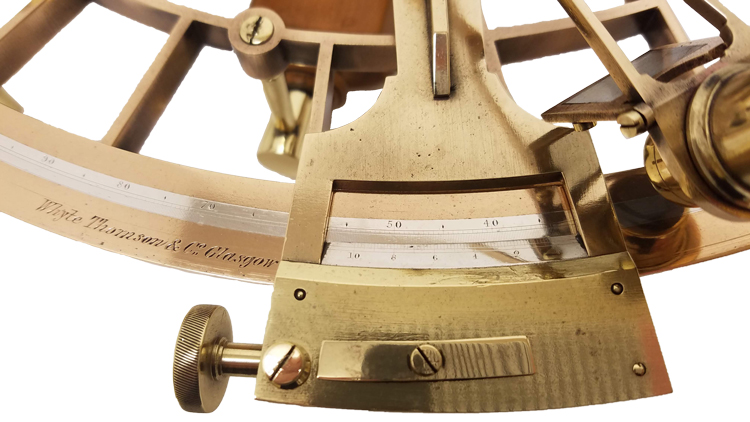 CONDITION: Irrespective of its age, this quintant shows very little wear and is in exceptionally fine condition. The index mirror is in almost perfect condition. The viewing surface is clear and sharp. The horizon mirror is in good condition. Both sets of shades (filters) are perfect, in an array of colors. It has been polished and varnished for dramatic display.
THE CASE: The instrument is housed in a tongue and groove, Mahogany case with a fine aged finish. There are two small cracks in the wood across the top of the case. On the back inside cover is a small label from an Irish Watchmaker & Chronometer dealer, Francis M. Moore, and in the bottom of the case, another dealer, J. Sewill of Liverpool and London. Except for the crack, the case shows beautifully, and the brass has been polished and lacquered.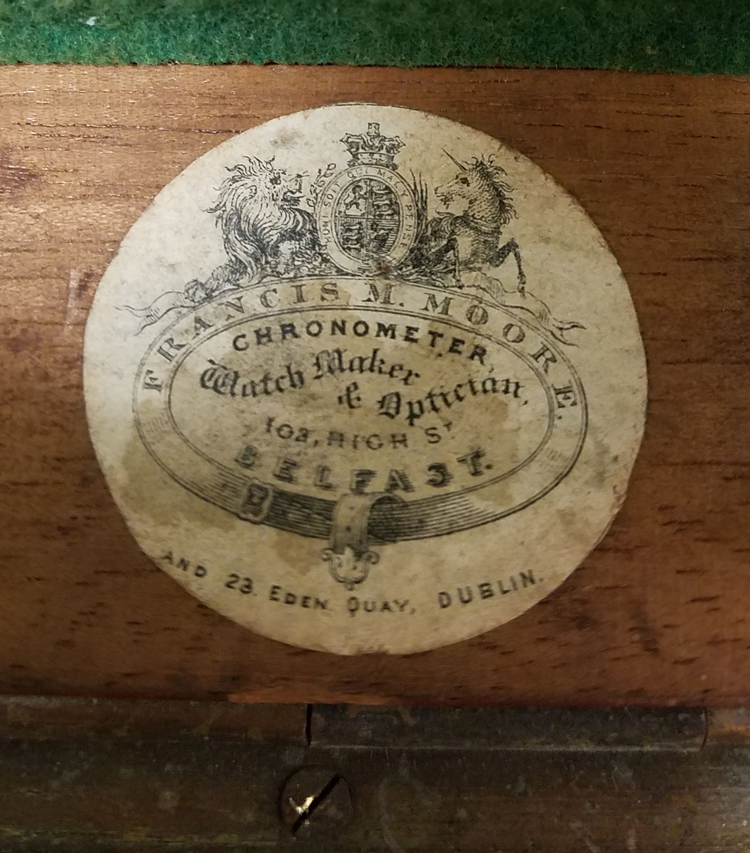 Maritime Equipment Dealers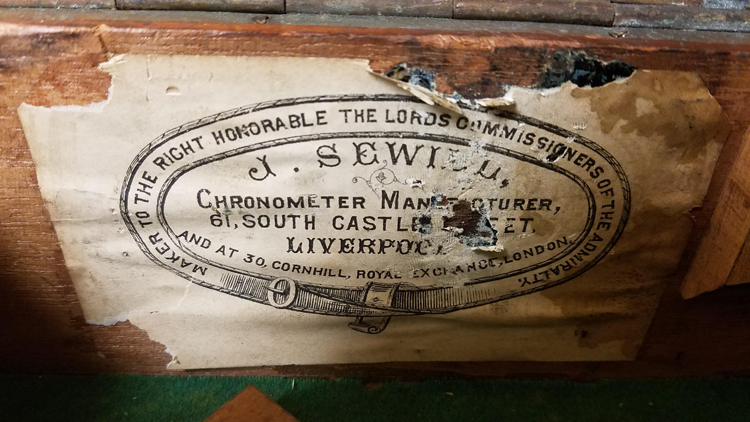 Maritime Equipment Dealers
This is a beautiful example of an early model brass frame quintant. It will make a rare addition to an important collection or as a prestigious gift.