ROSS
LEATHER BOUND TELESCOPE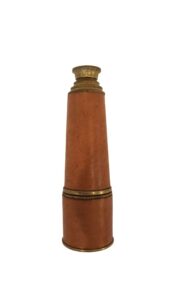 19th century telescopes or spy glasses are becoming increasingly difficult to find in good original condition.
Presented is a handsome, high quality British three draw brass and leather telescope in very good condition. It is inscribed Ross – London. The leather is in fine condition with some very minor spotting. It has a sun shield along with the 3 extensions.
Both ends
Ross is the name of a succession of London-based lens designers and their company.
Andrew Ross (1798–1859) founded his company in 1830; from 1840 he began producing camera lenses signed "A. Ross". During his lifetime, the company was one of the foremost lens manufacturers. The year after his death in 1859, his son-in-law.
John Henry Dallmeyer left the firm to establish his own optical company and the company was run by Ross's son, Thomas, and became known as Ross & Co. By the 1890s it was also making Zeiss and Goerz lenses under licence for sale in the UK and the British Empire. Ross patented a wide-angle lens design and Zeiss took this further to produce their EWA Protars. (Wikipedia)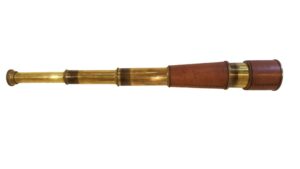 DIMENSIONS: It measures 7 1/4″ closed and 18" fully extended.
The objective lens is 38 mm diameter.
Weighs 1 lb 3 oz
CONDITION is good and functional throughout, noting some discoloration on the brass on the tube extensions. Overall, it has a nice and attractive patina which indicates this is in its original, untouched condition. There are no dents or chips to the lenses and everything is first rate on this finely made antique scope.
MARKINGS: adjacent to the eyepiece: ROSS LONDON