BY I. BERNSTEIN, BROOKLYN
Early 20th Century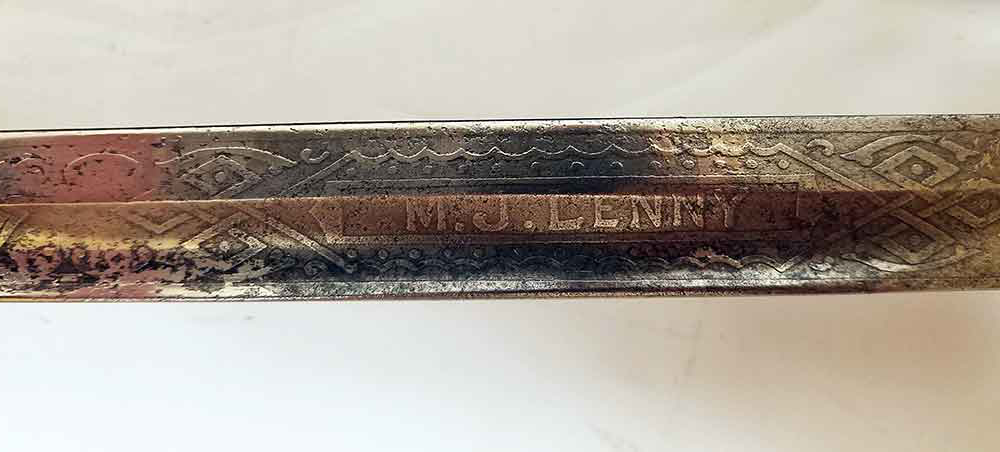 Inscribed to M.J. Lenny
Length Overall 36″ long       Blade 29 ¾" long by 6/8″ wide 1/4″ Thick,        Sword weighs 1 lbs. 7 oz.
Presented is a vintage M1852 named naval officer's sword by I. Bernstein of Brooklyn, NY. The blade has an etched and frosted design, and with the name. M.J. Lenny inscribed. The spine is detailed with floral leafs two thirds its length.


The off white pebbled grip has the look and feel of Shagreen, but is made of high quality plastic. The wire wrap is tight. The scabbard is missing.



MARKINGS: The reverse ricasso is marked with I. Bernstein, Brooklyn. On the obverse is the military required brass slug in the center with a fleur dis lis over which is "Proved". This fine sword dates to the early 1900s as I. Bernstein only manufactured these over the first 10 to 15 years of that period.The eagle on the pommel faces right surrounded by 13 stars. Thirteen stars is what was called for by the official 1852 blade design.
The use of the officer's sword was suspended on 15 October 1942 and was not authorized officially again until 1954. Source Naval Historical and Heritage Command.
P