BEAUTFUL HALF HULL MODEL
OF THE GRAND BANKS SCHOONER "MARY B DYER"

DESIGNED BY FAMOUS BUILDER
DONALD McKAY
DIMENSIONS: Ship: 51" L x 6" Beam x 7" Depth         Backboard: 54 ¾" x 11"
Weight: 23 lbs
This very impressive and quite large half hull model is one of the handsomest that we've been priveledged to offer!
Mary B Dyer (born Marie Barrett; c. 1611 – 1 June 1660) was an English and colonial American Puritan turned Quaker who was hanged in Boston, Massachusetts Bay Colony for repeatedly defying a Puritan law banning Quakers from the colony. She is one of the four executed Quakers known as the Boston martyrs.
Mary B Dyer's history is extensive as she fought for the rights of the Quakers to exist and follow their religious beliefs in the Massachusetts Bay Colony of the 1600s. The irony of the Puritans immigrating to the Americas for religious freedom, and then prosecuting by death those of their citizens that chose a different belief system seems apparent.  You can read extensively about her history on WIKIPEDIA
The fact that a ship designed and built by the foremost shipbuilder of the time, Donald McKay, and named in her honor, indicates the importance of her life and achievements during this period.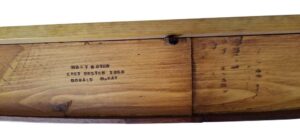 Donald McKay (September 4, 1810 – September 20, 1880) was a Canadian-born American designer and builder of sailing ships, famed for his record-setting clippers. He's considered to have designed and built some of the most famous clipper ships of his era. Just to name a few,
1850 Stag Hound, extreme clipper, 1534 tons OM – first large clipper ship built by Donald McKay
1851 Flying Cloud, extreme clipper, 1782 tons OM
1852 Sovereign of the Seas, extreme clipper, 2421 tons OM. At the time she was fastest sailing ship ever built.[16][17] She was wrecked in the Malacca Straits in 1859.


Sovereign of the Seas – 1852
Great Republic (1853)

1853 Great Republic, extreme clipper barque, 4555 tons OM – largest clipper ship ever built
1853 Romance of the Sea, extreme clipper, 1782 tons OM. She was launched at East Boston, Massachusetts, for George B. Upton and employed in the California Trade. She disappeared en route to San Francisco after having left Hong Kong 31st of December 1862. [21]
1860 Mary B. Dyer, schooner
1864–1865 Nausett, iron clad monitor
1875 America, originally built by William H. Brown in 1851, this famous schooner yacht, was rebuilt by McKay in 1875
Records Set:
Sovereign of the Seas posted the fastest speed ever by a sailing ship – 22 kts. in 1854.
Champion of the Seas set the record of 465 miles in 24 hours in December 1854; this record stood until 1984.
James Baines logged a speed of 21 knots (June 18, 1856)
Flying Cloud made two 89-day passages New York to San Francisco
Bald Eagle set the record of 78 days 22 hours for a fully laden ship from San Francisco to New York.
Above information by https://en.wikipedia.org/wiki/Donald_McKay
This Half Hull Model of the Mary B Dyer schooner was made by T.D. Conlon of West Barnstable, Mass. He noted in writing on the back of the backboard, "One of the very few Grand Bankers painted white". We were unable to find any specific information about this half hull builder.