Chelsea Ship's Bell Clock
& Barometer Set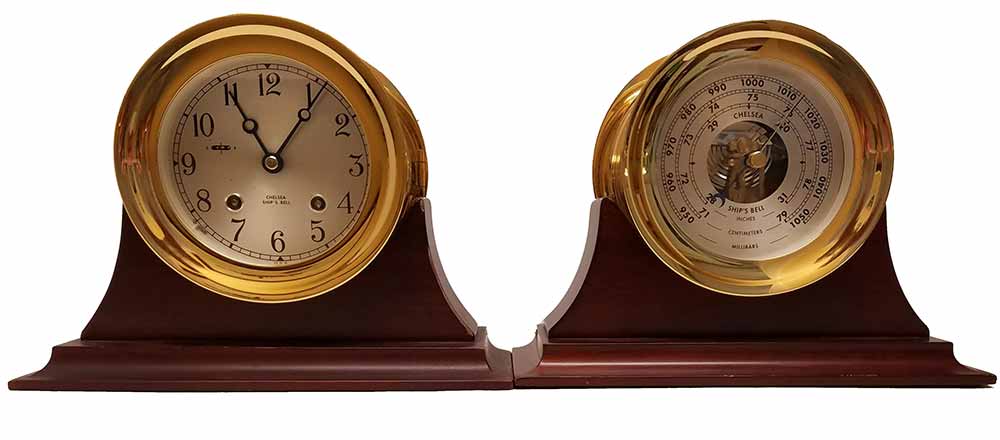 Presented is a beautiful contemporary Chelsea Ship's Bell Clock and Barometer set designed for wall mount. The serial number on the clock, 885558, which indicates it was produced between 1990 and the present.
Shown on our Clock Stands which will be included if desired by the buyer.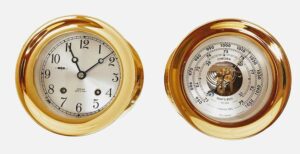 The excellence of Chelsea clocks is well established, and this very fine bell clock with its mellow sounding chimes denoting the four hour watch cycle, is a perfect example. This fine working clock was designed to offer superior quality in a convenient moderate size package with a 4 1/2″ face and weighing 6 ½ pounds . With 290 precision machined brass parts, many of which are gold plated, and its eleven jewel movement, it personifies Chelsea's reputation for engineering and manufacturing excellence . It has a side opening latch for ease of winding and setting.
The beautiful holosteric barometer is the perfect companion to this exceptional Chelsea timepiece. Its readings include inches, centimeters and millibars. It has a screw bezel and weighs an impressive 5 lbs 1 oz. Both clock and barometer are housed in a forged bronze lacquered case with a hand etched silver face.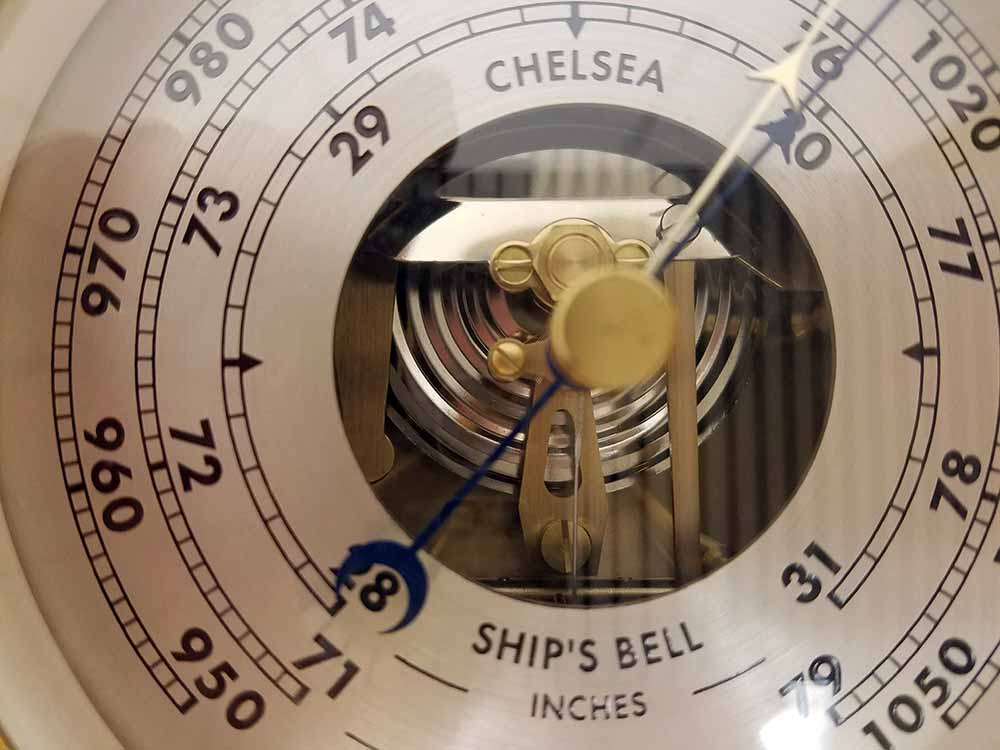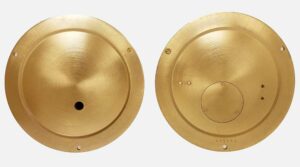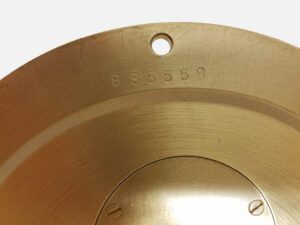 SPECIFICATIONS:
Serial Number 885558
Diameter of dial: 4 1/2″
Diameter of beze:l 5 1/2″
Depth: 3 3/4″
Clock Weight: 6 pounds
Barometer Weight: 5 pounds 1 oz.
CONDITION:
Both the clock and barometer are in pristine like new condition and working properly. A set of instructions will accompany the items.
Special Note:
We have included a photo of both items in our proprietary clock bases. Although these bases are designed for larger clocks, they also fit these smaller versions. If the buyer wishes to display the items in the bases rather than a wall mount, we can include bases at no cost.