NORIE OF LONDON OCTANT
Folk Art Engraved Case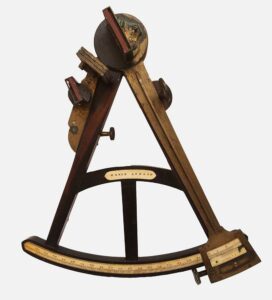 Here is a wonderful opportunity to own a piece of navigation history along with a Sailor's artistic efforts
Presented is a mahogany frame, ivory arc, antique octant made by the well known British make,r Norie of London. (History below) The instrument is in good condition having all its hardware and missing only the small ivory pencil that was housed in the cross member of the frame for notations on the small ivory inset on the back of the frame. The ivory of the name plate and the numeric scale of the arc have darkened over time with a light tan hue. The arc measures from 0 to 100 degrees. The ivory plate on a cross bar between the two limbs is engraved "Norie London".
THE CASE – AND THIS FEATURE TRULY SETS THIS INSTRUMENT APART – ADDING A SEAMAN'S ARTISTRY ALONG WITH A FINE INSTRUMENT BY A WELL KNOWN MAKER.
The oak "Keystone" case is engraved (probably by one of the owners of the instrument) with a polychromos colored picture of a seaman holding an American Flag. Although the engraving color has faded over the years, it is still very visible and a wonderful piece of seaman's folk art. The case is in aged condition and is missing a corner on the bottom. There are spaces in the top and bottom wood. There is a lock mechanism, but no key. The interior label from S. Thaxter & Son is easily readable.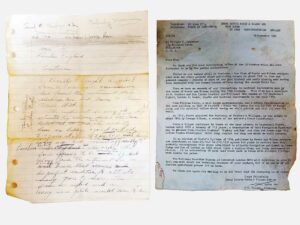 Pictured is a letter from a gentleman who bought the sextant from a man in Salem, Mass. who found it in a barn he was cleaning out. The letter is to Imray Laurie Norie & Wilson Ltd in St. Ives, U.K. He's inquiring about the history of the sextant, and receives a very interesting letter from them in return. Both correspondences are pictured here. They are estimating the instrument's date of around 1770, although we would date it a little later than that.
DIMENSIONS:
Length of frame 12″
Radius of arc 10″
Width of frame at arc 9 3/4″
Index mirror 41 x 30 mm
Horizon mirror 29 x 23 mm
Weight 1 Lbs 14 oz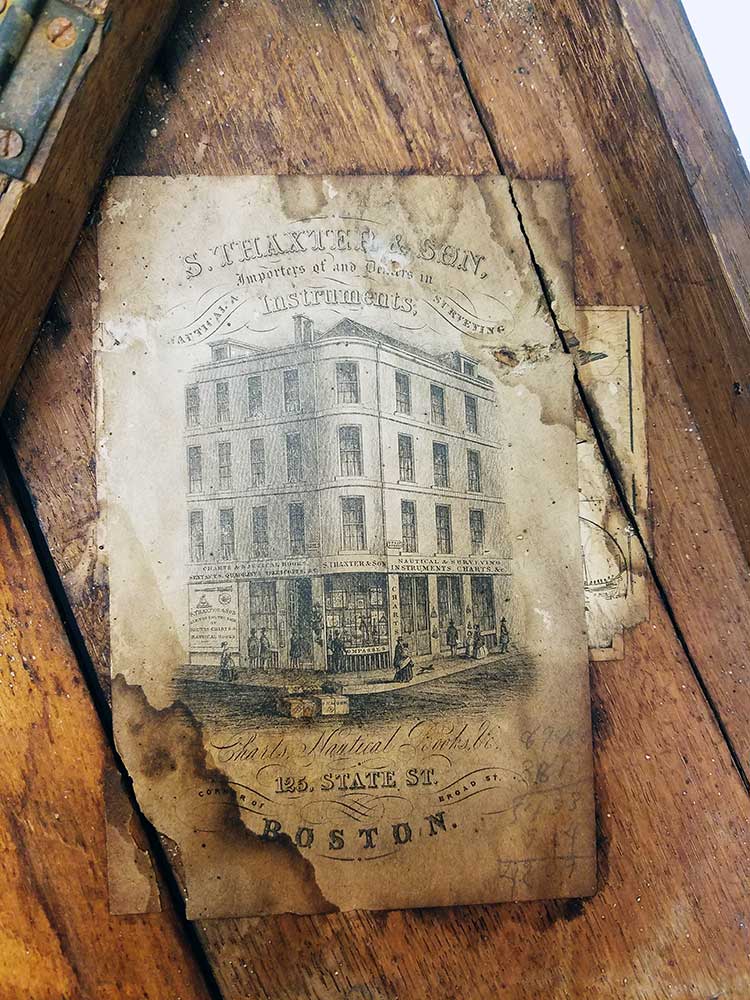 The label on the right inside cover is from the well known instrument seller, S.Thaxter & Son of Boston. There is a label below the Thaxter label, indicating that this was not the first time this instrument had been serviced and sold.
This beautifully made instrument has a ribbed brass index arm and measures 12 inches long on the index arm. The horizon mirror is on an adjustable turntable and can be rotated by an arbor. Note the thumb screw, ivory vernier scale, reading from right to left from 0 to 20 arc minutes, a peep sight , and a single set of sun shades which help date the instrument. There is no provision for a handle on this sextant which marks it as a transitional piece between an octant and a sextant.
.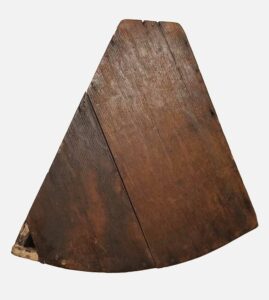 Bottom of case
Some time after 1780, the addition of a tangent screw, as fitted to this instrument, allowed for fine adjustment and represents one of the two major changes in the basic operation of the octants and sextants for the next 150 years! The second was the fitting of telescopes which is lacking here. This sextant was not fitted with a handle which indicates it is one of the earliest of that type.
The mirrors are in much better condition than might be expected though they do show some age. The horizon mirror has a grey area in the upper right corner. The ivory has taken on an unusual tan color, but the engraving is distinct. The lead pencil for notations is missing. The index arm clamp is complete. The shade glasses are complete and in good working order. The mahogany frame, partially darkened with age, is in good condition. The instrument has its original machinery, with a two hole peep sight. Everything is original and in good working order. This octant can be polished and lacquered if the buyer wishes, at an additional cost, which will be quoted on request.
Here is a wonderful opportunity to own a piece of navigation history along with a Sailor's artistic efforts
This fine instrument was made by John William Norie (1772-1843), a mathematician, hydrographer, chart maker and publisher of nautical books, most famous for his Epitome of Practical Navigation (1805), which became a standard work on navigation and went through many editions, as did many of Norie's works. His known navigation instruments are few, and normally found in museums such as the British National Maritime Museum in Greenwich, and the USS Constitution Museum in Boston.
Norie began his career working with William Heather, who had in 1765 taken over chart publishers Mount and Page, and who ran the Naval Academy and Naval Warehouse in Leadenhall Street from 1795; the Naval Warehouse provided navigational instruments, charts, and books on navigation. Norie took over the Naval Warehouse after Heather's retirement and founded the company J.W. Norie and Company in 1813. After Norie's death, the company became Norie and Wilson, then in 1903, Imray, Laurie, Norie & Wilson, Ltd. They continued in business as chart makers and were based in London until 1939, and are now headquartered in St Ives in Huntingtonshire.