Yacht "Varuna"
Designed by G.L. Watson
Built 1897 by A & J Inglis, Glasgow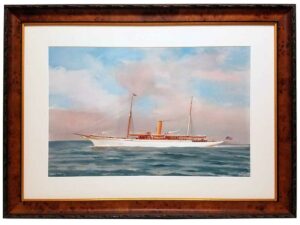 DIMENSIONS:
Framed 34 ½" x 24 ¾"x 1 ¾"

Picture: 24 ½" X 15 ¾"
Varuna was designed by famous Naval architect, G.L. Watson, and built in 1897 at the A & J Inglis yard in Glasgow, commissioned by the owner, Eugene Higgins. It was under the same ownership until 1909 when it was wrecked in the Azores. She was a twin-screw schooner, LOA 300 FT, with a top speed of 16.5 knots. The following link will take you to an extensive background and history of both the owner, Higgins, and the full history of the yacht, including its loss off Madeira in 1909. https://www.gunfleet.net/varuna-sy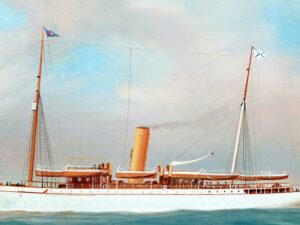 | | |
| --- | --- |
| | |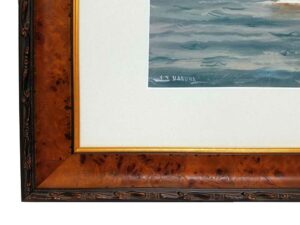 George Lennox Watson (1851-1904) was a Scottish naval architect. Watson's successes on the proving ground of the Clyde soon attracted larger commissions from more high-profile clients such as the Vanderbilt family, Earl of Dunraven, Sir Thomas Lipton, the Rothschild family, and Charles Lindsay Orr-Ewing, Whitaker Wright, and Wilhelm II, German Emperor. Commissioned amongst others, four America's Cup challengers and the largest sailing schooner of its time, Rainbow. Watson's involvement in the America's Cup was long-running and manifested itself in four cup challengers; the Thistle for the Scottish syndicate headed by Sir James Bell,[7] two yachts named Valkyrie for Lord Dunraven, and Shamrock II for Sir Thomas Lipton.
Thistle (1887)
Valkyrie II (1893)
Valkyrie III (1895)
Shamrock II (1901)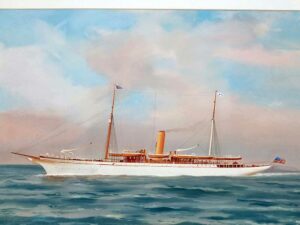 Watson was at the early stages of using theories of hydrodynamics as influences in yacht design.
The "Mayflower" pictured below, was a Sistership to "Varuna", as was another Watson design, "Nahma". The "Mayflower" became the Presidential Yacht, commissioned initially by Teddy Roosevelt in 1905, and continued in service for the Taft, Wilson, Harding, and Coolidge administrations. Below she is pictured in 1907, fully decked out for Presidential service.
Sister Ships – Mayflower & Nahma
(Mayflower became the Presidential Yacht in 1905
Presidential Yacht Mayflower
We have been unable to identify the artist of this fine painting. It is signed and dated in the lower right, but we haven't been able to decipher the name. It was painted in 1907, so we're assuming that it was probably commissioned by the owner, Eugene Higgins.
CONDITION: The painting has been recently cleaned, rematted, and reframed with an Italianate-style burled wood frame and museum nonglare glass. It is in perfect condition. There are a couple of printed documents accompanying the painting that appear to be copies taken from a book.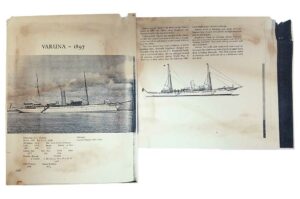 Original Price:  $3200.00            Sale Price:  $2560.00
Shipping:  $125.00