Kelvin & Wilfrid O. White
Compass Corrector
This is a very unusual find and will make an interesting addition to anyone interested in compass technology
DIMENSIONS:
Base 9″ x 9″
Case 9 ¾" x 7 ½" x 7 ½"
Compass card: 4″ Dia
Weight: 8 lbs. 7 oz
Presented is a rare example of a finely-cased Kelvin & Wilfrid O. White compass with a compass corrector mechanism housed in a handsome hardwood box. The wood front piece on the bottom of the case lifts out and houses a plastic square (as pictured ) which fits into slots on the bottom of the case. We assume that a magnet of some kind would be placed at varying levels in the bottom portion of the case acting as a compass corrector for the compass at the top of the case. However, we're not entirely sure if that is how this works.
MAGNETIC VARIATION (or DECLINATION) is the difference between True North and Magnetic North. It is due to the earth's magnetic field, which travels from South to North, not traveling in a straight line. In some locations, variation can be more than 30 degrees. In some locations, it is zero. Generally, before making a passage, a boat or ship captain will "swing the compass" in a given area to determine magnetic compass variation.
| | |
| --- | --- |
| | |
| Front of Case | Back of Case |
This is a very unusual find and will make an interesting addition to anyone interested in compass technology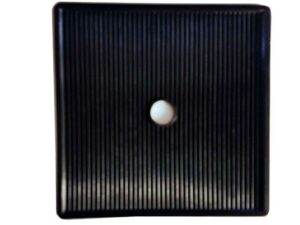 BRIEF HISTORY: Wilfrid O. White had a rich nautical family history, descending from a shipbuilding family that dated back to 1600 England. Born in Melbourne, Australia, White came to the United States in 1898 and married Ruth Eldridge, the daughter of George Eldridge, who charted the first tide and current tables in the U.S.
White had studied with the Scottish Lord Kelvin of compass fame for a year or more in Glasgow in the very early 1900s. Kelvin's work on magnetic compasses goes back to 1870, and the result was quickly adopted by the world's navies. After Kelvin died in 1907, White was chosen to be Kelvin's exclusive agent in the United States by Kelvin's successors and partners, Kelvin, Bottomley & Baird. The Kelvin & Wilfrid O. White and Co. commenced operations in 1918. White, reportedly, had to pay a LIST price, in advance with his orders. This became a thorn in Wilfred's side, and it ultimately led him to develop his own design improvements which were marketed under the Kelvin – Wilfrid O. White brand. He invented the spherical compass in 1931 and received his US Patent in 1935. His son Wilfrid Gordon later improved upon its design in the 1950s.