Chelsea Nautical Flag Clock & Barometer Set
on Mahogany Base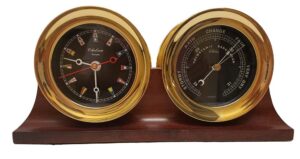 A classic ship's clock and barometer set in excellent original condition and keeping perfect time. Ideal for a superior collection, or as a prestige gift, or for use on shipboard.
Presented is a lovely Chelsea Nautical Flag Clock and Holosteric Barometer set on a fine double mahogany base. The clock and barometer are housed in forged brass cases, and the clock has a quartz movement, and is keeping excellent time. The nicely enameled nautical flags represent the numerals one through twelve. Both clock and barometer have a screw-on bezel.
Dimensions
Dial: 4 ½"
Clock & Barometer Dia: 5 ½"
Base: 14″ x 2 ¾"
Overall Ht: 6 ½"
Weight: 9 lbs. 5 oz.
Battery included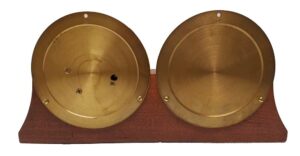 Back View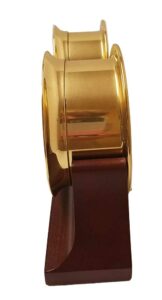 Side View
Chelsea has one of the finest reputations in the world for their clocks. Currently, a similar set sells for just under $1400. We are glad to be able to offer this fine item at a very attractive price: