Bronze Chinese Dragon Tiller Head

Dimensions: 21 ¼" x 6 ½" x 1 ¾"           Weight: 7 lbs. 8 oz.

Presented is a wonderfully decorative bronze tiller head in the form of an ornate pair of Chinese dragons. 
PRICE: $750.00           SHIPPING: $45.00
Dragons in Chinese culture symbolize great power, good luck, strength, and knowledge.   They represent power and authority, particularly control over typhoons, water, rainfall, and floods. Emperors were assumed to have descended from the dragons.  Dragons would be represented prominently on ships and any maritime items.
On the backside, there is a 1″ offset rim around where the head would fit into a bulkhead accommodating the tiller with pully inserts at each end.

Back View
This highly decorative and dramatic tiller head would make an unusual and attractive
 addition to any nautical decor just mounted on a wall or specially purposed backboard.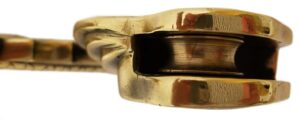 Pully insert at each end of the tiller head
A highly decorative and unusual gift for a special occasion for those with a nautical interest.