OUTSTANDING PRESENTATION  QUALITY
Late 19th Century Quintant/Sextant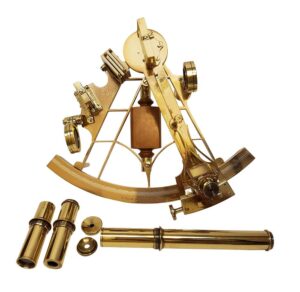 SPECIFICATIONS:
CASE  10 3/4″ x 10″ L x 5 1/4″ W    
QUINTANT / SEXTANT:
3 Sighting scopes              Length of index arm   9 "                 Width of  Arc  10 1/8″
                     Arc  Measures from 0 to 155 degrees
Index Mirror   47 mm x 30 mm                       Horizon Mirror   32 mm x 22 mm
Presented is a beautiful instrument retailed by F. Smith & Son of Southampton, UK.  They were a well known Marine equipment and Instrument dealer founded in 1870.  We are not aware of who made this instrument as it was apparently a "private label" piece for this dealer.  However, it is very close in all it's design qualities to a very early C Plath piece we offered recently.  
It has an approximately 3 1/2 power telescope, and a sighting tube for shooting terrestrial objects. The adjustable rising piece allows moving the telescope towards or away from the frame making the horizon more distinct under varying light conditions. The bronze arc has a Sliver insert that is calibrated -5 to +155 degrees with a vernier that reads from the right, from 0 to 10 arc seconds.  The sextant has four index shades and three horizon shades. 
NOTE: A quintant has a range of arc of 144° compared to a sextant which reads to 120°. This was helpful in measuring Lunar Distances, which was a means of determining longitude without a chronometer.
Back of Sextant                                                                                                           Inscription om Arc
The instrument is in excellent condition and the case has been refinished and relined.  All of the parts are present, with 3 sighting scopes.  The mirrors are clear as are the gradations in the silver inlay arc.  
SEXTANT WEIGHT 2 lbs 15 oz               Cased Weight    7 lbs  12 oz
CONDITION: Irrespective of its age, this quintant shows very little use and is in exceptionally fine condition. The index mirror is clear.   The horizon mirror is also clear with the engraved base showing "Duplex Patent".  Both sets of shades (filters) are perfect. There is a mirror adjustment tool or screw driver and two lens caps. A small piece of frosted glass is present in the holder above the vernier's scale.
THE CASE: The instrument is housed in a tongue and groove, flaming Mahogany case with beautiful  grain pattern and polished brass fittings. It has been relined, and the F. Smith label has been laminated and affixed to the inside cover. The instrument cerrification and adjustment certificate is not present.  Both the instrument and the case are in excellent condition. This exceptionally fine instrument has been polished and lacquered for an impressive display.
This beautiful and exceptionally fine Quintant will  make an outstanding gift or presentation piece for any and all marine enthusiasts.