British Admiralty & War Office  Binoculars
WWI & WWII
By Ross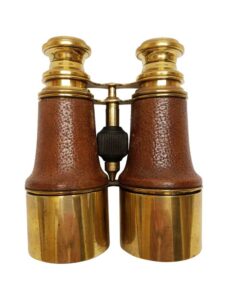 Presented is a fine pair of Ross Binoculars made for the British War Office  during the both the First and Second WWs.  These are a classic pair of brass and leather military style binoculars used extensively by the British  during the first part of the 20th century.  They are in fine condition with clear optics.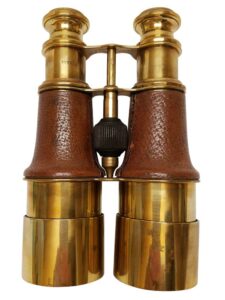 DIMENSIONS: 5 1/2″ unextended and 7″ extended.
CONDITION: The binoculars are in fine condition with some indications of age and wear on the leather coverings. The optics are clear and working properly. There are sliding sun shields on each arm to reduce glare at sea. Both lenses are free of fungus,
Ross is the name of a succession of London-based lens designers and their compan
Andrew Ross (1798–1859) founded his company in 1830; from 1840 he began producing camera lenses signed "A. Ross". During his lifetime, the company was one of the foremost lens manufacturers. The year after his death in 1859, his son-in-law John Henry Dallmeyer left the firm to establish his own optical company and the company was run by Ross's son, Thomas, and became known as Ross & Co. By the 1890s it was also making Zeiss and Goerz lenses under licence for sale in the UK and the British Empire. Ross patented a wide-angle lens design and Zeiss took this further to produce their EWA Protars. Before World War 1, Ross and Zeiss worked quite closely together, but at the outbreak of War the British Government put Ross in control of the newly opened Carl Zeiss binocular and optical factory in Mill Hill, London.
Overall, these binoculars are a fine example of a genuine antique military piece.