WATERCOLOR BY TONY WARREN
BRITISH
 20TH CENTURY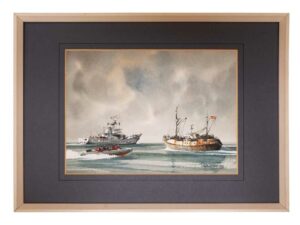 Dimensions: 
Framed: 14 1/2″ x 10 1/2″               Painting: 9 1/4″ x6 3/4″
Presented is a lovely watercolor painting by UK artist Tony Warren (1930-1994) of the Royal Navy HMS Guernsey patrol vessel
launched in 1977. 
Price  $450.00               Shipping:  $45.00  
Pictured with it is a support workboat and small craft with crew. The painting is signed and dated 1988.
Although we've been able to locate a large body of work by this fine British maritime artist, we've been unable to locate
any information about his career and history.
This is a handsomely executed watercolor perfect for those that appreciate Naval history.