C. PLATH NAVISTAR  "TRADITIONAL" SEXTANT


4 x 40 Wide Angle Telescope – Mint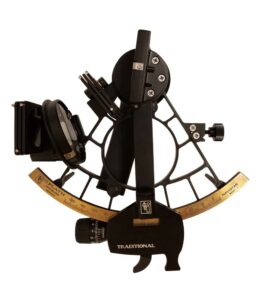 Many consider the C Plath "Traditional" to be the very finest of the commercial modern sextants 
Presented is the third example of this exact model Carl Plath sextant we'we've seen since it's introduction in 1991. It is in "Mint" condition, and appears to have littlle use or have been well taken care of. This model sextant is fitted with over size mirrors, and a wide angle 4 x 40 telescope. The vernier rotates which allows index error to be set to zero on the scale.
Next to the rarely seen C. Plath "Royal" of which few were made, the Traditional was the last new, high quality, model Plath introduced. Both date back to 1989, just 12 years before Plath's sextant production ceased. Don't confuse this sextant with the Navistar Classic which had a "ladder" or "web" frame, and was made in much greater numbers. Based on the scarcity of the
 "TRADITIONAL", very few exist, and even fewer with the quick release trigger.
It has these new, and exclusive "state of the art" design features:
Special circular frame
Trigger action tangent screw release
Oversize mirrors with whole horizon
Special wide angle telescope
adjustable vernier for "0" index error
Miniature number D357H batteries and light emitting diode
Adjustable Makrolon handle for ergonomic fit
Larger housing for horizon mirror reduces stray light
DESIGN FEATURES: The Navistar Traditional, is second only to the Navistar Royal, in P lath's line of premium sextants and was made in limited quantities. Because it was a new design in 1989 with many advanced features, it sold for more than other sextants. The Traditional's visual clues are the Circle frame design, and the special micrometer drum with a rotating vernier, newly designed telescope and the usual Navistar brand imprint. The rotating vernier has six indents and reads to 10 seconds of arc. You turn it to match the "0" point with the "0" on the micrometer drum so that index error reads zero. This example has the exact same features. It comes with its original Plath brush, adjustment wrench and cleaning cloth. C. Plath quit producing sextants around 2001. The parent company has completely liquidated everything including machinery, equipment and spare parts.
| | |
| --- | --- |
| | |
CONDITION: Is in Like New condition showing little use.. Both mirrors show as NEW. The illumination works. The bronze arc shows "as new". There is no index or side error. There is a certificate although unnecessary in C.Plath sextants since they were all built to a tested accuracy of 20 arc seconds or less. For practical purposes this makes them error free in use. The aluminum case is in very good condition as well.