SPERM WHALE CARVING 
BY
 CAPE COD ARTIST
CONTEMPORARY

Presented is a very fine carving of a Sperm whale by Ken Beckenhaupt.  Ben is a member of an art cooperative in Woods Hole on Cape Cod.  He's been carving these fine figures for a number of years, working in Northern white cedar and pine.   
Dimensions:  L 37 ½" x 10"                  Weight: 5 lbs 14 oz.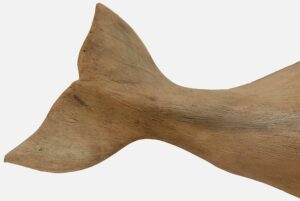 Back of carving
Whale carvings are a wonderful addition to any nautical decor, and Ben's work is particularly pleasing.  
This is a wonderful opportunity to acquire a Cape Cod artist's work without having to make the trip!