C. PLATH
NAVISTAR PROFESSIONAL SEXTANT
W/ WHOLE HORIZON
4 x 40 Scope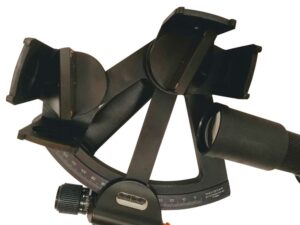 Presented is a C Plath Navistar "Professional" Sextant.  Although we've offered numerous Plath sextants over the years, in many model variations, this is the first "Professional" we've acquired.  These were introduced in 1977, and provided an opportunity to own a Plath instrument at a very modest price.  This instrument is in like new condition, showing vertually no use.  It 's certificate is dated 1980, Serial No. 71204.  It comes with an instruction book for taking sights, adjustment wrench and brush.  The light is working.
The Navistar Professional is constructed of sea-water resistant aluminum and glass – fibre reinformed Makrolon.
Specifications:
Horizon and Index Glass shades
4 x 40 Scope
Push Button Illumination
Index Mark\Quick Release Lever on Index arm
Vernier Scale 0 – 120
Micrometer Drum
Weight: Sextant – 3 lbs 9 oz.           In Case: 7 ilbd. 6 oz.
This is a fine opportunity for a novice navigator to learn Celestial Navigation