"BOSTON HARBOR"
 BY 
FITZ HENRY LANE
Reproduction on  Textured canvas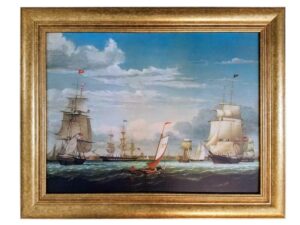 Presented is a reproduction of the well-known painting by Fitz Henry Lane, "Boston Harbor". 
Dimensions:  Framed 31 ¼" x 25 ½" x 1"         Picture  25 ½" x 19 ¼"
Price  $350.00         Shipping: $105.00   (Domestic)
Presented is a reproduction of the well-known painting by Fitz Henry Lane, "Boston Harbor".  Lane's skill at maritime paintings combines his nautical accuracy in documenting maritime culture with considerably distinctive detail.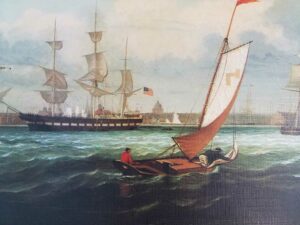 The painting has been printed on a textured canvas.  It is finely framed and is a classic representation of his work. He was considered the premier maritime painter of his time.  The Cape Ann Museum in Gloucester, Ma. has an extensive collection of Lane's work.
Here is a fine opportunity to enjoy one of the foremost marine painters in America at a very moderate price.
ARTIST'S HISTORY – Fitz Henry Lane was born on December 19, 1804, in Gloucester, Massachusetts.  From the time of his birth, Lane would be exposed to the sea and maritime life—a factor that had a great impact on his later choice of subject matter.  Lane would most likely have received the benefit of working under and with some of the most skilled aspiring and established marine and landscape painters of his day. The English maritime painter Robert Salmon, who, historians have discovered, came to work at Pendleton's at a period coinciding with Lane's employment there, is regarded as having had a large impact, stylistically, on Lane's early works.  Lane's work is referred to as Luminism.  One definition of luminist art is that it is "characterized by a heightened perception of reality carefully organized and controlled by principles of design".  A contemporary of the Hudson River School, he enjoyed a reputation as America's premier painter of marine subjects during his lifetime.  Lane had visited Gloucester often while living in Boston, and in 1848, he returned permanently. In 1849, Lane began overseeing the construction of a house/studio of his design on Duncan's Point— this house would remain his primary residence to the end of his life. Fitz Henry Lane continued to produce beautiful marine paintings and seascapes into his later years. He died in his home on Duncan's Point on August 14, 1865, and is buried in Oak Grove Cemetery.  His works are prominently displayed in many museums around the world.