CHELSEA PRESENTATION
10″ SHIP'S BELL CLOCK
ON MAHOGANY STAND
A beautiful contemporary Chelsea Ship's Bell Clock is presented in a finely finished mahogany stand.  This is a large Clock with an 8" Face and 10 ½" width.  The depth of the clock is 4", The weight is 23 ½ Lbs.  The clock stand measures 20" x 5 ⅕" at the base and 13" high.  We think this clock dates to the 1990s. It comes in a very impressive blue Presentation Box.   Chelsea currently retails this clock at $6000.  
Showing slight abrasion on inside rim                                                                                Quarter View
The excellence of Chelsea clocks is well established, and this very fine bell clock with its mellow-sounding chimes denoting the four-hour watch cycle, is a perfect example. This fine working clock was designed to offer superior quality in a large size package with 364 precision machined brass parts, many of which are gold plated, and its eleven jewel movement, personifies Chelsea's reputation for engineering and manufacturing excellence.  It has a side opening Bezel for ease of winding and setting.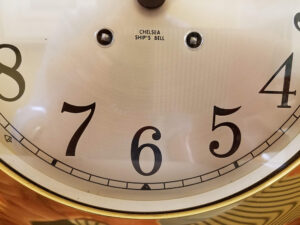 The Ship's Bell clock is housed in a forged bronze lacquered case with a hand-etched silver face.  
SPECIFICATION               Diameter of dial: 8 ½"
          Diameter of bezel:   10 ½"                   Depth: 4"                Clock Weight: 23.5  pounds                  
CONDITION:
This clock is in like new condition and keeps excellent time.  There is a slight abrasion on the inside of the rim, not visible from the front.  The bells chime in the proper sequence. 
A set of instructions will accompany the clock