KELVIN & WILFIRD O. WHITE
SKYLIGHT BINNACLE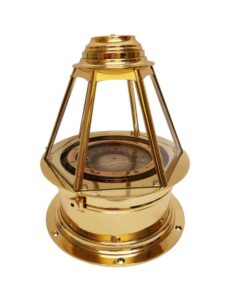 Presented is a large size skylight or cathedral binnacle with an original Spherical Compass that was invented by Wilfrid O. White. The design dates to January 6, 1931 with number 2979. This is one of the later versions, and sold under the Kelvin-White brand name indicating the association White had with William Thomson, Lord Kelvin.
Dimensions:
Overall Ht -11″.    Width – 9″     Compass width – 5 3/4″      Compass Face – 4 1/2″
Binnacles such as these became very popular starting in the 1920's. Their popularity may have increased after one was seen aboard the motor vessel "Santana" in the movie "Key Largo" (1948) starring Humphrey Bogart and Lauren Bacall. Bogie also had one in the cockpit of his famous yawl Santana.   And for those interested, we installed one on our ketch Bagheera which served us well during seven years of ocean cruising. PERKO discontinued making them about 1954, and Ritchie did the same. Thereafter, the only source of skylight binnacles was from Danforth priced at $3400.00, until they discontinued all compass production in December, 2009.
PROVENANCE & BRIEF HISTORY: Wilfred O. White had a rich nautical family history, descending from a shipbuilding family that dated back to 1600 England. Born in Melbourne Australia, White came to the United States in 1898 and married Ruth Eldridge, the daughter of George Eldridge, who charted the first tide and current tables in the U.S.
Label of Maker                                                                 Showing Frosted Insert                                               Inside of top Cap with                                                                                                                                                                                                                              Electrical  bulb Inset
White had studied with the Scottish Lord Kelvin of compass fame for a year or more in Glasgow in the very early 1900's. Kelvin's work on magnetic compasses goes back to 1870, and the result was quickly adopted by the world's navies. After Kelvin's death in 1907, White was chosen to be Kelvin's exclusive agent in the United States by Kelvin's successors and partners, Kelvin, Bottomley & Baird. The Kelvin & Wilfrid O. White and Co. commenced operations in 1918. White, reportedly, had to pay a LIST price, in advance with his orders. This became a thorn in Wilfred's side, and it ultimately led him to develop his own design improvements which were marketed under the Kelvin – Wilfrid O. White brand. He invented the spherical compass in 1931 and received his US Patent in 1935. His son Wilfrid Gordon later improved upon it's design in the 1950's.
The Wilfrid White company sold out to the Eastern Company in 1961 which consolidated its operations with Danforth's Marine Hardware, first in Naugatuck, CT and then moved the Danforth- White Division to Portland, ME in 1961. Compasses continued to be produced under the Danforth – White label. In the 1970's Danforth dropped the Danforth – White brand and marketed their compasses as Danforth. In 2009, Danforth ceased compass production entirely.