Weems & Plath Brass Small Oil Cabin Lamp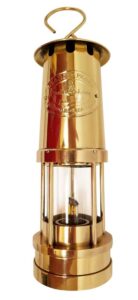 This is a very attractive small cabin light for your boat or porch.  The Brass Yacht Lamp with solid brass body is a great addition to your nautical decor.   It is styled after a traditional miner's lamp. The design includes venting holes at the top of the bonnet and a mesh screen inside that disperses gas from the flame avoiding the risk of gas build up.  
Dimensions:  HT 10″  With Hanger: 13 1/4″               Width: 3 1/2″                  Weight: 2 lbs, 13 oz.
 It has a heavy bronze base for stability and a large top hook for hanging.   These features make it perfect for use on boats or on the porches of coastal retreats. The thick  glass enclosed flame cannot be extinguished by hurricane-force winds as long as the fuel source remains. There is a small pin that is used to raise the the wick. 
  This safe and reliable lamp is individually-numbered  (in this case #18225) and can stand independently on a table or mounted to a wall or boat bulkhead.
Burn time: +/- 30 hours with Weems & Plath Lamp Fuel
Oil reservoir capacity: 5 oz (0.15 liters)
This elegant but quite sturdy cabin lamp will make an impressive and be enjoyable gift to any or
all of your seaworthy friends or family.