WW II MK V Morse 




Main Air Control Valve
1953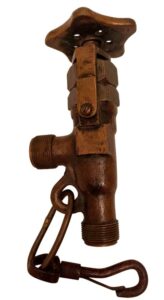 Like all used diving gear, they are being sold for DISPLAY ONLY. No part should be dived without having passed inspection by a certified dive shop
WW II Morse Diving Equipment Air Control Valve:
This is a period correct valve designed for use with U.S. Navy Mark V Helmet. It has male submarine inlet and outlet threads and the correct loop for the bastard stud.  This valve has the maker's imprint, and an inspector's mark jusr barely visible on the obverse side dated 1953.   All brass construction except for steel cotter key and attached snap clip.
Weight: 2 lbs 12 oz., Size: 6 1/2″ x 3″.
Marking 1941 Morse Diving Equipment Co. Inc. Imprint