America's Cup Half Hull Models
Enterprise and Ranger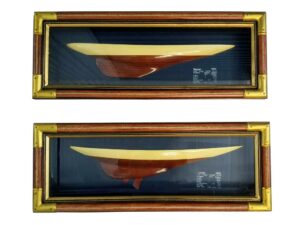 Dimensions
Presented are a pair of shadowbox style framed Half Hull Models of two famous America's Cup yachts, Ranger and Enterprise.
Ranger was a J-class racing yacht that successfully defended the 1937  America's Cup, defeating the British challenger Endeavour II 4-0 at Newport, Rhode Island. It was the last time J-class would race for the America's Cup. Harold Stirling Vanderbilt funded construction of Ranger, and she was launched on May 11, 1937. She was designed by Starling Burgess and Olin Stephens, and constructed by Bath Iron Works. Stephens would credit Burgess with actually designing Ranger, but the radical departure from the heavy displacement sailing yachts was attributal to Stephens himself who had first used the design in Dorade, winner of the 1931 Trans-Atlantic Race.[2] Geerd Hendel, Burgess's chief draftsman, also had a hand in drawing many of the plans.
Enterprise was also a Vanderbilt yacht built by the Herreshoff yard. Herreshoff built the America's Cup winning yachts Enterprise – 1930, and Rainbow – 1934 (designed by Starling Burgess). Every winning America's Cup Yacht from 1893 to 1934 was built by the Herreshoff yard.
Showing the Back of these framed Half Hull Models